We are so excited about what is coming this fall! And in addition to those, we're even going to give you a quick look at a Bible releasing in early 2022 and show the new look for a beloved Bible brand. We would love to hear which ones you are most excited about!
September 2021
This September The Filament Bible Collection will be adding compact editions! These small, portable, Filament-enabled Bibles have a 6.1 point text font and a slightly bigger than 4 x 6-inch trim size so that you can easily take them with you. Two of the four editions releasing will have zipper covers!
Speaking of on-the-go Bibles, all six volumes of Immerse: The Reading Bible will be available in most places you purchase books and Bibles. As a paperback with single-column Bible text on each page and no interrupters such as chapter or verse numbers,  it will feel more like you are reading a novel, allowing you to dive more deeply into the narrative of the Bible. It's the perfect take-it-wherever-you-go Bible. Just throw it in your bag, and enjoy at the beach, cabin, in the lunch room, on the commuter train, or wherever you read.
October 2021
We are so excited to be working with DaySpring to publish the timely DaySpring Hope and Encouragement Bible. This wide-margin Bible has over 250 reflections and 52 full-page devotionals scattered throughout the text that amplify twelve indisputable truths about who you are in Christ, such as: you are known, you are blessed, and you have a reason for hope. These truths equip you to recognize and embrace your treasured place in God's heart.
We've heard wonderful things about the 3rd edition of the Life Application Study Bible in the NLT and the NIV. This fall, the KJV version will join the group in an updated 3rd edition. The KJV edition will release in full size and large print.
Our Inspire Bible line is growing as well. Inspire: Luke and John portion will be releasing this fall. This is the fourth book in our popular coloring-book-style, square-trimmed portions.
November 2021
From personal tragedies to world disasters, there are so many reasons to pray. This year we are releasing the 3rd in our One Year Pray for series. This year we are asking you to join us as we pray for our brothers and sisters who are being persecuted for their faith. We have partnered with The Voice of the Martyrs to create One Year Pray for the Persecuted Bible. Each day's reading includes passages from the Old Testament, the New Testament, Psalms, and Proverbs. It also includes a daily prayer prompt bringing the needs of those who are persecuted to the top of our prayer list. Spend the next year in the Word and on your knees in prayer.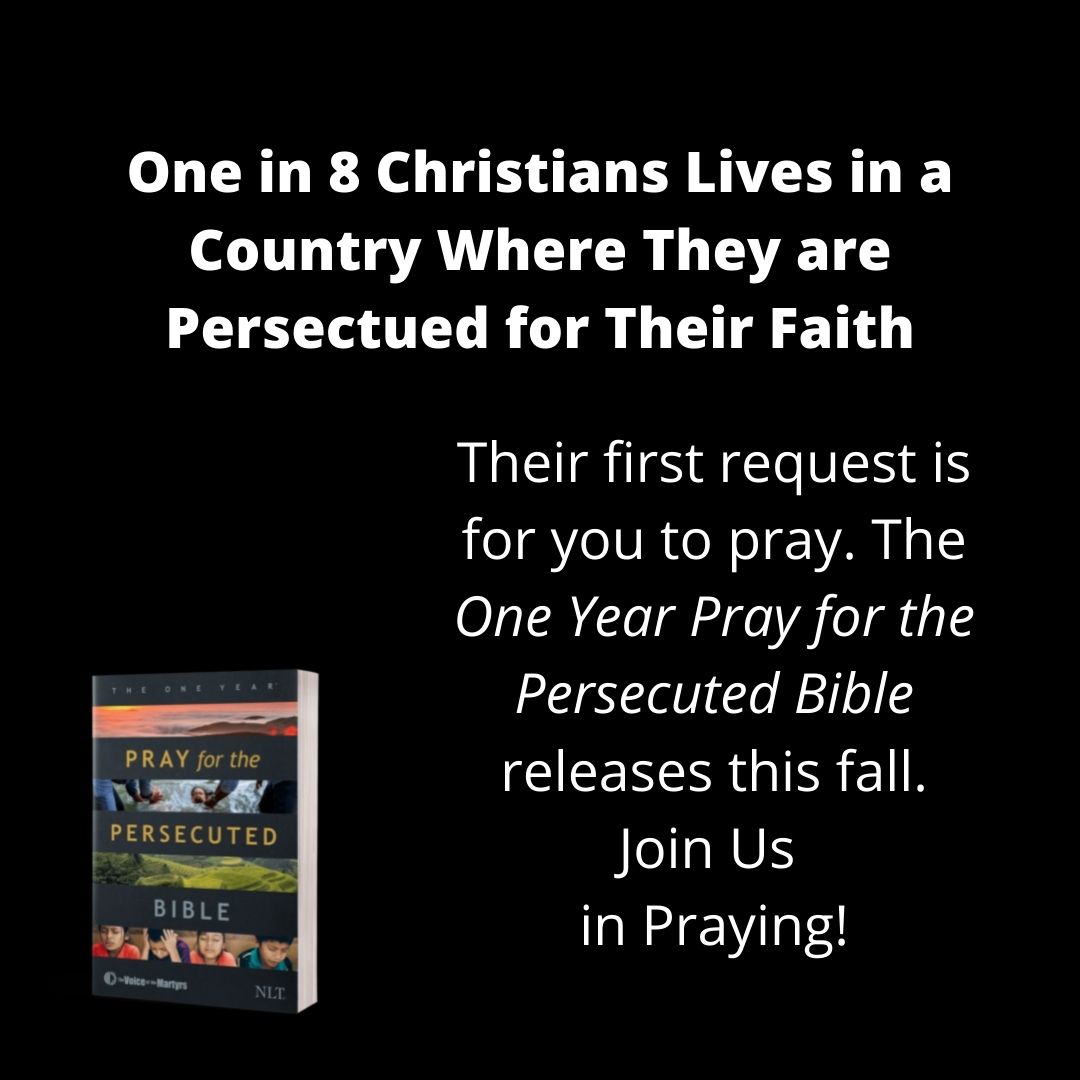 Just like many of our kids the Boys Life Application Study Bible line will be growing to include a blue glow-in-the-dark cover. This first step into a study Bible brings the truth of God's Word into the realities and decisions kids face today. 
Premium Value Thinline editions in our Filament Bible Collection will also release this fall. These are some of the most affordable Bibles with beautiful covers and include access to the Filament Bible app content. They will be available in full size and large print.
December 2021
We know many people are already excited for the Filament Bible Journal Collection that will release just in time for Christmas! These individual volumes contain one or more books of the New Testament. Every other page is blank, allowing space for art, journaling, prayer writing, and note-taking. Also available in boxed sets.
And There's More…
One of our most beloved brands, The One Year Bible, is getting an updated look. It will still have the same great reading plan, but the covers have been updated for the NLT, NIV, NKJV, and KJV editions. The new will look will roll out gradually, but we wanted to give you a sneak peek.
Later in 2022, the Filament Bible Collection will be gaining several additional editions (you larger print fans are going to be super excited). We aren't sharing those yet, but we will share that in early 2022 we will be releasing the NLT Wide Margin Bible, Filament-Enabled Edition, which will have an 8 point text font with 2.25-inch, lightly ruled wide margins.
That is a lot of Bibles! Though we are always excited about the Bibles heading out our doors, we are even more excited about the lives that will be transformed through God's Word!