Quarantine Activities for Kids and Families
Welcome to the online hub of quarantine activities for kids and families from NavPress and Tyndale House Publishers! Bookmark this webpage and check back often as we update with everything from free activities and downloads to great deals and discounts on favorite Tyndale titles – all handpicked and designed to meet the physical and spiritual needs of people during COVID-19.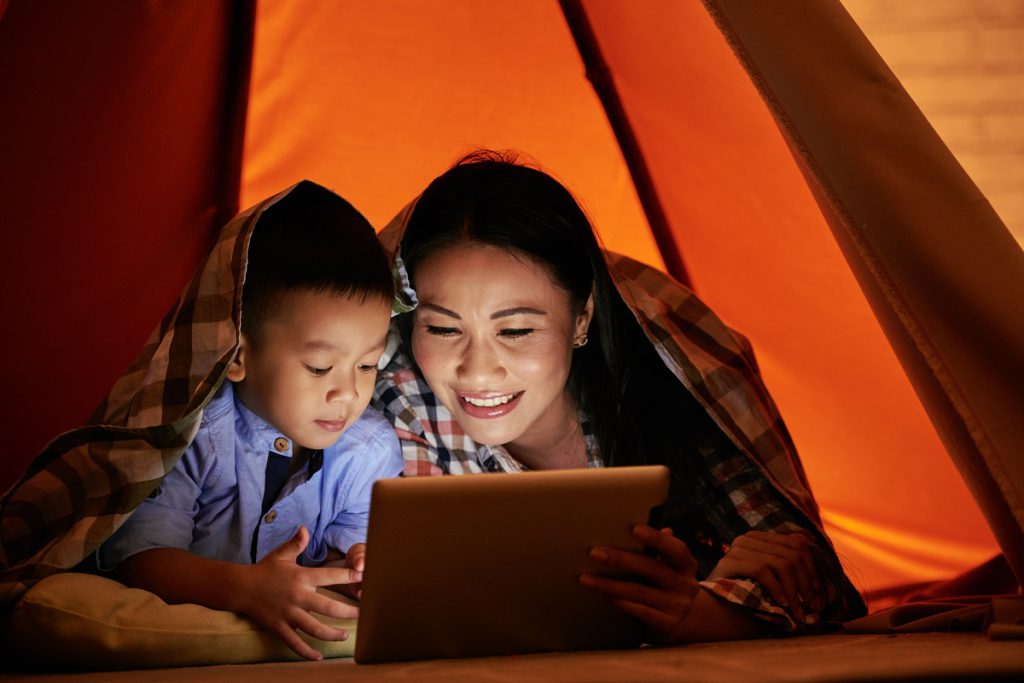 Resources for Kids


Activities & Downloads
Virtual Storytime
If you're looking for fun, free activities for the kids in your life, our Tyndale authors are here to help! Help pass the time staying home during the COVID-19 quarantine with our "virtual storytime" and some of Tyndale's most beloved children's books. Explore storytime videos.
Finger Puppet Craft
Inspired by Wow!: The Gospel in Four Words, this fun and easy finger puppet craft can be used to remind you and your child of God's amazing gospel plan. Plus, you can find more free resources to help your kids get excited about God's good news here!
Free Printable Coloring Pages
Download and print these ocean-inspired coloring pages from God Made the Ocean by Sarah Jean Collins!
Quarantine Reading Lists
Are your kids looking for things to do during quarantine? These reading lists include books to educate and entertain while pointing young hearts to the God who loves and comforts them always.
Stickers
Choose from a variety of vibrant, biblically themed sticker packs for kids of all ages from Faith that Sticks. Browse bargain and bestelling stickers.
Book Samplers
Seekers: An Escape Room in a Book!
Receive a free, digital sampler of Seekers: An Interactive Family Adventure in Following Jesus from NavPress. Perfect for families with children ages 6 to 12, this extraordinary resource is full of puzzles, art, and clues about the mysteries of the Christian faith. This escape-room style book is sure to become your favorite family discipleship resource. Download the digital sampler. 
Also from NavPress, Good Night Tales leads your children through a vivid, beautiful, and imaginative adventure through Scriptural truths. Get a PDF excerpt of this family treasury of read-aloud stories. Download Good Night Tales sampler.
Play It Again: Kids Bible & Praise Playlist
Enjoy over three hours of kids Bible and praise music, specially curated by the Tyndale Kids team!
Resources for Grown-Ups


Activities & Downloads


Coloring Pages for Adults and Teens

Quarantine Reading Lists


Fiction Recommendations
Looking for some great fiction to read during social distancing? Expand your reading list and try something new from this selection of popular Christian fiction titles! Plus, get your next reads immediately when you explore fiction, nonfiction, teens, and children's e-book deals!
Parenting Resources
Whether your family is in quarantine or facing another challenge, it's never easy being a parent. These resources from trusted Christian authors and experts can help equip you for parenting in tough times. Find recommended books on parenting.
Health & Self-Care
During challenging times like a quarantine, it's more important to practice self-care and stay healthy. Whether you are looking for some encouragement for yourself or are wondering how best to support friends and family, these practical books and resources can help provide peace of mind.
Manage Your Finances
Combining money management skills with biblical principles, these authors have paid off debt, launched home businesses, and developed a healthy relationship with their finances. Find books to help you manage your finances during challenging economic times.

Articles, Webinars, & More


Prioritize Your Mental Health
We've all become familiar with the term "social distancing" during the COVID-19 pandemic. Make sure to prioritize your mental health and find books on self-care.
Virtual Classroom: Add a Christian Lesson for Kids
Coronavirus-related school closures and social distancing efforts have created a new reality for many families these days. Use this as an opportunity to invite your kids to learn more about God and add a Christian lesson to their homeschool experience. Read how in the article.
7 Keys to Learning at Home: A Free On-Demand Webinar
Join Wheaton College professor Dr. Jillian Lederhouse and adjunct professor Brita Beitler as they share tips and tricks to creating learning experiences from home that will keep your elementary-ages students engaged, on track, and happily learning during these challenging times. Watch the webinar here and find free related resources here, including tips, quick guides, and a reading list.
Eating Healthy at Home
How can you increase the amount of fruits and vegetables that your family eats every day? Consider these 11 tips for eating healthy at home.
Drawing inspiration from characters in Cathy Liggett's novel, The Sisters of Sugarcreek, here are four favorite comfort-food recipes for you to make at home. Download delicious recipes.
Finding Rhythm and Routine at Home
Quarantine has dramatically affected the daily routines of everyone in the family, but this can be the perfect opportunity to establish new, life-giving rhythm and routine at home! In this excerpt from The Life-Giving Home, author Sally Clarkson shares some helpful tips from her own experience.
Parenting Teenagers During Quarantine (And Other Challenging Seasons)
Now more than ever, your teen needs your time, heart, conversations, and love. View the Facebook Live event 3 Parenting Hacks to Help Your QuaranTEEN Thrive with Connie Albers, author of Parenting beyond the Rules: Raising Teens with Confidence and Joy. You'll be inspired and a little bit more equipped to make the most of your time together. You'll also receive a link to all 9 of Connie's Parenting Hacks for Building Into Your Teen. What does a teen need? For decades, parents have wrestled with what to do—and what not to do—when raising teens. Do teens need to be challenged or coddled—or a combination of both? Read the full article, What Your Teen Needs from You.
Acts of Kindness to Others
How often do we take a moment to think of where family, friends, or total strangers might be in their hearts and lives? Maybe they have silent struggles from personal hardships they're facing, or they might feel a little hopeless and troubled by current events unfolding around us. Share little acts of kindness.
Play It Again: Praise and Worship Music Playlist
Listen to uplifting music on a specially curated playlist from our team of lifestyle bloggers at Tyndale House Publishers!