Amy
Publisher, Bibles, 2 years of service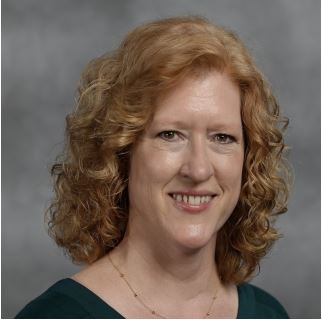 What first attracted you to Tyndale House Publishers?

Amy: I'm now working at Tyndale for the second time. I started my career here, immediately after graduating from college. At that time, approaching my graduation date, I was attracted by an ad in a campus newsletter announcing an opportunity in the editorial department. It sounded like an amazing job and a great fit for me. And it was! I didn't work at Tyndale for long that first time around because my husband and I moved cross-country. But I had a great experience here and have always been grateful to Tyndale for giving me that opportunity and introducing me to the world of Christian publishing, where I have spent my career. I was also introduced to the NLT during that time because the editorial team was working furiously toward publishing the very first NLT Bibles. I absolutely caught the vision for the translation and, even though I was working elsewhere at the time, bought an NLT Bible when it released. Since then, it has been my favorite translation and I have encouraged many others to use it. This time around, I was attracted by a specific position. I heard from a friend that I would be the perfect person to fill that role on the Bible team, and after reconnecting with Blaine (whom I knew from previous interactions in the small world of Christian publishing), I was convinced I should explore it. I already had a lot of respect and affection for Tyndale, loved the NLT, and knew I was fully onboard with the organization's mission. I didn't know that Bible publishing would be something I would want to do. During the interview process I became convinced that it was, indeed, something I would like to do. And I was very happy to find my way back to Tyndale.

What has made your department a pleasant/​enjoyable place to work?

Amy: I love the people I work with. I have had the privilege of building a team in my time here, and doing so is one of the things that gets me out of bed in the morning. It's a pleasure to be learning and growing with the other members of the Bible team and to see us moving steadily toward confidence and—someday—expertise. I'm incredibly proud of the progress these team members have made, the challenging transitions they have weathered, and their determination to pursue our mission for the sake of Christ and his Church. And I'm excited about the future as I imagine where we'll be down the road. I'm also captivated by the multifaceted challenge of Bible publishing. It's an incredibly complex business, and I think I'm going to be learning for a long time. This environment—full of challenge, learning, solving problems, and collaborating to create something excellent—makes my job fun and energizing (and also sometimes discouraging and not fun at all—I have to acknowledge that I have those days too). Third, I'm so blessed to be working on a bilingual team with a global focus. Because we're publishing in two of the top four most-spoken languages in the world, our team is publishing Bibles that have the potential to reach 25 percent of the world's population. That's a staggering opportunity and something that really excites us, and we're challenging ourselves to grow in our ability to think globally about what we do. I see this as an invitation for us to join in the work that God is doing in the church around the world—including right here in the US. The church is a truly global organism, and God's heart is for the whole world. We have been blessed with so much, and we're called to be faithful stewards who use these resources to reach the people God has equipped and called us to reach. We want to find strong markets around the world and build a global Bible-publishing business. I have to pinch myself every time I think about this because I can't believe I actually get to be part of it. What an incredible privilege!

What has made Tyndale House Publishers a unique/​exceptional place to work?

Amy: The mission is the most important distinctive for me. Tyndale shares a similar sense of mission to other Christian publishers, so this is not totally unique. But compared to most workplaces, it's incredibly rare. And for me, working on Bibles brings that sense of missional connection even closer. It would be easy to take this for granted, and I never want to do that. We're so privileged to have this clear sense of how we're serving the Lord and the body of Christ in our work. Next are the people who work here. Tyndale is full of smart, mission-driven, highly capable people who are giving so much to the Kingdom, both at work and in other spheres of life. Working alongside excellent colleagues brings out the best in us, and Tyndale is so blessed with wonderful people who are doing that for each other. I'm very grateful to be part of the team.