Though there's no perfect replacement for canceled parties, concerts, and family gatherings, you can try new ways to celebrate the season that you probably didn't have time for in Christmases past!
By Christine McParland
This holiday season is sure to be like no other before it, but you can still make it a special time of year with our Quarantine Bucket List, Holiday Edition! Here are some ideas to help you try something new, slow down and savor, and bring joy to others (as well as yourself). The best part: no Zoom meetings required!
Try something new.
Though there's no perfect replacement for cancelled parties, concerts, and family gatherings, you can try new ways to celebrate the season that you probably didn't have time for in Christmases past!
– Celebrate Christmas around the world! Pick a country and try recreating their traditional recipes, decorations, and other customs.
– Make a gingerbread house (bonus points if you make it with homemade gingerbread!).
– Craft homemade ornaments for your tree. Spread the cheer and make extras to give to friends and neighbors!
– Try a favorite seasonal recipe you haven't attempted before (yule log, anyone?).
– Take a break from the screen and listen to a radio production of popular Christmas stories like Dickens' A Christmas Carol, Miracle on 34th Street, and It's a Wonderful Life. And don't miss this beautiful production of the nativity story!
– Set up a hot chocolate bar with made-from-scratch hot cocoa (and real whipped cream!) plus favorite toppings such as marshmallows, mini chocolate chips, red and green sprinkles, chocolate syrup, and peppermint sticks.
– Make your own earth-friendly wrapping paper by cutting up paper grocery bags and using holiday stamps to print designs on the blank side of the paper. If you don't have fancy stamps and ink pads, you can use markers, paint, or colored pencils (this is a great activity for kids!).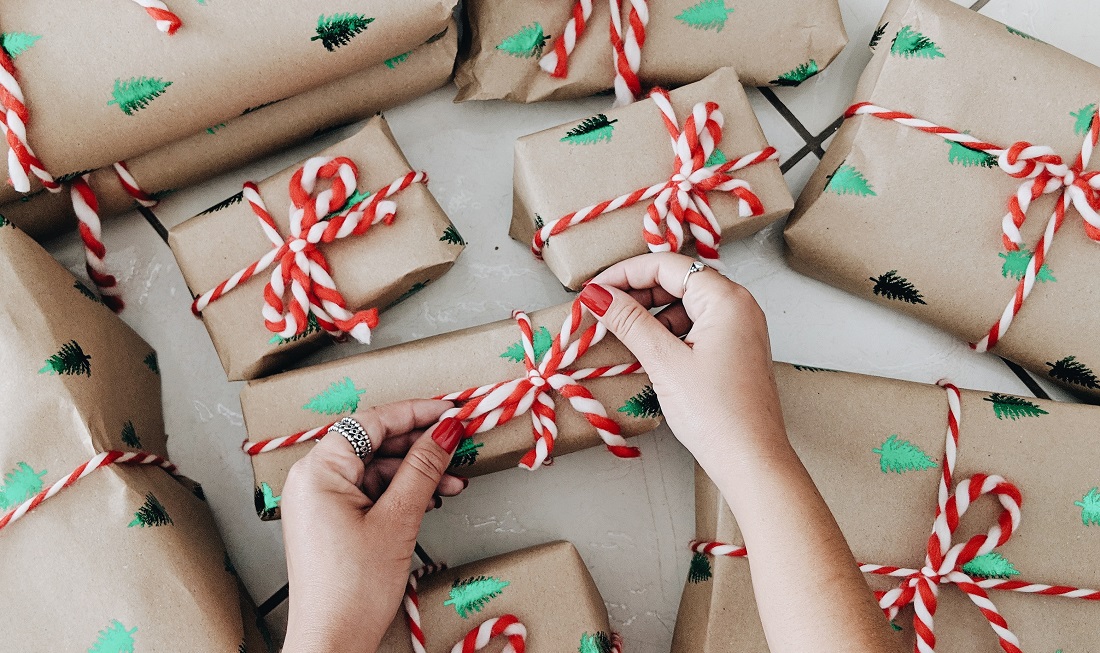 Slow down and savor.
While the absence of seasonal events can put a damper on the holiday spirit, it can also be an opportunity to slow down and savor favorite traditions because you won't be as busy with the "Christmas rush" of activities and commitments.
– Observe Advent! A slower, quieter December is the perfect way to prepare your heart to celebrate the coming of Christ. You may find that Advent practices help make Christmas even more meaningful! Need help getting started? Check out this online Advent calendar for free devotions every day until Christmas!
– Take your time decorating. Whether you deck all the halls at once or gradually adorn through December, allow yourself the luxury to decorate to your heart's content and make your home a beautiful and special place to be this season. Perhaps you'll even pick up some new decorations and go for a themed look this Christmas!
– Enjoy stress-less Christmas shopping from the comfort of your own home. Make a mug of cocoa and curl up by the fireplace or Christmas tree while you check off your list with a few clicks by shopping online!
– Instead of saving your favorite holiday recipes for Christmas Eve and Day, trying making a different one each week throughout December for you and your family to enjoy. Special family dinners are something to celebrate throughout the year—not just at the holidays!
– Switch up your Christmas playlist. Are the nostalgic Christmas tunes too saccharine for your ears this year? Lift your spirits with sacred Christmas music and Advent hymns to help you find joy and peace in the real "Reason for the season."
– Go for walks to enjoy neighborhood light displays. Getting exercise and fresh air is especially important if you're working remotely or are otherwise housebound, and Christmas decorations are the perfect motivation to bundle up and head outside!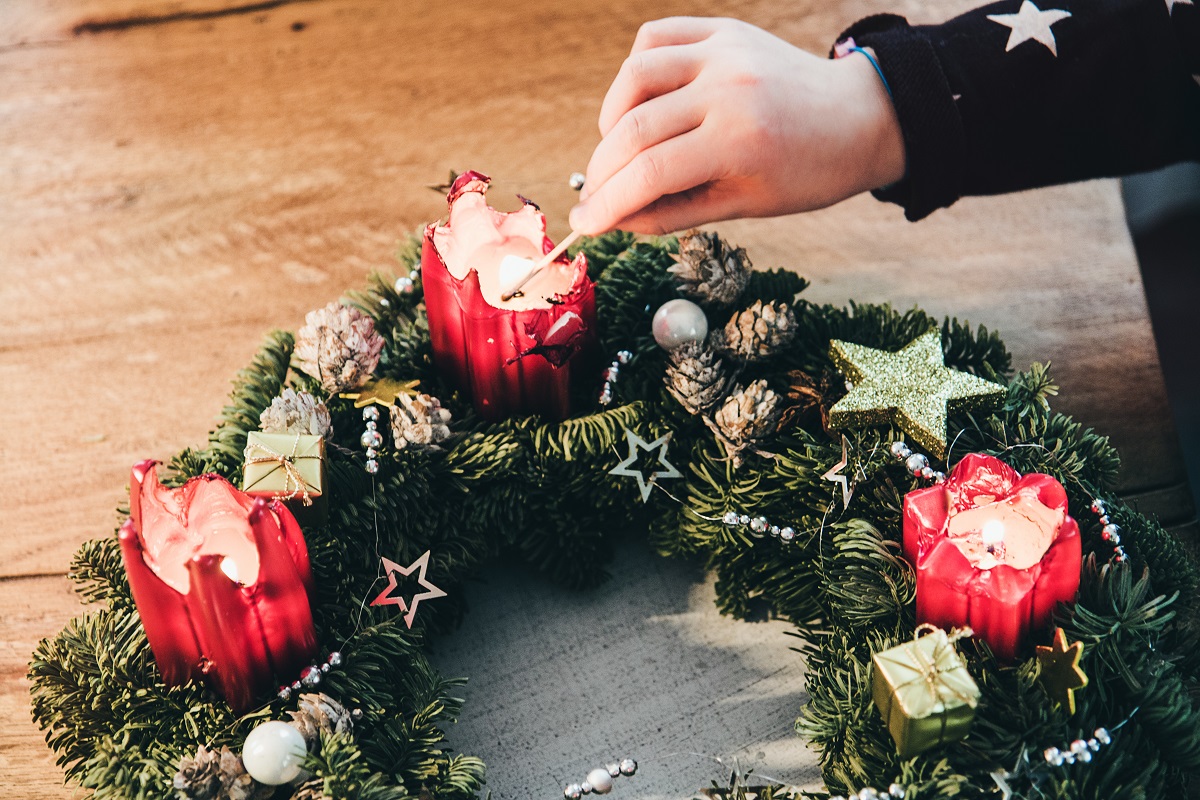 Bring joy to others.
It's ok to be disappointed about the ways this Christmas will be different, but one of the best remedies for sadness is to shift your focus to others. You may be surprised at how much joy it brings you to know you helped make someone else's holiday season bright!
– Go caroling! This is an easy and beautiful way to spread Christmas cheer from a safe distance. Visit the front yards of neighbors, especially those who are elderly and may not be able to have visitors right now. Dress up in Santa hats and Christmas sweaters to make it even more festive!
– Send care packages to elderly and vulnerable loved ones you may not be able to visit in person. Include things to help bring them cheer like scented candles, a Christmas CD or movie, a book by their favorite author, puzzles, and their favorite snack or treat. If you have kids, invite them to contribute by making homemade Christmas cards or coloring pictures to include in the package.
– Create personalized photo books to send to loved ones. Include your kids' milestone moments from this year in a book to send to the grandparents, or compile photos of special memories to send to a friend who lives out of state. Even if you can't be together in person, your loved ones will enjoy this personal gift for years to come!
– Go Christmas shopping for a ministry or charity. Stock up on canned goods next time you're at the grocery store to take to your local food pantry or clean out the coat closet and donate any you don't need. Many ministries offer online gift catalogs where you can purchase items like clean water, food, and medicine for people in developing countries, or Bibles for Christians in persecuted countries.
However you choose to celebrate this Christmas, may you find joy in Christ's incarnation and hope in his promise to come again and make all things new:
Then I saw a new heaven and a new earth, for the old heaven and the old earth had disappeared. . . And I saw the holy city, the new Jerusalem, coming down from God out of heaven like a bride beautifully dressed for her husband. I heard a loud shout from the throne, saying "Look, God's home is now among his people! He will live with them, and they will be his people. God himself will be with them. He will wipe every tear from their eyes, and there will be no more death or sorrow or crying or pain. All these things are gone forever." And the one sitting on the throne said, "Look, I am making everything new!" And then he said to me, "Write this down, for what I tell you is trustworthy and true." – Revelation 21:1-5, NLT