What are some Bible verses about God's love?
Compiled using Nave's Topical Bible by Orville J. Nave
---
Since God chose you to be the holy people he loves, you must clothe yourselves with tenderhearted mercy, kindness, humility, gentleness, and patience. Make allowance for each other's faults, and forgive anyone who offends you. Remember, the Lord forgave you, so you must forgive others. Above all, clothe yourselves with love, which binds us all together in perfect harmony.
—Colossians 3:12-14
Indeed, he loves his people;
all his holy ones are in his hands.
They follow in his steps
and accept his teaching.
—Deuteronomy 33:3 NLT
Those who accept my commandments and obey them are the ones who love me. And because they love me, my Father will love them. And I will love them and reveal myself to each of them.
—John 14:21 NLT
He redeems me from death
and crowns me with love and tender mercies.
—Psalm 103:4 NLT
The Lord detests the way of the wicked,
but he loves those who pursue godliness.
—Proverbs 15:9 NLT
O righteous Father, the world doesn't know you, but I do; and these disciples know you sent me. I have revealed you to them, and I will continue to do so. Then your love for me will be in them, and I will be in them.
—John 17:25-26 NLT
When we were utterly helpless, Christ came at just the right time and died for us sinners. Now, most people would not be willing to die for an upright person, though someone might perhaps be willing to die for a person who is especially good. But God showed his great love for us by sending Christ to die for us while we were still sinners. And since we have been made right in God's sight by the blood of Christ, he will certainly save us from God's condemnation. For since our friendship with God was restored by the death of his Son while we were still his enemies, we will certainly be saved through the life of his Son. So now we can rejoice in our wonderful new relationship with God because our Lord Jesus Christ has made us friends of God.
—Romans 5:6-11 NLT
And I am convinced that nothing can ever separate us from God's love. Neither death nor life, neither angels nor demons, neither our fears for today nor our worries about tomorrow—not even the powers of hell can separate us from God's love. No power in the sky above or in the earth below—indeed, nothing in all creation will ever be able to separate us from the love of God that is revealed in Christ Jesus our Lord.
—Romans 8:38-39 NLT
Even before he made the world, God loved us and chose us in Christ to be holy and without fault in his eyes. God decided in advance to adopt us into his own family by bringing us to himself through Jesus Christ. This is what he wanted to do, and it gave him great pleasure.
—Ephesians 1:4-5
You might be interested in
---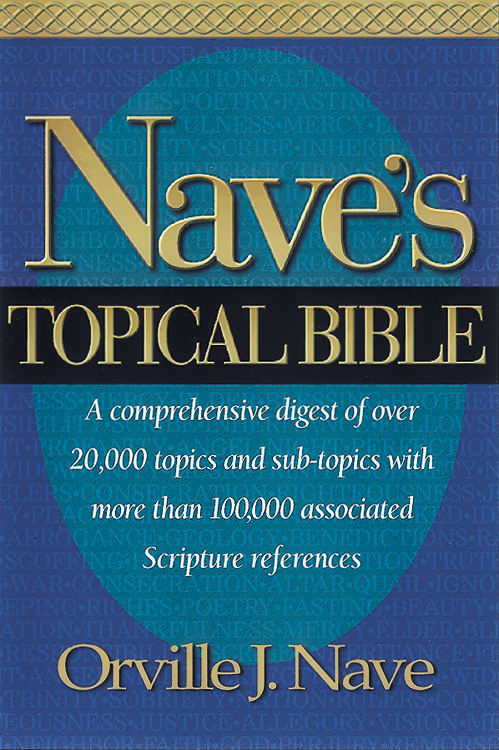 A comprehensive digest of over 20,000 topics and subtopics with more than 100,000 associated Scripture references Features "Zondervan's Pictorial Bible Dictionary, " which contains more than 5,000 entries and 700 images that embrace the complete spectrum of biblical concerns 1,616 pp.