A new school year is the perfect time to develop healthy financial habits.
By Christine McParland
If your kids are old enough to realize that money is a necessary commodity, then it's time to start talking finances as a family. A new school year is the perfect time to develop healthy financial habits like saving and budgeting! Give your kids a solid foundation with these three ways to help your kids understand the value of money.
1. Give your kids an allowance and help them create a budget.
Teach your children to manage money by helping them create a budget based on a weekly or monthly allowance. A good place to start would be to tithe or donate at least 10 percent, save 10 percent, and use the rest as spending money. Discuss a plan with your children about how to use the money—do they want to give all their tithe to church or a portion of it to a ministry or charity? How will they use their spending money? Encourage them to set aside a portion (beyond the portion they're already saving) for larger purchases they might want down the road.
Help your child record their expenditures to keep track of where their money is going. Depending on the age of your child, it could be as simple as a notebook or as detailed as a spreadsheet or budgeting app. If they're old enough, consider opening a savings account for them at your bank so they can watch their money grow!
2. Encourage them to earn and save toward financial goals.
A regular allowance is a privilege often made conditional upon kids completing their chores, but you can also offer opportunities to earn more money by doing additional household tasks that fall outside their normal responsibilities (e.g., raking leaves, helping clean out the garage, etc.). They can also seek age-appropriate opportunities to earn income beyond the home, such as shoveling snow for neighbors, walking dogs, or even babysitting. Or help your child brainstorm a small business based on his or her interests, such as setting up an Etsy store for the budding artist in your family!
Earning additional income is a great way for kids to save towards purchases that exceed their allowance and fall outside the household budget, such as toys or electronics. It's also motivating and rewarding for them to purchase something with their own hard-earned money, and it will help them appreciate their possessions more than if they didn't have to work for them.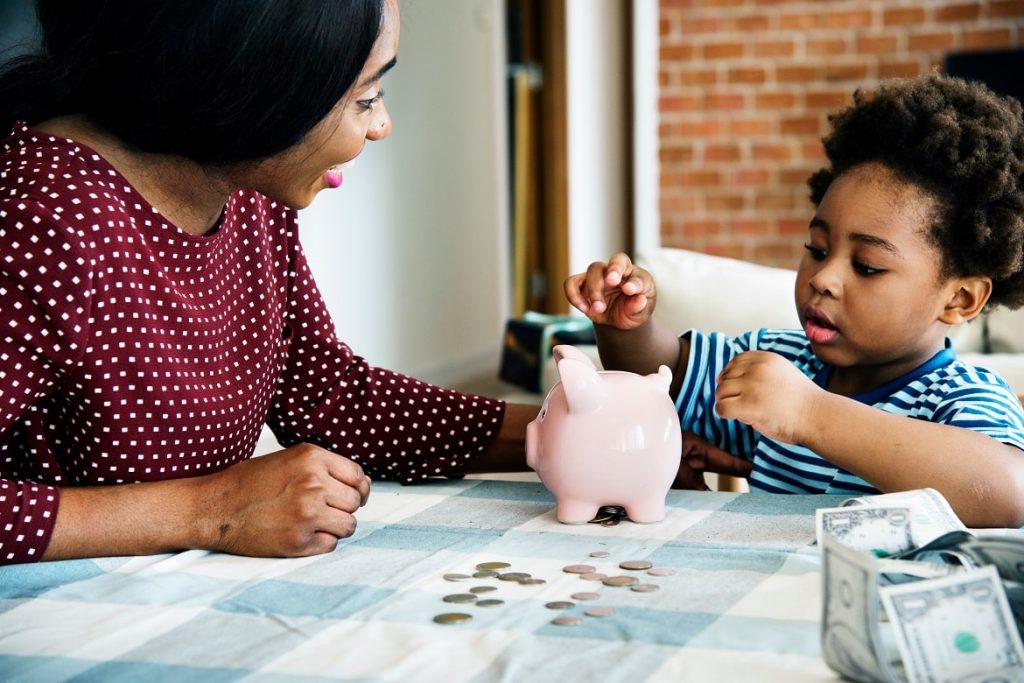 3. Help your kids make generosity a lifestyle (and have fun in the process!).
While it's fun and rewarding for kids to spend income they've earned, it's even more rewarding to use their money to bless others. The challenging part is making generosity fun for kids! Unlike the immediate gratification of purchasing something at a store, when kids donate a portion of their income, they rarely see the fruits of their generosity. But with a little creativity, you can help your kids get excited about giving and learn that "it is more blessed to give than to receive" (Acts 20:35).
– Tithe to your church. Explain to your children (as they're able to understand) the costs involved in keeping the building open and running the events and programs they enjoy. Knowing that they are able to contribute to the church's needs can help your children take a healthy pride in their spiritual home.
– Donate in tangible ways. For example, take your kids shopping to buy shelf-stable goods for a food pantry or toys for a toy drive. Even if they don't see the recipients of their generosity, seeing the goods that their money buys can be more motivating and rewarding for kids than making a monetary donation alone.
– Sponsor a child. Child sponsorship through a reputable organization like Compassion International is a powerful way to encourage your children to give because they may have the opportunity to get to know the recipient of their generosity through letters and photos. Pool your resources as a family so each of your children contributes to the sponsorship. Help your kids get to know more about the culture and country their sponsor child is from to build the personal connection.
Want more ideas to help you and your family develop a healthy relationship with money? Find books on managing finances here and resources to help kids grow in generosity here.