Play takes our focus off feeling responsible and weighed down with work; it awakens our intellect, provokes our sense of wonder, and refreshes our souls.
By Leah Boden, excerpted from the book Modern Miss Mason
Children seem to have no trouble inventing endless ways to play. They are often fully able to entertain themselves with vivid, expressive games from their own imaginations without the encouragement or supervision of adults. In fact, adults can arguably be the disrupters rather than instigators of a child's play. The sound of a child laughing and playing is so often a balm for the mother's soul because it reminds us of a lost art that we long to find in our present moment.
Charlotte believed in parents so much (and really wanted us to do a great job) that she designed an extensive programme of input and introspection called the Mothers' Education Course. This involved guidance and teaching in faith, health, educational philosophy, and nature. The formal course didn't survive much past the First World War due to the changing priorities of women; but the principles of play it explored still ring true today in our book clubs, forums, social media pages, live videos, and the many research bodies that continue sharing her work.
The mission of motherhood and the toll on our bodies, minds, and time hasn't changed much over the past one hundred years. There are so many factors to consider when it comes to our approach to free time, relaxation, and self-management, but I don't think anyone can argue that it's not important. We are living in the most fast-paced, stressed-out society ever. Mothers are expected to "bounce back," run a business from home with a baby on the hip, and meet every need for anything that breathes or moves in her household! Slowing down and giving our minds and bodies what they need can often seem indulgent, rather than a source of health and longevity. After personally fighting such thoughts over the years, I have finally taken the long road to slowing down and savouring every given opportunity.
Playing contributes to a healthy mind, body, and spirit and is known to boost our confidence and self-esteem. It forges positive relationships and connections, triggers our problem-solving skills, and stimulates creative thinking. It keeps us functioning well under stress and releases endorphins that help us cope. Play is not just an activity but a state of mind. It reminds us to be less intense and not take ourselves too seriously. It doesn't take much of a mental leap to recognise how much this kind of attitude and approach to life can have a positive effect on our children and in our home. It turns out that fun is a serious business that is worthy of our effort.
Charlotte's idea of play for mothers wasn't merely intended to give us time off; it was about fueling us for the noble job we are undertaking. Play takes our focus off feeling responsible and weighed down with work; it awakens our intellect, provokes our sense of wonder, and refreshes our souls. Play gives us a fresh perspective, guards us from idolising our role or children, and enables us to recognise that we're still growing, changing, and taking part in the world.
Early on in my mothering journey a wise, much older homeschool hero said this to me: "It's not enough to just love your children, you must also learn to love motherhood." Through this advice I began to see motherhood as a noble calling, something I was fully equipped to do beautifully and uniquely; something I would choose to hold lightly but navigate with integrity and intentionality. Once we know what we are digging deeply for, it is worth taking the continual challenge to stay alive in our learning, pursue masterly inactivity around our children, and keep our souls well watered.
We are not only to be a picture of a sacrificial, loving life for others, but also one of exuberance, fun, and freedom. Let's be awesome adults! Let's leave a trail of a life that children would like to emulate, discuss with friends, and write about in books in years to come. A life they knew wasn't easy, but a life full of forgiveness and second chances, a life that is fully alive, and full of continued growth, grit, and grace. A life where mothers go out to play. A life like yours.
You've been reading from
---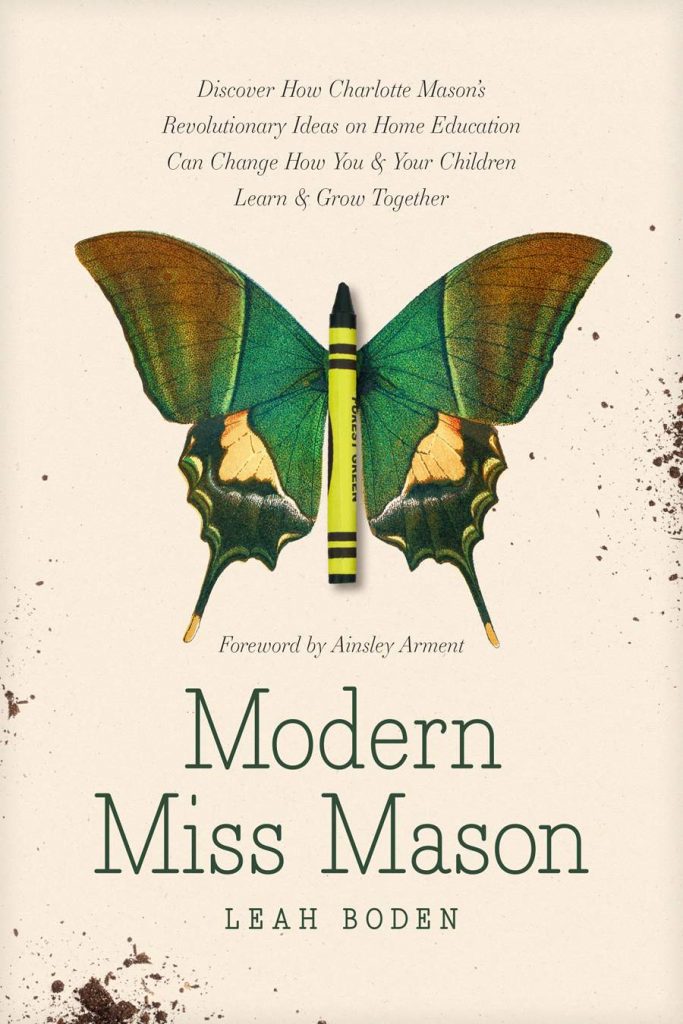 Modern Miss Mason is your invitation into an adventure, a call to turn a corner on your already incredible journey of parenting and let Leah Boden show you the fresh face of an age-old perspective on motherhood, childhood, and education.
As a young mother and new home educator, Leah was overwhelmed by the breadth of available resources. How to know which to choose? What would best guide and inspire her children? Whose voices should she trust?
That's when she discovered the timeless work and words of Charlotte Mason. A ground-breaking and revolutionary voice in education, Charlotte breathed life and beauty back into childhood in a stiff, archaic age, opening the eyes of parent-teachers and the hearts of students—and changing the future of home education.
---