October 16, 2017
The One Year Daily Acts of Kindness Devotional Giveaway
The One Year Daily Acts of Kindness Devotional Giveaway
What would happen if you and your family committed to doing one act of kindness each day for a year?
Our world desperately needs more kindness. Whether it's on social media, in the news, or between your arguing kids it can seem like conflict and disconnection are everywhere. But imagine how much better life would be if we got intentional about being kind!
This year, embark on a journey to make kindness a part of your life, home, and soul. In The One Year Daily Acts of Kindness Devotional, you'll find Scripture passages and inspirational personal stories about why God calls us to show kindness, what it means to live a life of generosity, and how you can incorporate kindness into your everyday routine (and teach it to your kids) with tons of simple, easy-to-do ideas.
Show your world the kind of love that is possible with daily acts of kindness that will change your heart, inspire your family, and draw you closer to God. Learn more HERE.
Help us spread the word about this devotional and you could win a special gift box from Uplift a box.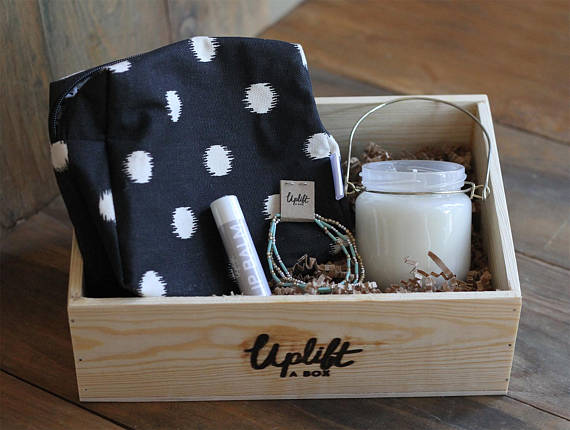 The Gift Box Includes:
• Boxy clutch – black/white outside and inside fabric – 6″L x 5.5″H x 3.5″W
• Teal/white/gold stretchy bracelets
• Shea butter lip balm
• Soy orange scented candle – 3″H x 2.5″D
• Handcrafted pine wood box – 9″W x 8″L x 2″D
Here's how to enter:
1. Fill out the Gleam form below.
2. Follow the directions to earn extra entries.
3. We'll choose one winner at random to win the gift box.
4. The winner will be contacted by November 1, 2017.