August 28, 2016
Ben-Hur Debuts in Theatres
Ben-Hur Debuts in Theatres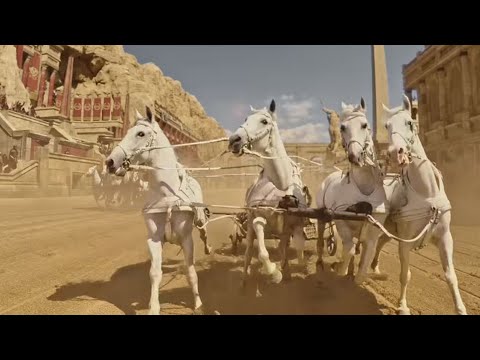 As one of the bestselling stories of all time, Lew Wallace's Ben-Hur: A Tale of the Christ has captivated and enthralled millions around the world—both in print and on the big screen. Based on Wallace's epic novel, Metro-Goldwyn-Mayer Pictures (MGM) and Paramount Pictures released BEN-HUR in theaters nationwide on August 19. In advance of the film's release, Tyndale House Publishers published both an updated trade novel by Wallace's great-great-granddaughter, Carol Wallace, as well as a collector's edition of this epic story on July 19.
In the updated trade novel, Carol Wallace has taken the old-fashioned prose of this classic novel and breathed new life into it for today's audience. She has modernized the text, bringing this story of intrigue, romance, and tragedy into a more accessible and readable format—drawing readers back to this time-honored tale.
The story follows Judah Ben-Hur, a nobleman falsely accused of treason by his childhood friend Messala, an officer in the Roman army. Stripped of his title, separated from his family, Judah is forced into slavery. He is sentenced to the galley ships and vows revenge against the Romans and Messala. After years at sea, Judah returns to his homeland to seek revenge, but a chance encounter with Jesus sets him on a different path, where he discovers forgiveness and finds redemption.
Metro-Goldwyn-Mayer Pictures and Paramount Pictures' BEN-HUR stars Jack Huston, Toby Kebbell, Rodrigo Santoro, Nazanin Boniadi, Ayelet Zurer, Sofia Black D'Elia, and Morgan Freeman. Timur Bekmambetov directed the film from a screenplay by Keith Clarke and John Ridley. Sean Daniel, Joni Levin, and Duncan Henderson served as producers, with Mark Burnett, Roma Downey, Keith Clarke, John Ridley, and Jason F. Brown serving as executive producers.
Author Carol Wallace shares, "Adapting the original novel for contemporary audiences was both an honor and a thrill."
Included in the new novel and collector's edition are images from the 2016 film and the inspiring story-behind-the-story of Lew Wallace—Indiana lawyer, author, and Civil War general. The collector's edition also contains more than 100 special features, including bonus content, images and photos from Lew Wallace's life, valuable backstory and historical information, "the rest of the story," and images and trivia from the previous film adaptations.

Q & A with Carol Wallace, author of Ben-Hur: A Tale of the Christ
Carol Wallace is the great-great-granddaughter of Lew Wallace, author of the novel Ben-Hur: A Tale of the Christ, which was first published in 1880. Carol has written more than twenty books, including most recently a historical novel, Leaving Van Gogh. She is the coauthor of the New York Times bestseller To Marry an English Lord, an inspiration for Downton Abbey. Carol holds degrees from Princeton University and Columbia University.
What prompted you to want to update this classic story?
I never actually read the original version of Ben-Hur, though I was always very proud of my great-great-grandfather. And I thought it was very cool to have such an important author in my family tree. When my father died in 2013, I was prompted to pick up the book. It was clear to me that there was a wonderful story buried in some stodgy nineteenth-century prose. And I thought it would be huge fun to liberate it!
Updating a classic for a modern audience is challenging. Can you take us through your process a bit?
Updating lesser-known classic novels is actually something I've wanted to do for a long time—I think because I grew up on the great tradition of Classics Illustrated comic books. There are lots of wonderful rip-roaring novels encased in nineteenth-century prose that even I find hard to read, even though I love Trollope and Dickens. (Think of Twenty Thousand Leagues under the Sea, for instance, or The Last of the Mohicans.) So Ben-Hur, being a story I've always known, was a really natural project. And truthfully, it was delightful because Lew Wallace had done all the hard work. I also write fiction and easily half of the work occurs in your imagination, as you create your world and your characters. Then probably another quarter of it is organizational as you push your characters around and make things happen to them in the correct sequence—really the writing is not most of the labor.
I knew from the start that all I wanted to change was the mechanics of the storytelling—the tale itself is very strong. It wouldn't have been adapted so often if this weren't a tale people wanted to experience. I decided that I would not change any of the fundamentals and also that I would not second-guess Lew's research. He did a very thorough job on that for the 1870s, and I saw no benefit in trying to bring more contemporary attitudes or information into the story.
So then it was largely a question of pacing. The original Ben-Hur was published in an era when the possibilities for entertainment were tiny compared to today. People actually sat around their parlor tables and read out loud to each other! So there was some sense in extending the story—but we can't do that today. Description was also a huge feature. Lew was writing at a time when even photographs of the Middle East were not common, so he had to do a lot of word painting. Any contemporary reader knows what a palm tree and a Roman helmet look like, so I could cut a great deal there. On the other hand, I did spend more time on the women's experiences, relating more scenes from their points of view and making them (I hope) more well-rounded. And finally, I wanted this version of Ben-Hur to read more like a thriller, so I did my best to keep the tension up with shorter sentences, short chapters, and as much narrative tension as possible!
What was your favorite or most surprising thing about this project?
My process as a writer is to live, imaginatively, the scenes I write about. And Lew's book—subtitled "A Tale of the Christ"—begins with the Nativity and ends with the Crucifixion. Jesus is an important character in Ben-Hur and Lew wrote reverently about him, giving him only dialogue from the Gospels. It was deeply moving for me to adapt Lew's narration of these scenes and to project myself into them, which is the only way I know of to really describe a scene or write dialogue. It was, as you can imagine, an amazingly rich spiritual experience.
What is your hope for this book?
I hope readers will rediscover the sheer narrative power of Ben-Hur. I worked hard to make this version fast-moving, with lots of emotional appeal. In addition, readers may rediscover the heartfelt faith that Lew himself gained in his writing of this world-famous saga.