September 19, 2016
Join the Inspire Bible TOUR!
Join the Inspire Bible TOUR!
The Inspire Bible TOUR is coming to a U.S. city near you!
Tyndale House Publishers is partnering with Amber Bolton for a TOUR across America offering Inspire Bible Creative Journaling Workshops. Amber Bolton is currently booking two-hour-long workshops with churches and ministries.
Inspire Bible creative journaling workshops will offer participants the opportunity to explore God's word creatively and experience a fresh approach to Bible reading.
Amber Bolton will guide participants through hands-on activities to inspire creativity in their daily walk with the Lord. This workshop is designed to focus hearts on Christ as participants learn to color, paint, draw, and letter their way through God's Word. Participants will receive a booklet to practice in before starting in their Bibles and will have the opportunity to try out Amber's favorite creative journaling supplies at their tables throughout the workshop.
The Inspire Bible TOUR offers the community an opportunity to band together to provide an event for individuals—both inside and outside of the church—to connect with God and others while learning about creative journaling, supplies, tips, and techniques. Workshops offer a fun and engaging event for outreach, women's ministries, multi-generational groups, communities, and more!
Workshops are available for booking. Saturday and Sunday afternoon workshops are ideal, but dates and times are flexible. Host sites must be able to accommodate a minimum of 50 people including seating around tables with space for supplies and hands-on creative journaling activities.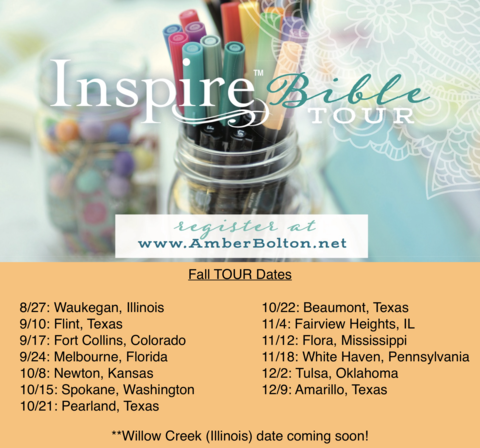 Learn more at http://inspirebible.com/tour/. To book a workshop, email InspireBibleTourBooking@gmail.com.
Click on each image to download Inspire Bible interiors from Psalms, Galatians & Ephesians, and Revelation!