Reading quietly, underlining sentences and dog-earing pages, is also a way of knowing God, of loving him with my mind.
By Holly and Glenn Packiam, excerpted from the book The Intentional Year
I used to carry a book with me everywhere I went. I don't mean as a nerdy kid whose nose was always buried in the pages of some fantasy novel. I mean as an adult. When I first began working at New Life Church, I was an intern in the worship ministry. The team was known at the time for its long meetings that would drift from the strategic to the operational, from high-flying philosophical conversations to quotidian details of date and time in the calendar. Often, these meetings would take place over a meal and last hours. So, naturally, I brought a book. When the topic would drift beyond my interest or to an area that did not relate to me, I pulled out my book and started reading. I chuckle thinking about this over twenty years later. It is, quite obviously, a rude thing to do, and a habit I would certainly correct in anyone on my team. (Truth be told, I think I only actually pulled out a book in the middle of a meeting a handful of times, and I was sorely chided or at least teased for it.)
Reading is a great love of mine, though I am a ponderously slow reader. I like to think I make up for this by remembering nearly everything I read, but I'm not quite sure that's true. Moreover, I am an incurable reader of only nonfiction. Though I have worked my way through a fair share of classic novels and modern hits (like the Harry Potter series, for example), I read about four times as many nonfiction books as I do fiction books. That's because I want to learn. I read to gain insight, knowledge, and wisdom.
As much of a reader as I am, I didn't realize until the last decade or so that much of my reading is actually a kind of spiritual practice. The realization was gradual, but it was helped along by people like Eugene Peterson. Peterson is best known to most as the translator of The Message Bible paraphrase, but to those in pastoral ministry, he is known as the quintessential pastor. Many of his books are about reclaiming the earthy holiness of that vocation. In 2009, when I was given my first sabbatical—a six-week paid leave to rest and be renewed—I began reading a few of Peterson's books on pastoral ministry. In one particularly strong book called Working the Angles, Peterson calls pastors back to their posts by outlining the key but hidden dimensions of our work: prayer, Scripture reading, and spiritual direction. When he talks about Scripture reading, he speaks of a listening ear, an attentiveness to words that could best be described as "contemplative exegesis":
Words are sounds that reveal. Words make stories that shape. Contemplative exegesis means opening our interiors to these revealing sounds and submitting our lives to the story these words tell in order to be shaped by them. This involves a poet's respect for words and a lover's responsiveness to words.

Eugene Peterson, Working the Angles, p. 125
I realized that most of the nonfiction books I read are those that help me hear the Bible in fresh ways. These books draw out breathtaking themes and paint panoramic landscapes of God's saving presence in his world. They help me see the metanarrative of the Bible and the microdetail of artistry and creativity. Some of these books bring clarity and understanding, while others immerse me in the genius of its literary nature.
In another of his books, Peterson talks about blocking out times in his schedule for study, and honoring that time as if it were an appointment with a real person. That's because reading a book by an author you respect is a form of spending time with that person. It's a way of being mentored and shaped. And yes: it's way of being renewed.
Reading is a spiritual practice. The American preacher and revivalist A. W. Tozer described kneeling in his study with a book open, asking the Holy Spirit to reveal things to him as he read. But as a charismatic-pentecostal, I was slower to recognize the spiritual value in reading. Our modes of experiencing God's presence were often loud and visible: speaking in tongues, praying and swaying back and forth, shouting and dancing, and more. To be clear: I practice all of those things too, even to this day! There's nothing like engaging the body in worship and prayer in ways that are active and vocal. But no one told me that reading quietly, underlining sentences and dog-earing pages, is also a way of knowing God, of loving him with my mind.
Now that I'm aware of it, I approach reading as a practice of renewal. I try to set aside at least thirty minutes every morning—often, it's an hour—and about an hour every night to read. My morning read is whichever book is more demanding; my evening read is usually something more devotional or reflective. (For example: N. T. Wright in the morning; Henri Nouwen in the evening.)
One important thing I've learned about reading for renewal: I can't read only for the purpose of using what I've read. My input needs to exceed my output. And I don't just mean in terms of quantity. In fact, more often than not, I am not reading more hours in a week than I'm teaching or leading up front. But what I take in must always be qualitatively better. Let me explain. I'm a pastor who speaks and teaches often. If I want the quality of my content to rise, I need the quality of what I'm reading to be even higher than that. Let's pretend that we can assign numeric values to this sort of thing. If I want to preach and teach at an 8, I need to read at a 10. Why? Because something is always lost in the process of input converting to output. To put it a different way, if I want to write like C.S. Lewis, I can't just read C.S. Lewis; I need to read who Lewis read—St. Augustine, for example. If I want to think like Eugene Peterson, I need to read Karl Barth—whom Peterson himself would make it a point to read regularly.
Whatever your profession, if you know where you want to be in terms of growth, think of a person who represents that kind of character and life. Then look at the sources behind that person, the people they read and absorb.
Reading is a practice of renewal when we are careful about who we're reading, contemplative about how we read, and consistent about when we read. 
If Sabbath is about stopping, study is about soaking. Both provide perspective beyond the monotonous march of time. With Sabbath, we step back. With study, we step into another world.
Here are some questions to prayerfully consider as you read:
Ask the Lord if there's a particular theme or topic you should focus on for a season.
Consider choosing a handful of authors whose thought you want to immerse in for awhile. Sometimes, certain authors make good pairings—like Eugene Peterson and Wendell Barry, for example.
Take notes from what you've read—for example, in a journal entry or a bullet-point summary of each chapter. This has been one of the best ways for me to remember what I've learned and to reflect on it in my own words.
Mix in some fiction and narrative books like biographies and histories to give your brain a different mode.
You've been reading from
---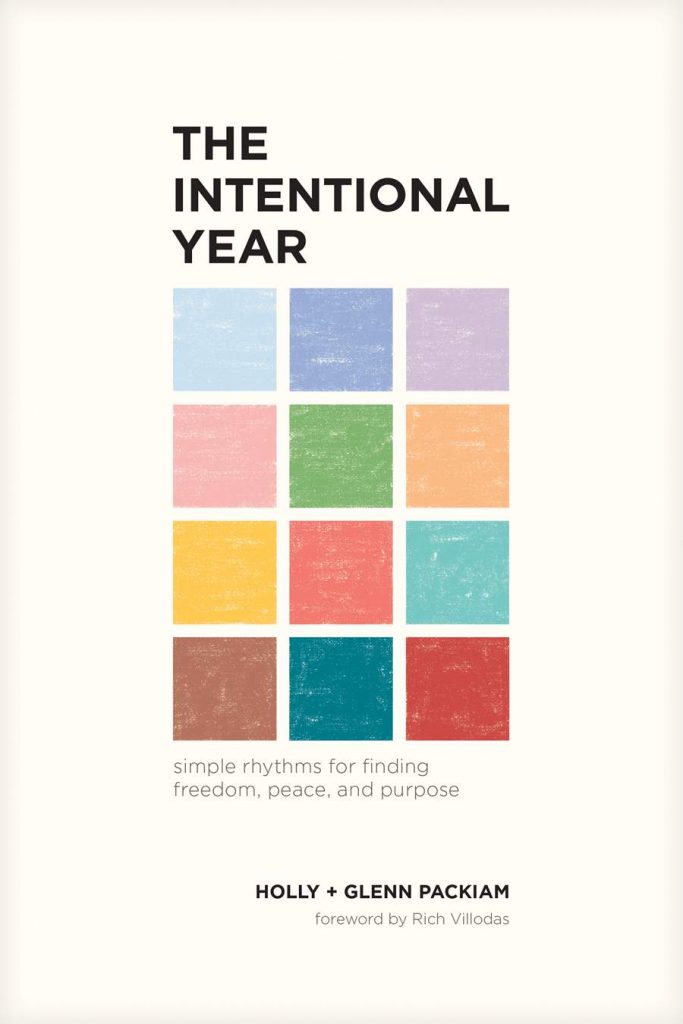 The Intentional Year is an invitation to stop right now, right where you are, and choose to live on purpose. This isn't just about aspirations or self-improvement—a flourishing life is tangible and possible. With stories, practices, and a road map into intentionality, Holly and Glenn Packiam will guide you into simple ways to grow personally. Experience freedom to invest time and energy into the people you value most and into the purpose you were made for.
---