The cross is always there, fixed in the background of our belief, but how often does it confront us with its terrible and awesome reality?
By Christine McParland
I'll never forget the first time I knelt to pray before a crucifix. One humid Saturday in mid-July, I was visiting the church two blocks from my home. The cool leather of the pew kneeler stuck to my bare knees as I took in my unfamiliar surroundings. Late-afternoon sunlight streamed through stained-glass windows lining the western side of the church, filling the tall, arched space with a calming brightness. The refrigerated air carried with it the warm scent of burning candles. But what captivated my attention was at the front of the sanctuary, high above the altar: a larger-than-life, painted replica of Jesus' body hanging on the cross.
Coming from an evangelical background, I was a bit wary of crucifixes. I wondered why some Christian traditions chose to "leave Jesus" on the cross (although it sometimes seemed more personal than the alternative empty cross or tomb). Yet kneeling here, contemplating the crucifix, I couldn't find anything inherently wrong with a visual reminder of Jesus' death.
As my eyes drank in this horrible but beautiful image—I didn't know until then that I was thirsty for it—a humbling realization hit me: I couldn't remember the last time I'd thought about Jesus' death. As in really thought about it. Without visible, tangible reminders of his sacrifice for me, it was too easy to forget the cross's central place in my faith and life.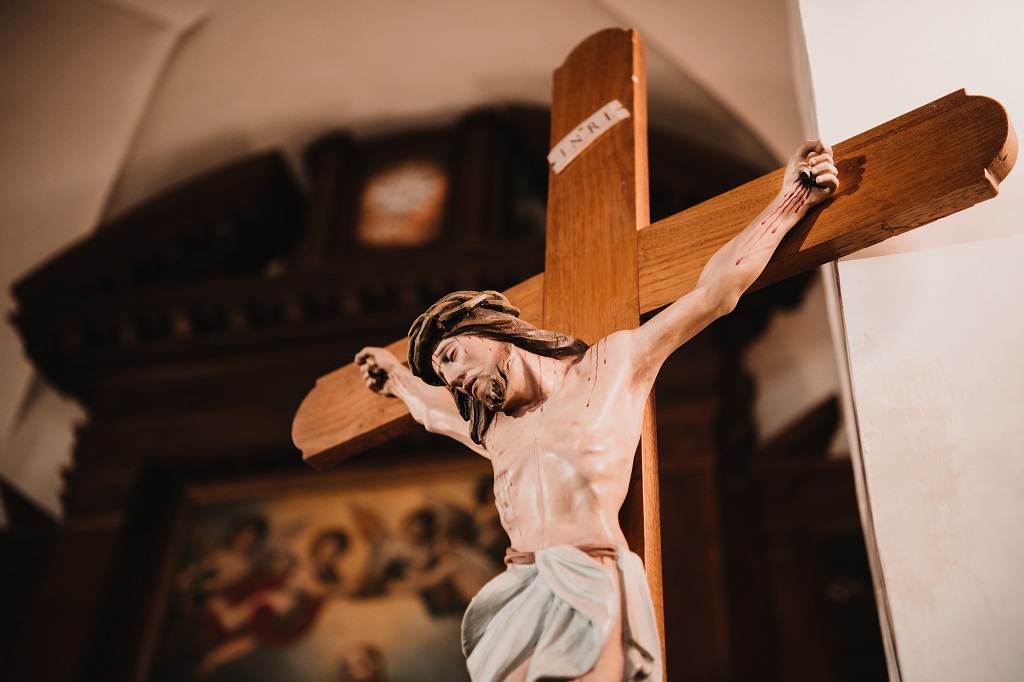 This experience highlighted my ongoing struggle to contemplate Jesus' passion, a problem that doesn't go away simply because it's Holy Week. The days leading up to Easter often bring a vague sense of guilt as I wonder why I don't feel more sorrowful for my sins and for Christ's suffering on my behalf. An extra service or two at church isn't enough to help me enter into the mystery of this sacred week, and I suspect I'm not the only one who struggles in this way.
But why? Are we so used to hearing about Jesus' passion that we've become deaf, numb, and blind to the reality of it? Are we so busy living the victory and hope of the Resurrection that we've forgotten the crux of the gospel message—Jesus' redemptive suffering and sacrificial death for our sins?
Of course, many churches remember Jesus' passion through regular observance of communion. Sermons, Bible studies, and small group discussions reference the cross throughout the year. It's an integral part of our faith, yet because of this pervasiveness, it's also often taken for granted.
The cross is always there, fixed in the background of our belief, but how often does it confront us with its terrible and awesome reality?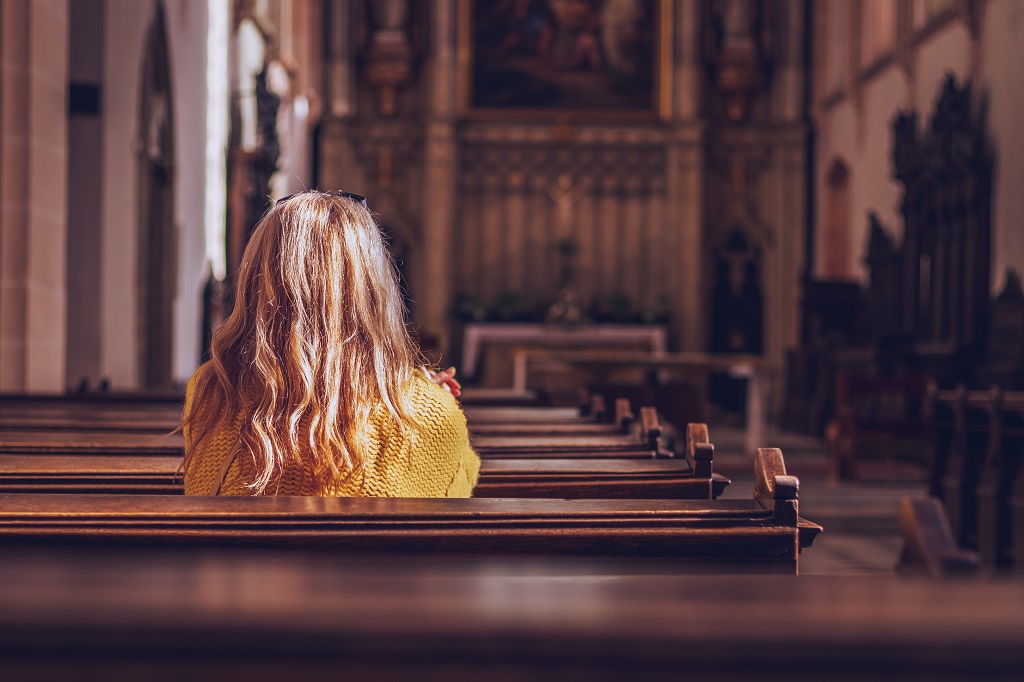 Kneeling in church that July afternoon, I realized my own encounters with the cross were far too infrequent. I would return again and again to kneel and to gaze. I needed a constant reminder that God became man and died for me. I needed to see, to bend the knee, to express with my body what I believe in my mind so that it might take root in my heart.
This understanding came through an ongoing practice; contemplating Jesus' suffering and death doesn't come easily nor all at once, nor even in a lifetime. But week after week as I knelt and gazed, the cross began to work its way into my life.
More than a year after this first encounter with a crucifix, I found myself in a season of personal suffering. Kneeling alone in a pew, tears dampened my cloth face mask while my heart poured out whys? and how longs? As I lifted my face toward the crucifix, another realization came: I wasn't alone in my suffering.
I had always known that, of course. But now I knew it. During those months of meditating on the cross, this truth had rooted itself in my heart: through his own suffering, Jesus also bore mine. He has walked this road ahead of me, and he walks it with me still, promising a glorious resurrection at the end.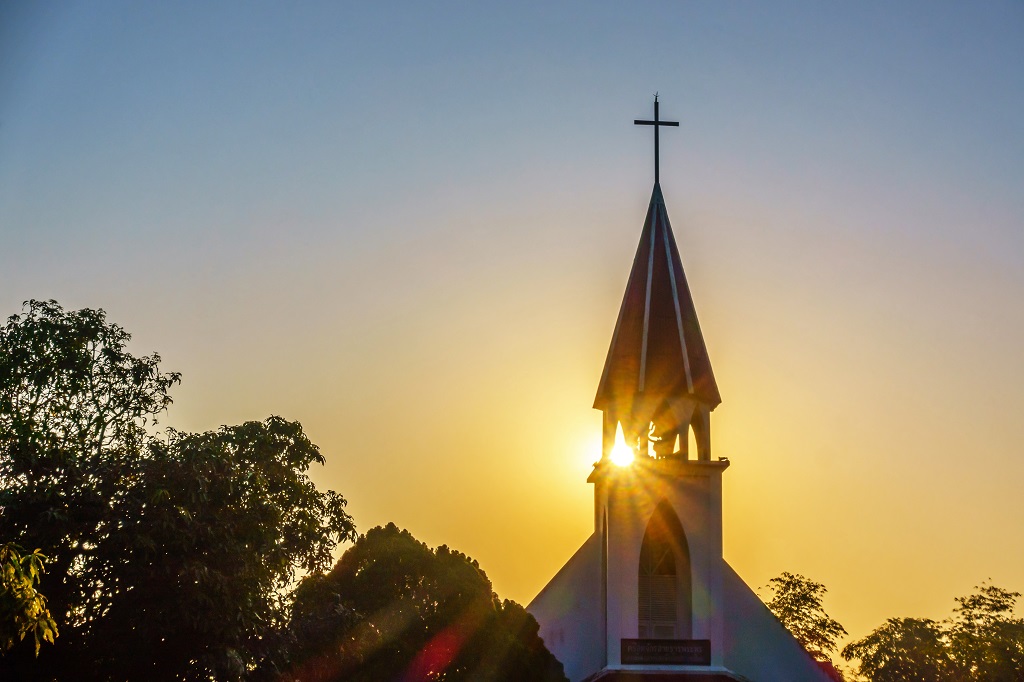 I didn't get the answer that I wanted, but I got the presence I needed: a deeper communion with my crucified and risen Lord, my suffering and conquering Savior.
During Holy Week, I get to "return the favor" by seeking to enter into Jesus' suffering as I remember his passion and death. He doesn't need whatever spiritual disciplines or practices I choose to observe. But Jesus desires my presence—desires my presence!—and having tasted the sweetness of his fellowship in my own suffering, how could I refuse the opportunity to mystically join him in his?
Wherever life finds you this Holy Week, don't shy away from the cross. No, it's not pretty, and it's not easy, but neither is it an obligation or a guilt-trip. Let Jesus' outstretched arms embrace you in a love stronger than death, a love that is life itself. See the cross for what it is: an invitation to receive the suffering Savior into your broken heart and a promise to raise you with him in the triumph of Easter morning.