The key that will set you free is knowing God's Word inside and out.
By Matt Freeman, including an excerpt from the book The Well-Watered Woman by Gretchen Saffles
"What to the Slave Is the Fourth of July?" On July 5, 1852, Frederick Douglass asked this poignant and powerful question in his speech to a gathering of the Ladies' Anti-Slavery Society in Rochester, New York. The full speech can be read here. The question that Mr. Douglass raised brought another question to my mind in recent weeks, as I thought about those who follow the Lord Jesus Christ: What to the free is the Word of God?
I'm not sure where that question came from (has that ever happened to you?), but I went with it. And I thought about it some more. What is the Word of God to those who are free in Christ? Surely, the Word of God brings about faith in Jesus (Romans 10:17). It tells us God's glorious story of redemption (Ephesians 1:13-14), often through accounts of people groups, laws, songs, and family drama. But what about God's Word for right now? What is the role for God's Word in our present daily life? One very helpful answer came to me as I read through a portion of The Well-Watered Woman by Gretchen Saffles: Renewed thinking.
Gretchen writes in Chapter 11:
The lies in our minds are constantly at odds with the truth, promises, and provision of God's Word. If the thoughts that run through our minds were to be displayed on a screen for all to see, I imagine a few of the recurring ones would be:
I'm a failure.
I'm a disappointment.
I can't do this.
I'll never be free.
These thoughts create deep grooves in our minds, but they're not too deep for Christ's truth to redirect. Paul urges in Romans 12:2, "Do not be conformed to this world, but be transformed by the renewal of your mind, that by testing you may discern what is the will of God, what is good and acceptable and perfect" (emphasis added). God's Word ultimately rewires our hearts and minds so they're focused on what's eternal instead of driven by what's temporary. God's Word plants truth and uproots lies. It clears pathways for renewal, and it covers up pathways that block peace. The key that will set you free is knowing God's Word inside and out.
The way to change your thoughts is through the daily discipline of preaching truth to your heart. In order to be a truth preacher, you have to know the pathways in your mind that are in need of rewiring, and you need to know the truth. Then you'll be able to pave new ways of thinking.
Jesus made it clear that knowing truth with a capital T brings freedom (see John 8:36). The truth of the gospel, the truth of his love for us, the truth of new life in him—these aren't messages we need to hear just once in order to be set free. They're realities we need to be reminded of over and over again.
Your thoughts might tell you, I'm broken. I don't have value. I'm a fraud. But the truth of God's Word says, "I'm redeemed through Christ. I'm a new creation. I'm called and equipped to live for his glory" (see Romans 3:24; 2 Corinthians 5:17; 2 Peter 1:3).
Your thoughts might say, I can't do this. I can't flourish in the face of trials. But the truth of God's Word says, "I have all I need in Christ. I can do exactly what he calls me to do through his strength" (see Philippians 4:13, 19).
Your thoughts might say, I can never be free. I will always be in bondage to fear and anxiety. But the truth of God's Word says, "It is for freedom that Christ has set me free! His peace is possible in all circumstances" (see Galatians 5:1; Philippians 4:4-9).
When the enemy tries to drag you down through lies, doubts, and wayward thoughts, petition the Father to plant his truth deeper into your heart. The words you think impact how you talk, live, love, make decisions, and approach trials. Thoughts are ultimately made up of words, and words have more power than we realize. The good news is that God's Word has the ultimate authority over any word and thought. So fight the battle for your mind with confidence, knowing that you will win because Jesus already won.
You've been reading from
---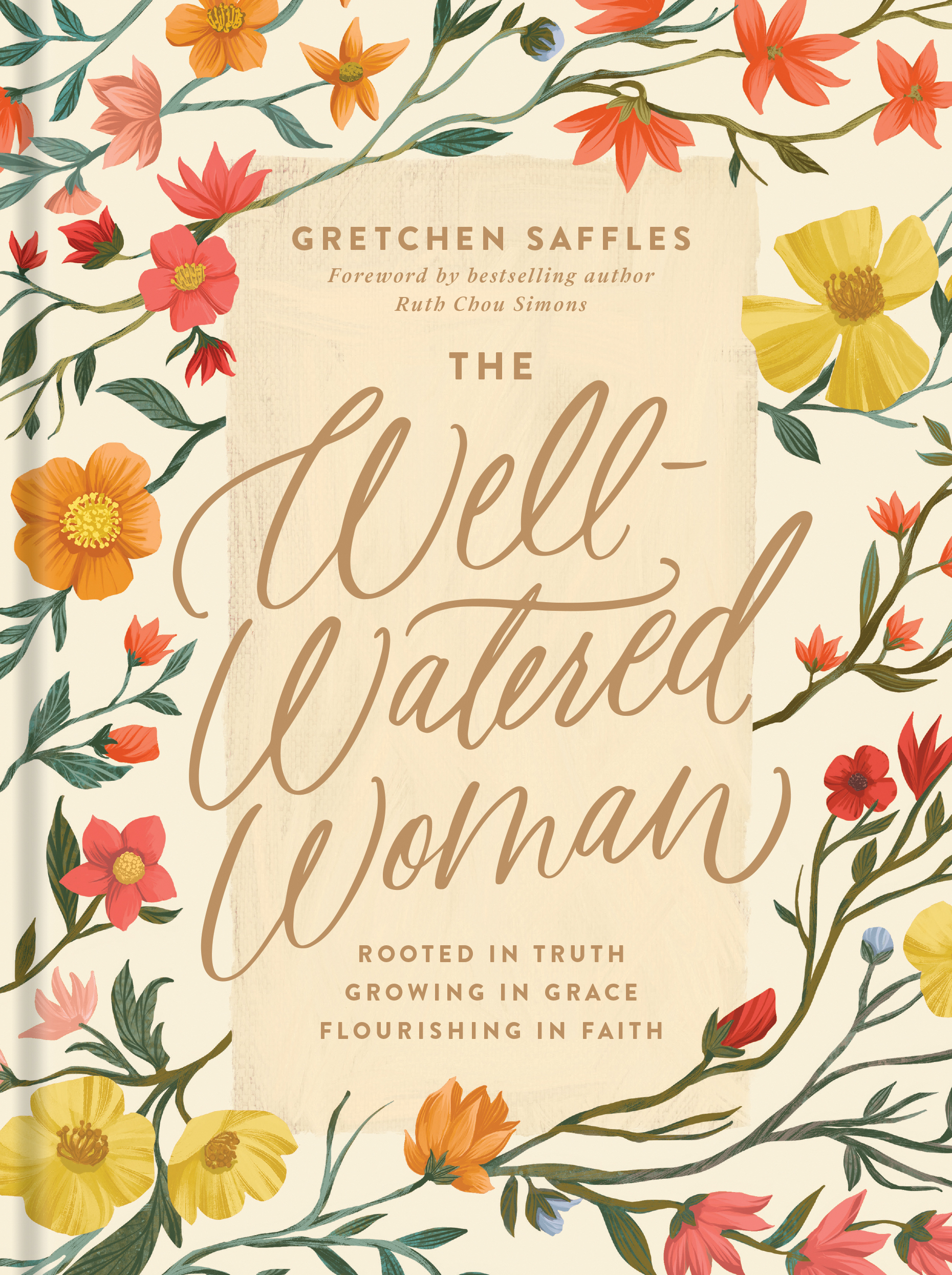 Discover the bottomless, refreshing Well of God's Word—and experience a fullness and peace beyond your circumstances.
In the chaos of our everyday, it can be difficult to live out and apply the truths of Scripture. We want more of Jesus, but we find ourselves looking to our own lives and accomplishments for our worth and identity. And while that may buoy us for a time, we're often left feeling dried up, discouraged, and longing for more.
Gretchen Saffles knows what it's like to feel overwhelmed and unable to flourish. In The Well-Watered Woman, Gretchen leads us to the Well of fullness, the Word of freedom, and the Way of fruitfulness. She teaches that God's Word will satisfy us for all eternity.
Using Scripture and her own personal story of surrender, Gretchen offers spiritually hungry women tangible tools to not only know Jesus more but to live a life that thoroughly enjoys Him, seeks Him, and follows Him into freedom.
About the Author
Gretchen Saffles is passionate about encouraging and equipping women to drink deeply from the well of God's Word and to find their identity and purpose in Christ. She is the founder of Well-Watered Women, an online ministry that reaches women worldwide with the hope of the gospel, and the author of The Well-Watered Woman and The Well-Watered Life. She has written several Bible studies including Redefined: Defining Identity through the Mirror of God's Word and Esther: The Fingerprints of God. She is also the creator of the Give Me Jesus quiet-time journal for women, a tool to help women study Scripture daily.
On any given day you can find her with a cup of coffee in hand, her boys by her side, a message stirring in her soul, and a God-sized dream on her heart. Gretchen lives in Atlanta, Georgia, with her husband, Greg, and her two sons, Nolan and Haddon.