"When He asks me, 'What did you do with the gifts I gave you?' I want to be able to answer well. No regrets. I don't ever want to look back and say, 'Oh gee, I wish I had done this or that.' I want to leave it all out on the stage, completely used up—nothing wasted."
By Jodi Benson, adapted from the book Part of My World
Not long ago, someone asked me what I had on my bucket list. And you know, I really struggled to come up with an answer. Obviously, I'm looking forward to becoming a grandmother someday, and I'd like to think Ray and I still have a few grand adventures ahead of us, but for the most part, I'm content to follow the Lord wherever He chooses to take me.
When He asks me, "What did you do with the gifts I gave you?" I want to be able to answer well. No regrets. I don't ever want to look back and say, "Oh gee, I wish I had done this or that." I want to leave it all out on the stage, completely used up—nothing wasted.
I remember back when I auditioned for Marilyn, there were about twenty or so of us standing on stage, and we each had a little number pinned to our tops. We had just finished a dance call, and the casting team called out the numbers of the girls they wanted to stay. If your number wasn't called, that was it—you were cut.
Well, I thought I'd had a pretty solid audition all the way through. In fact, I distinctly remember standing there thinking, I have so got this. But then my number didn't get called. For the life of me, I could not figure out what I'd done wrong. And for some reason, I just couldn't let it go.
So I grabbed my stuff, but instead of leaving straightaway, I went down into the house and approached Barry, my casting-director friend, who had gotten me the audition in the first place. I wasn't rude or argumentative; I just said, "Hey, Barry, I wanted to thank you again for getting me this opportunity. I'm just a little—I just really thought I did well."
Barry looked completely baffled. "What are you talking about?"
"It's just that my number didn't get called, and I thought—"
"Jodi," he interrupted, "we did call your number."
"No, you didn't."
"Yes, we did."
"No, you didn't."
Well, Barry immediately started riffling through the stack of photos with numbers attached, and that's when he noticed that mine had fallen on the floor. From that moment on, no matter what happened at an audition, I made a point of personally thanking the entire casting team before I left. You just never know, and I'd rather risk looking a little foolish than miss out on a great opportunity.
Granted, stopping to check in with Barry took all of two seconds. Sometimes finishing well takes a little more effort.
Shortly before Ray and I left LA, I stopped in to say hi to my friend Roy Disney, the nephew of the late Walt Disney and the chairman of Walt Disney Feature Animation. He had this amazing office inside the sorcerer's hat, and I would pop in and see him whenever I was there.
We were sitting in his office chitchatting—I was telling him how much I loved doing Mermaid meet and greets, where I got to talk with kids all over the world—and the next thing I knew, I went full-blown confessional on the poor guy. "I feel like such a hypocrite. I've been leading all these master classes for high school and college students, and it just feels weird because I dropped out of college before I got my degree."
"Well . . ." he countered, "can't you get your degree?"
Why was I always so blind to the obvious?
"I don't know. I've never really thought about it."
"Maybe you should. At this stage of your career, you probably don't need it anymore, but if it helps you feel better when you're out talking with kids, wouldn't it be worth it?"
Huh. You see? That's why Roy worked in the sorcerer's hat.
A few months later, I was still thinking about it. What if I did decide to go back and finish my degree? What would that even look like?
If anyone would know, it would be Ray. He had gone through the same thing with his university. Ray's situation was a little more complicated, though, and the university wasn't open to making the concessions he would have needed to make it doable, and I figured the same thing would probably happen to me.
"You never know," Ray said. "Millikin's much smaller, and it's private. The rules might be different. Plus you still have a lot of people there who know you."
That was true. Steve, my voice teacher, was still there, as was my former acting professor.
"You've got nothing to lose by checking it out."
So I did. It turned out that all I needed to move forward was a unanimous vote from the board of directors, but wouldn't you know it—there was one person who said no. Apparently there had been a lot of changes to the catalog in the ten years I'd been out, so when I asked to pick up right where I'd left off, they thought I was asking for a pass on a bunch of credits. In other words, a free degree.
That's when Steve went to bat for me. He said, "Listen, she had a 4.0. She took a full course load every semester in addition to performing in every show we did her freshman and sophomore years. She's currently in a Broadway show, and she's not looking for a handout. She's willing to do the work."
Steve's speech was enough to turn that one no into a yes. Now all I had to do was cram two years' worth of coursework—a lot of it performance based—into one semester.
Fortunately, the university had an idea. Since I was working in my chosen field, they flew four people out to New York to watch a performance of Crazy for You and evaluate whether I had mastered enough skills to meet the requirements of my remaining theatre courses. I'm not sure which night they were there, but I must have been "on" because I passed with flying colors.
That left just two general-ed courses, which, thankfully, I could do remotely from New York. in the evenings after I got home from the theatre. I was usually pretty wired after a show anyway. Why not put that energy to good use?
I used my one week of vacation time that year to fly back to Illinois and take all my final exams on campus. A few weeks later, I flew back out on my day off to graduate and walk with the rest of the class. Roy even sent me a card and a little gift.
As good as it felt to finally graduate, it was never really about getting that piece of paper; it was about the sense of accomplishment. I was a good student, and I did want to finish what I had started. I also wanted to be able to look into the eyes of the theatre students I was working with and say, "If I can do it, you can do it."
That was a wild season but somehow we made it work, and do you know what? The man in the magic hat was right: It was worth it.
You've been reading from
---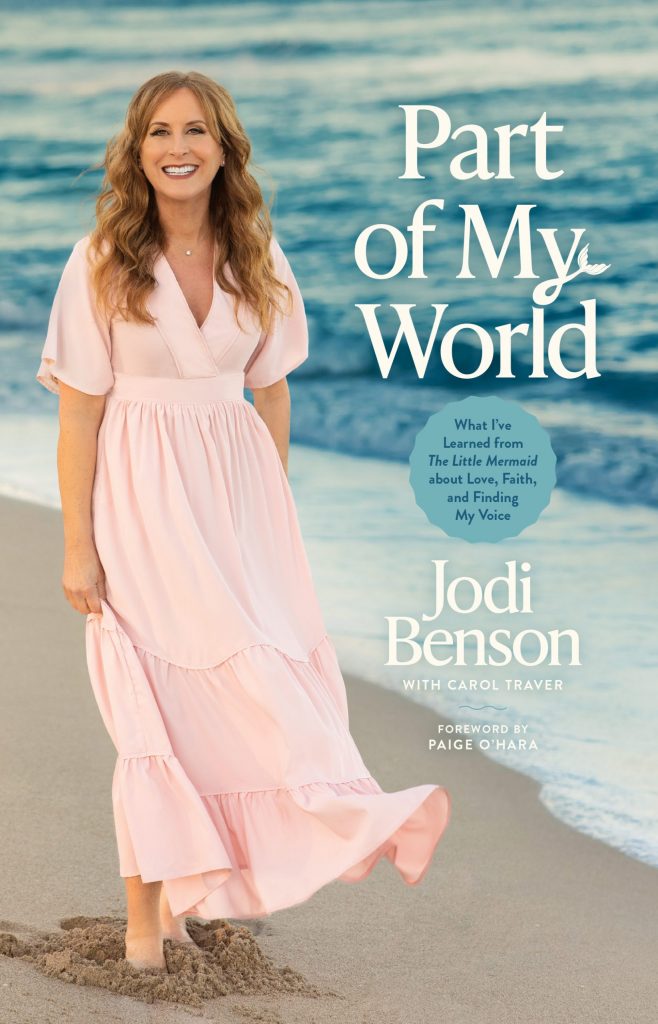 Join Disney Legend Jodi Benson on a magical journey from a Midwestern town to the bright lights of Broadway and the recording booth where she brought one of the most beloved Disney princesses of all time to life!
A treasure trove of colorful characters and unforgettable anecdotes, Part of My World reads like a real-life fairy tale as a girl with a big voice and even bigger dreams sets out on the adventure of a lifetime. Along the way, Jodi shares lessons she's learned about faith, friendship, love, loss, taking chances, making mistakes, following God's call, and chasing your dreams. In Part of My World you'll come alongside Jodi as she:
• struggles to find her footing in the rehearsal halls of Manhattan;
• finds (then loses, then marries) her prince charming;
• makes a splash on Broadway;
• gives voice to a feisty redheaded mermaid, a blonde bombshell named Barbie, and a Tony-nominated powerhouse named Polly; and searches for her own personal happily ever after.
Written with warmth, humor, and disarming vulnerability, Part of My World is a captivating glimpse behind the curtain at the making of one of the most celebrated animated movies of all time, and a must-read for Disney fans of all ages.
About the Author
Jodi Benson is best known as the voice of Ariel in Disney's The Little Mermaid. Jodi also gave voice to Barbie in Disney/Pixar's Toy Story 2 and Toy Story 3 and delighted Disney fans with a cameo in Enchanted before reprising her role as Ariel in Ralph Breaks the Internet. In 2011, Disney honored Jodi's contributions by making her a Disney Legend. An accomplished, singer, dancer, and actress, Jodi made her starring-role debut on Broadway, performing the iconic song "Disneyland" in the Howard Ashman/Marvin Hamlisch musical Smile, and she earned a Tony nomination for her role as Polly Baker in the hit Gershwin musical Crazy for You. Still entertaining audiences across the country and around the world, Jodi is currently living in northern Georgia with her wonderful husband, Ray, They enjoy spending time with their two amazing adult children, McKinley and Delaney.
---
---