"Hey! What are you doing?" he asks while orbiting the Earth.
By Stacey Morgan, excerpted from the book The Astronaut's Wife
We have four children—two teenagers and two tweens. Our schedules are complicated and constantly shifting. Four kids means four different school schedules, and between them all, nineteen different teachers to follow. Between school activities, band and sports practices, church, and birthday parties, I am constantly pulled in a million directions. I'm working outside the home and volunteering in ways that require more time and brain power than ever before. Even with friends helping with car pool or bringing dinner over, I often feel exhausted and as if I'm always reacting to something unexpected that has happened.
Meanwhile, up in space, Drew's life is tight and regimented. From the moment the crew wakes up in the morning, every hour is accounted for in five-minute increments. The crew works a twelve-hour day, bookended by meals and personal time. The biggest block of free time Drew has is before his sleep time begins, which is also tightly scheduled. The best—and really only—time for him to call home is around 9 p.m. before he heads to bed an hour later. Sounds great, except the station follows Greenwich Mean Time, which is either five or six hours ahead of Texas, depending on whether we're on daylight saving time. That means that his calls always fall at the worst time of the day for me—the dreaded 4 to 5 p.m. window.
My cell phone vibrates on the kitchen counter. I wipe my hands on a towel and flip it over my shoulder as I glance at my phone to see who it is.
"Drew on Space Station" scrolls across the screen while the cheerful ringtone urges me to hurry up and tap Accept. This isn't a great time to talk, but you can't exactly not answer a call from space.
"Hey! What are you doing?" he asks while orbiting the Earth.
"Just got back from picking Daniel up from swim practice, so I'm getting started on dinner. Kids are working on homework." I glance over at the kitchen table, where Sophia is waving at me, pointing at her worksheet and mouthing, "Help!"
I desperately want to talk to Drew, to hear what's going on with the crew and tell him about my day, but this is a terrible time. I need to drop Amelia off at small group in ninety minutes, and dinner is barely started. I hold up a finger to Sophia, letting her know I'll be right back. Once in the bedroom, I can close the door and steal a few precious minutes.
"I have so many things I need to tell you, that I want to talk with you about, but this day is crazy," I tell Drew.
"What's going on?"
Where do I begin? The parenting issues in this season are so heavy and pile up so quickly. Lying, teenage heartbreak, bullying, friendship disappointments, GPAs, adolescent hormones, body image, college prep. We've been talking on the phone every day since Drew left, but too often our conversations are just passing info exchanges, inconveniently timed around too many listening ears for a quality, in-depth connection.
"Is there any way you can call later?" I ask. "Maybe thirty minutes? I can get things on track here and then break away." I hear something heavy drop on the kitchen floor. It sounds wet.
"Okay," he says. "But I have only another hour until I have to go to bed. We'll have to be quick."
This time difference is killing me. For about the first month, we make it work. I lock myself in the bedroom while the kids roam around the house, unsupervised and hungry until we hang up and I start parenting again. But then school starts, and we are forced to face the harsh reality that we have eight more months of this bad timing ahead of us. Clearly the communication patterns we used a decade ago during deployment are not going to work now. It's time to get creative.
Drew and I like to talk every day, and there's no shortage of news to share. But we don't have hours to do a deep dive on marital issues or parenting strategies. I feel the pressure of his daily timeline as much as he does. I don't want him hungry or tired or distracted during the workday—the stakes are too high. So we attempt to adapt.
When Drew was in combat, his movements and activities were far less public and often veiled in secrecy. Now, most everything he does in space is available for me to see online and experience virtually. I can drop into televised interviews, scroll through pictures on social media, and watch uploaded videos of Drew doing everything from mind-blowing science experiments to brushing his teeth. By reading or viewing enough of these pieces, I can gain what feels like a sense of intimacy. But it isn't real. It is just space news, content produced to inform and entertain. I find great value in it, but not for deepening connection.
Drew and I start using email like text, shooting each other quick messages throughout the day. Brief updates, simple questions, and pictures sent back and forth make us feel more connected. We give each other permission to say "This isn't a great day for a phone call" and not take it personally. If there's something big we need to talk about, we set the expectation for a serious call so I can plan ahead and adjust the evening routine to make more time.
But more importantly, we realize that I cannot be Drew's sole meaningful connection to home in the way I was when he was deployed. In the same way, I have to accept that he cannot fully meet my need for companionship during this season. We will need to grow and layer our circles of connection in a more intentional way than in the past.
Drew starts calling friends and family regularly, often on their birthdays or other big occasions, or simply when I don't have time to talk. The magic words "Hi! This is Drew calling from the space station!" create a frenzy of excitement and joy from others that I simply can't muster on a daily basis. Every single person he calls is thrilled to hear from him, delighted to catch him up on what's going on in their life. It's a huge morale boost for him, and a huge burden lifted off me. I want Drew to know that he is loved and missed every day and that people all over the globe are tracking what he is doing. We are all rooting for and praying for him. I want him to be encouraged by an army of cheerleaders, and the reality is that with all the balls I need to keep in the air, some days that just won't be me. But our people are there, ready and wanting to connect with him.
Back on Earth, I don't need a cheerleader, I need a companion. My days are full, and often it feels like my body is moving faster than my brain. But in the evenings, when the kids are finally in bed and the house is quiet, my brain has a chance to catch up.
"You're not going to believe what I heard today . . ."
"I saw this hilarious meme today . . ."
"They opened that new restaurant down the street today . . ."
"My knee started hurting today . . ."
"Does this mole look different today . . . ?"
"The car made a weird noise today . . ."
These are the kinds of random thoughts Drew and I would discuss while getting ready for bed if Drew were home. One of us would toss one out while brushing our teeth before we jumped to the next, sharing the kind of scraps not worthy of entire conversations but significant enough to feel we had to get them out of our heads before the end of the day. As we'd lie down in bed and turn off the light, one of us would inevitably roll over with one more thing to say before we fell asleep.
These are the connections I miss most while Drew is gone. The stray thoughts that bubble up late at night have no ear to land in. I know that by the time I finish dinner, Drew is already zipped into his sleeping bag in his phone booth–size crew quarters, strapped to the wall so he doesn't float away. A few hours later in the dark, my brain is overflowing, and I feel isolated and alone with no one to talk to. I want to sit with another adult in comfortable silence or share my scattered thoughts. If I have something urgent or profound to say, there are plenty of people I could call. My parents and many friends and family members would love to hear from me. But if I called, they'd expect a conversation, and that's not what I need. I'm craving connection, but in a casual, single thought kind of way that expects to give or receive nothing more. Without this type of connection, I'm lonely.
At first, I try to fill the space in my mental conversations by reading books, listening to music, or binge-watching Netflix late into the night. In the end, it doesn't matter how late I stay up, when I lie in bed, it's still just me alone with the thoughts I had no one to tell that day.
"This isn't working," I say to myself one night. "Oh great. Now you're talking to yourself. We definitely need to figure this out."
The next day while getting ready for work, I try something new. I record a video message for my friend using the Marco Polo app. I'm delighted when she sends one back while I am eating breakfast. I send her another after the kids go to bed, telling her what I did that day. She responds with her own thoughts. I listen to it while I brush my teeth. I record one more with a few additional random observations and rambling sentences. When I go to bed that night, my brain is empty for the first time in a while.
The next night I text a friend who I know is watching the same PBS Masterpiece special I am.
"This actor playing the bad guy. I know him from another show. What's he from?"
"Yes! Who is that guy?" she texts right back.
"I'll look him up," I write. We text our jokes and commentary back and forth during the rest of the show, and it almost feels like we're watching it together. It's a different kind of companionship, but it's working. I don't feel so alone anymore.
You've been reading from
---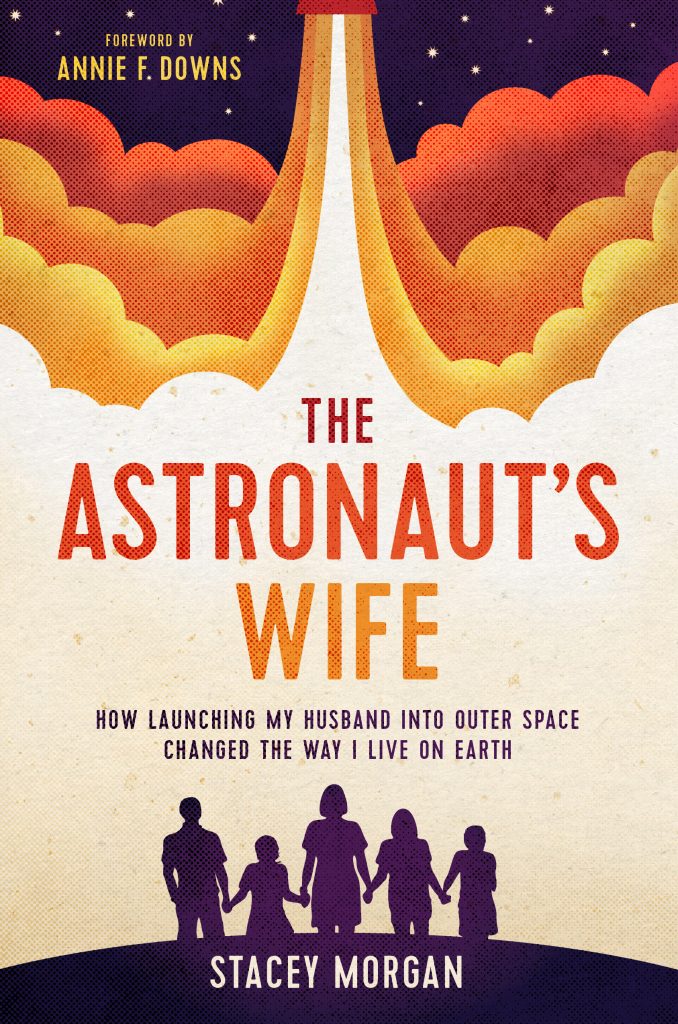 A true story about making the most of your one incredible life.
Stacey Morgan kissed her husband goodbye before he donned his space suit on July 20, 2019, and headed to his waiting Soyuz rocket. With an overwhelming mix of pride, excitement, and terror, she and her children held hands and watched the rocket ignite and lift off for a nine-month mission aboard the International Space Station.
This is the story of the astronaut's wife—a journey full of unexpected twists and turns. While the love of her life orbited the Earth, Stacey was about to embark on a knock-your-socks-off adventure right here at home. This season would be different from any Stacey had experienced before. The risks were greater, the loneliness was deeper, and the stress was more intense. Filled with as many unique challenges as surreal opportunities, this deeply meaningful season taught her rich lessons about:
● preparing for any mission or adventure life throws at you
● rediscovering your fun side when you've been trapped in survival mode too long
● trusting God when you feel weak or alone
● choosing hope in the face of fear and uncertainty
Containing behind-the-scenes glimpses into a side of space flight that most of us will never experience, The Astronaut's Wife is a funny, poignant, and meaningful exploration of living life to the fullest—no matter where you roam.
About the Author
Stacey Morgan is the proud wife of Army colonel and NASA astronaut Drew Morgan. They have four children ranging in age from elementary to high school. Stacey is on staff with MOPS International as an executive leadership coach. She has lived all over the United States, and currently resides with her family in Friendswood, Texas. When she's not speaking at women's events, you can find Stacey watching Masterpiece, reading a good novel, or planning her next adventure. To learn more about Stacey, visit StaceyMorgan2000.com or theastronautswife.com.
---
---