May 23, 2016
Tyndale's Plowboys Softball Team Takes the Field
Tyndale's Plowboys Softball Team Takes the Field
Nestled in the corner of Carol Stream, one of Chicago's fine western suburbs, you'll find a couple of fields meticulously maintained by the local parks department. On any given Thursday night in May and June, you'll find accountants, editors, marketing managers, vice presidents, mail clerks, warehouse workers, and more gathering together to participate in one of our country's most honored traditions: recreation softball. In 2013, the Tyndale House Plowboys took the field for their first game, and they've been playing strong ever since.
"Being a part of the Plowboys has been a great experience," says team captain and resident statistician Jake Schlossberg. "It is great to build friendships with people from Tyndale and connect with the community. We see our team as an opportunity for ministry. We share our faith through our sportsmanship, plus we invite the other team to pray with us on the mound after each game. Even our team name is an opportunity to talk about the Bible and what Tyndale House is all about."
The Plowboys are named after a quote by Tyndale's company namesake, William Tyndale. During a rather intense confrontation with a priest who openly attacked his beliefs, Tyndale replied, "If God spare my life, before very long I shall cause a plough boy to know the scriptures better than you do!" Displaying the Plowboys' name on the front of their jerseys helps them remember their origins and start conversations with other teams.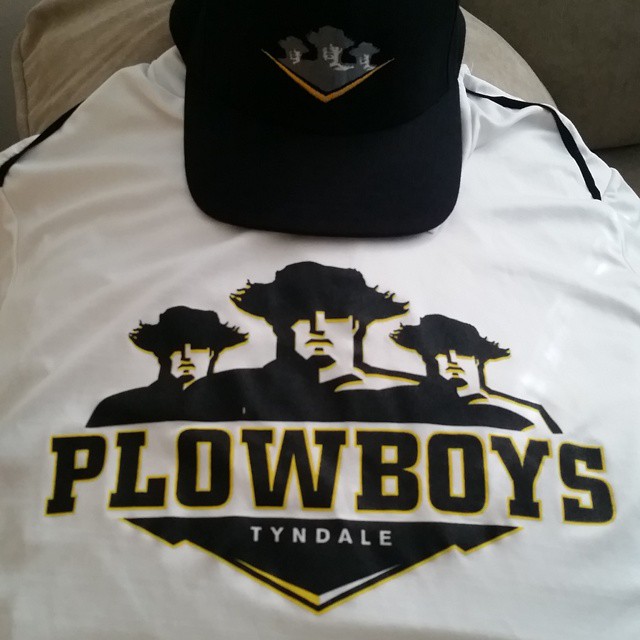 The team plays a double header every Thursday night May through June and is happily supported by a crowd of coworkers. If you look closely at the team's jerseys and hats, you'll see a fantastic logo designed by Al Navata, a key member of Tyndale's design team. At the end of the season, no matter how far they get in the playoffs, the Plowboys get together for a barbecue during a lunch hour to laugh over missed popups, brag about batting averages, and talk about their excitement for next year.
So, if you're ever in Carol Stream on a Thursday night in May or June and want to cheer with a raucous crowd of Tyndale employees and their families, stop by for a game or two. You won't be able to resist the smell of fresh-cut grass, the sound of cheering fans, and the excitement of a well-played game.