January 26, 2016
Under Our Skin: Benjamin Watson Speaks Out about Racial Justice
Under Our Skin: Benjamin Watson Speaks Out about Racial Justice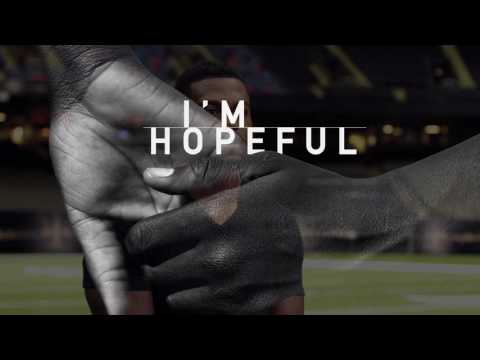 Can it ever get better? Is there hope for honest, healing conversations about race?
Benjamin Watson, a veteran tight end for the NFL's Baltimore Ravens, has rapidly become one of the most well-respected voices in American culture. His heartfelt and thoughtful essays on cultural hot topics such as the shooting of Michael Brown by a police officer in Ferguson, Missouri, and the mass killing of churchgoers in Charleston, South Carolina, have sparked national discussions on race, class, and religion.
On November 24, 2014, while typing into a notes application on his smartphone, Watson penned an essay on the highly controversial decision made by a Ferguson prosecutor not to charge Darren Wilson, a policeman with the Ferguson Police Department, with the fatal shooting of Michael Brown, an eighteen-year-old African American man.
I'm hopeless
because I've lived long enough to expect things like this to continue to happen. I'm not surprised, and at some point my little children are going to inherit the weight of being a minority and all that it entails.
In The Atlantic, journalist Ta-Nehisi Coates writes:
I think that those of us who reject divinity, who understand that there is no order, there is no arc, that we are night travelers on a great tundra, that stars can't guide us, will understand that the only work that will matter, will be the work done by us. Or perhaps not. Maybe the very myths I decry are necessary for that work. I don't know. But history is a brawny refutation for that religion brings morality. And I now feel myself more historian than journalist.
I have another view.
I believe in God. Not in a God of religion. Not in the "God" of white supremacy. Not in a white God or a black God. Not in a God of a political party.
I believe in a personal God: the God of the Bible, whose Son, Jesus Christ, is real and who transforms lives by redeeming human hearts. The God who loves me and you, the black person and the white person, and all persons—personally, desperately, sacrificially.
He, too, wrote a memoir.
The problem of race is deep and wide and requires seismic change. But if we look to government to solve it, we might as well feel hopeless. If we look to corporate America to solve it, we'll be waiting a long, long time. And if we agree with Ta-Nehisi Coates, who tentatively suggests that "the only work that will matter, will be the work done by us," then we will truly despair, for we know how well that has worked. If we follow that track, we'll quickly add in disbelief, as he did, "Or perhaps not."
As I've said, the problem of race is not "out there." It's "in here," in the human heart. And though there is no task in heaven or on earth more difficult than changing the human heart, I believe in the one who can do it. It requires a supernatural solution. 
Yes, I believe in God. You see, I know how God can change a person's heart. (pages 165-166)
I'm hopeful
because I know that while we still have race issues in America, we enjoy a much different normal than those of our parents and grandparents. I see it in my personal relationships with teammates, friends, and mentors. And it's a beautiful thing.