How Healthy Do You Think Your Church Is Today?
How Healthy Do You Think Your Church Is Today?
Download the FREE assessment and see how healthy you perceive your church to be in the midst of this current culture.
Thom Rainer, author and church consultant, has created an assessment that you can use, as a church leader, to help you gauge the current health of your church.
Taking this quiz will result in a rating, based on your perceptions, and the rating score will determine a general "diagnosis" that offers a brief explanation toward some next steps you can take to lead your church forward.
Get your free assessment when you sign up below!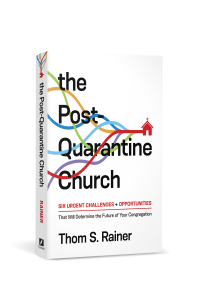 Order your copy of The Post-Quarantine Church HERE
Thom S. Rainer is founder and CEO of Church Answers. With nearly forty years of ministry experience, Thom has spent his life committed to the growth and health of the local church and its leaders. A respected pastor and teacher, Thom is the author of over two dozen books. He lives with his wife in Nashville.