Axis Parent's Guides: Cultivating Lifelong Conversations with Your Teen
Axis Parent's Guides: Cultivating Lifelong Conversations with Your Teen
Axis: a group dedicated to helping parents connect with teens as they navigate teen culture with biblical wisdom and cultural savvy.
Axis is an organization that helps parents develop strong relationships with their teens through open, healthy communication around difficult topics. With dozens of online resources that bridge generational gaps by translating teen culture in ways that parents can understand and giving them the vocabulary to talk about it, the Axis brand equips parents to confidently engage in tough conversations with their teens and think about the core issues teens face in light of the gospel.
Instead of having one big conversation about a particular topic and then checking it off, Axis teaches parents how to begin ongoing conversations that build trust with their teens and make the difficult conversations no longer seem as difficult or big as they once did.
Axis Parent's Guides will be available in booklet form or 5-pack bundle.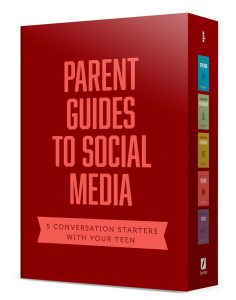 The five Parent Guides to Social Media are for parents wondering how to connect with their teens as they help their kids navigate social media with biblical wisdom and cultural savvy.
– A Parent's Guide to Teen FOMO describes the cultural phenomenon known as FOMO (fear of missing out) and the immense impact it has on how teens navigate their lives both online and offline.
– A Parent's Guide to Influencers digs deep into influencer culture and describes the desire many teens have to follow or become social media influencers.
– A Parent's Guide to Instagram gives parents valuable insight into how this image-saturated app affects teen mental health, body positivity, self-esteem, and more.
– A Parent's Guide to TikTok explains how teens can get famous in a flash with short-form videos. Learn what it is, how it works, and how to equip them to use it wisely.
– A Parent's Guide to YouTube provides tips and advice on how to navigate the platform, set parental controls, and teach teens to build healthy online habits.
The five guides in the Parent Guides to Finding True Identity bundle are for parents wondering what influences their teens today when it comes to identity and how to guide them to be the best version of themselves using biblical wisdom and engaging discussion questions.
– A Parent's Guide to Teen Identity digs deep into the lies our culture tells Gen Z about their identity and worth, offers steps to uncover false beliefs, and gives practical tips to guide teens toward their true selves.
– A Parent's Guide to LGBTQ+ and Your Teen gives parents the vocabulary to discuss this culturally relevant topic with compassion and provides biblical wisdom concerning sexuality.
– A Parent's Guide to Body Positivity gives valuable insight into the body positivity movement, including how it began, its pros and cons, and why teen mental health is so deeply affected.
– A Parent's Guide to Eating Disorders gives a solid overview of the types of eating disorders, what causes them, how and when to seek professional help, and strategies to discuss the topic with compassion.
– A Parent's Guide to Fear and Worry offers reasons why today's teens are so overwhelmed by anxiety, tips to console them, and encouraging Bible verses to bring peace.