May 20, 2018
More Than a New Year's Resolution
More Than a New Year's Resolution
It's July! Did you start a Bible reading plan on January 1 as a part of this year's New Year's resolutions? Wonderful! For those of you who would like to get started today, the One Year Bible offers a fresh way to read through Scripture using a 365-day reading plan that is a great way to get motivated and engaged in reading and living out God's Word. The One Year Bible offers a beloved and proven way of reading through the Bible in a year—in just 15 minutes a day!
With so many One Year Bible options, there is sure to be one that's perfect for you. Whether it is the original One Year Bible, the chronological edition, or a note-taking or coloring edition, the One Year line encourages you to get into God's Word.
We'd like to help you get started, so we've made the readings for the entire month of July from the One Year Chronological Bible available at the link below. Simply follow along and you'll already be 1/12 of the way through the Bible by the beginning of August!
Click here to peek inside the One Year Chronological Bible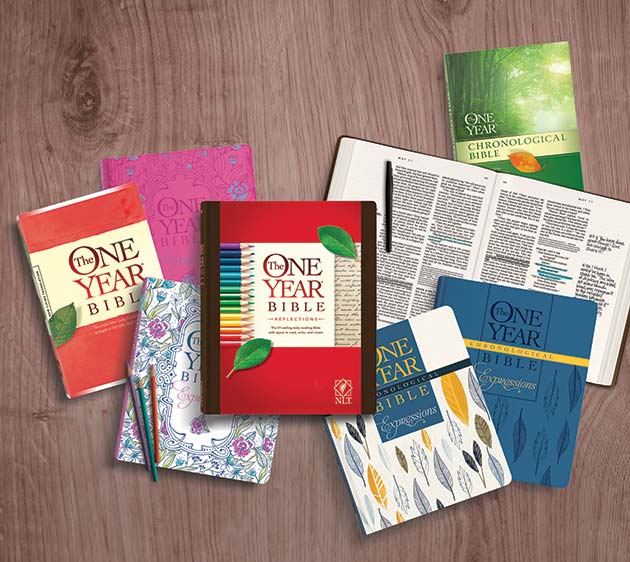 Enter for a chance to win a One Year Bible of your choice!
One Grand Prize winner will receive a $200 Amazon gift card plus one One Year Bible for each member of their immediate family or Bible study group (limit 8).
Five additional winners will receive one One Year Bible of their choice.
More Than a New Year's Resolution (Contest Giveaway)

Want to try a different One Year format? Or several of them? Take a look inside some of Tyndale's bestselling One Year Bibles by clicking on each version below:
One Year Bible Reflections, featuring wide margins for note-taking, journaling, or original art
One Year Bible Expressions, featuring wide margins and illustrations to color
---
Click here to discover the full line of One Year Bibles