October 17, 2016
Tyndale Finds Uncommon Fellowship at the Catalyst Conference
Tyndale Finds Uncommon Fellowship at the Catalyst Conference
Tyndale House recently attended the Catalyst Leadership Conference in Atlanta, Georgia. The Catalyst Conference is a leadership event series that unifies, equips, and challenges leaders who love the church. Tyndale has attended Catalyst for the last seven years. This year, Tyndale shared about its current and upcoming releases and gave away 150 signed copies of Under Our Skin by Benjamin Watson.
Catalyst holds to the following values:
Experienced Leaders
Our key event speakers push the boundaries of leadership and thought practice, and invite you along for the ride. From world-class business leaders to culture shaping entrepreneurs to renowned biblical teachers, we're honored to host leaders whose conviction makes them uncommon.
Interactive Events
How does one help create uncommon leaders in common times? By blowing off a little steam. We want leaders to expel the exhaustion of leadership and invite them to reinvigorate with a community joining together in a common cause. So pack light, bring your curiosity, but leave the work emails at home.
A Time for Worship
The Catalyst Leader understands that a leader's influence begins with a humble posture and a reverent offering to God. There are many methods to bring about transformation, but our heartbeat is for the diverse body of Christ to come together in worship for an audience of one.
Catalyst speakers included Tyndale and NavPress authors:
Andy Stanley
Senior Pastor, North Point Ministries
Fields of Gold
Jen Hatmaker
Church Planter, Justice Advocate, TV Personality, Chicken Herder
Interrupted
Rebekah Lyons
Co-founder, Q Ideas
Freefall to Fly
Scott Sauls
Senior Pastor, Christ Presbyterian Church, Nashville
Jesus Outside the Lines and Befriend
Scott Sauls' newest book, Befriend, was included in the Catalyst Atlanta Experience Kit.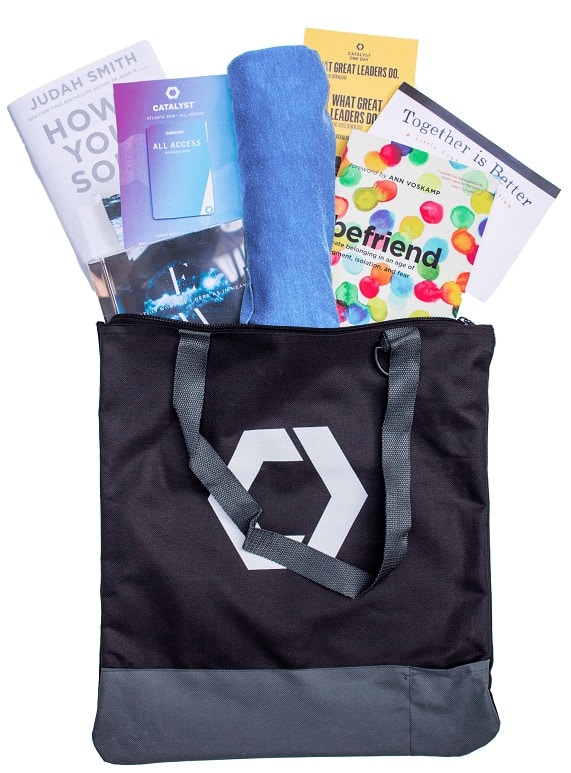 It was also sold in the Catalyst bookstore!

Tyndale enjoyed interacting with Catalyst attendees at their booth!