Christmas time is here…
Before I get that Charlie Brown Christmas song stuck in your head forever… This year has been one for the books. While many moments have left us crying out for God in between homeschooling, having to completely change the way we go to the grocery store, and an endless news cycle kindling anxiety from every angle, we need Christmas more than ever.
We need the reminder that the Savior of the World has come and will come again! The reminder that while this home is where the Lord has placed us to live a life that first loves God and then our neighbors, this is not the end.
While the birth of our Savior and the hope in his presence is the chief purpose of Christmas, this season is also filled with joyful moments with friends and family. Your celebrations may be smaller or virtual this year, but you still have the ability to spread cheer while helping your loved ones meet their spiritual needs.
These are our top gift recommendations for those one your list: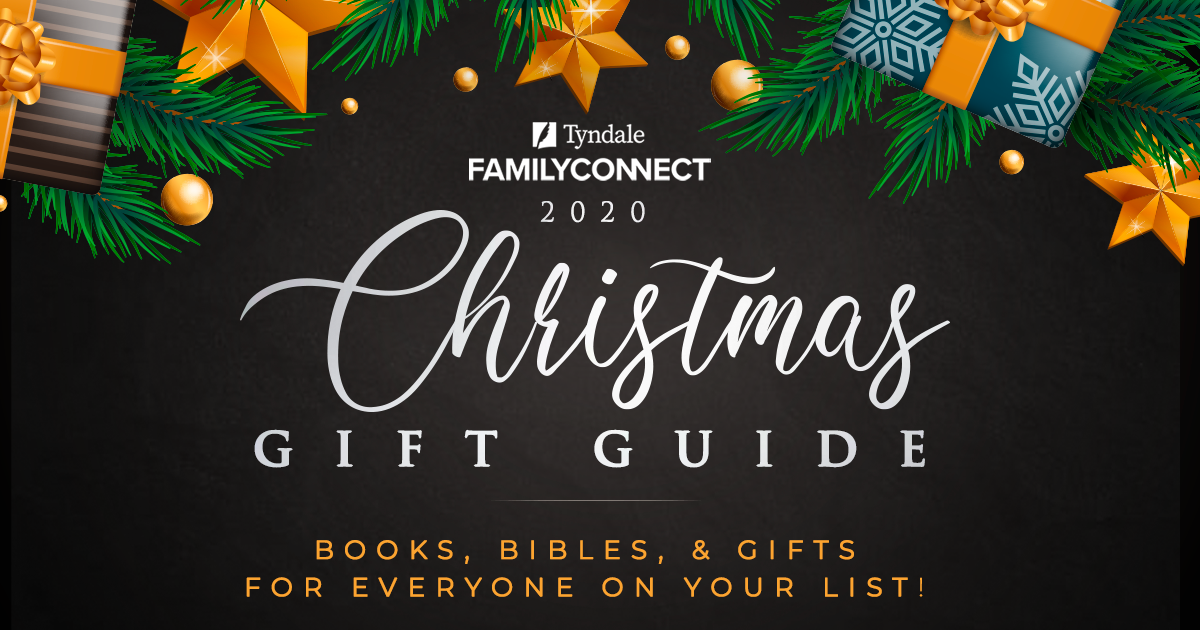 God wants us to flourish. In fact, he delights in our flourishing. Life isn't always fun, but in Christ it can always be fruitful.

In Chasing Vines, Beth shows us from Scripture how all of life's concerns—the delights and the trials—matter to God. He uses all of it to help us flourish and be fruitful. Looking through the lens of Christ's transforming teaching in John 15, Beth gives us a panoramic view of biblical teachings on the Vine, vineyards, vine-dressing, and fruitfulness. Along the way you'll discover why fruitfulness is so important to God—and how He can use anything that happens to us for His glory and our flourishing. Nothing is for nothing.
It's amazing how heavy the weight of emptiness can feel, how much room it can take up in our souls, how much pain can be caused by something that isn't even there.
But while we may see the emptiness of our lives as our greatest problem, that's not how God sees it. When God looks into the empty places of our lives, He sees His greatest opportunity. God does His best work in the emptiness of our . . .
Insatiable craving for things that don't satisfy
Relational disappointments and loneliness
Frustrated search for purpose and meaning
Relentless desire for comfort and security
Ongoing struggle to live with loss and unfulfilled dreams
Join Nancy Guthrie in discovering why emptiness has never been, and never will be, a problem to God. As Nancy pulls back the curtain on God's work to fill up emptiness as revealed throughout the Bible, you'll experience page after page of grace and hope that your emptiness can and will be filled. You'll begin to see that God really does do His best work with empty—as he fills it with Himself.
The new Inspire PRAYER Bible is the third all-new edition of Inspire—the bestselling line of Bibles for coloring and creative journaling.
The Inspire PRAYER Bible has wider margins with even more space to Bible journal or create; 400 beautiful full- and partial-page Scripture line-art illustrations to color; 32 colorful and gorgeously designed see-through vellum pages featuring prayers; and 142 Inspired Prayer journaling prompts to inspire personalized prayer. All features in this special edition of Inspire are aimed at helping the reader focus their heart on prayer and enhancing their coloring and creative-journaling journey through the Bible.
A trustworthy and respected guide for pastors and church leadership in the post-quarantine world, providing hope and vision for the future of your congregation.
From thousands of surveys of church leaders and in-person consultations, Thom Rainer and his Church Answers team have gathered the essential wisdom you will need to face the challenges and opportunities that the quarantine crisis creates for the local church.
This book is, in effect, your personal church consultant, helping you plan and prepare for the future. In the midst of heartbreak, tragedy, and struggle due to Covid-19, here's hope, wisdom, encouragement and vision.

This book is valuable for those looking for local church and pastor resources to enhance church leadership, grow your church, and serve digital and online church communities in the post-quarantine world.


The new Tyndale classic NLT Large Print Thinline Reference Bible, Filament-Enabled Edition has readable text, an attractive layout, and cross-references in a thin, easy-to-carry size. And while it has the same low price as basic text-only Bibles, the NLT Large Print Thinline Reference offers much more. It not only features a bold new design and the trusted and much-loved New Living Translation (NLT) but also includes the groundbreaking Filament Bible app. This app enables you to use your mobile phone or tablet to connect every page to a vast array of related content, including study notes, devotionals, interactive maps, informative videos, and worship music.

The Filament Bible app turns this Bible into a powerful study and devotional experience, offering more to expand your mind and touch your heart than you can possibly hold in your hand.
Uncommon by Tony Dungy and Nathan Whitaker
The New York Times bestseller is now in softcover with a bonus chapter on how the "Dare to Be Uncommon" movement is reaching schools, teams, and families across the country and an update on Tony's life since retiring as head coach of the Indianapolis Colts. What does it take to live a life of significance? Athletic victory, professional excellence, fame and celebrity, awards and honors—he had it all. But even in that moment, he knew those achievements had little to do with his ultimate significance as a man.
In the New York Times best seller Uncommon, Dungy reveals secrets to achieving significance that he has learned from his remarkable parents, his athletic and coaching career, his mentors, and his walk with God.
Perfect for taking to church or using at home, young children will love this beautifully illustrated first Bible. A Child's First Bible is a collection of 125 of the most familiar Bible passages, from both the Old and New Testaments.

Beginning with the story of Creation and ending with Revelation, the text is retold in simple words by well-known author and translator Kenneth N. Taylor. With its charming illustrations and clear, inspiring text, A Child's First Bible is a must for every child's bookshelf.
Each book in the Generation Claimed series contains life-giving promises from Scripture that remind all God's children, both young and old, of who they are in Him. Page after page shares a promise from God and the corresponding scripture from the Bible. Readers will be transformed from the inside out and rest easier in God's love for them. This 3-book set of board books includes the following:
You Are: Scripture promises reminding readers of who God says they are
Tonight: Scripture promises for a peaceful night's rest
Chosen: Scripture promises that reveal God has a plan for each person's life
Water Doodle Bible is a unique activity book with a biblical message. Young children will enjoy painting with water as they reveal colorful art designs and learn fun stories from the Bible in English and Spanish. Children can then search for objects in the pictures as they practice simple words in both languages.

Biblia de pintar con agua es un libro de actividades con un mensaje bíblico. Los niños se divertirán pintando con agua mientras revelan los coloridos diseños de arte y aprenden historias de la Biblia tanto en inglés como en español. Después podrán hacer una actividad de busca y encuentra con las imágenes mientras practican palabras simples en ambos idiomas.
The Epic Bible by Kingstone Media Group, Inc.
Get swept away by God's awesome story in this riveting graphic Bible. The Epic Bible tells the central story of the Bible, with dramatic, full-color art created by some of DC and Marvel's best comic book artists. Whether you're reading the Bible for the first time or looking for a fresh perspective, The Epic Bible's cinematic storytelling will make God's Word come alive.
Young women are under more pressure than ever before: pressure to be pretty, to be successful, to have a perfect selfie game. Is it possible for them to be their true selves? Or must they fit into the same mold as the rest of their peers? Into this world of ever-growing pressure bursts Emma Mae Jenkins with a message of hope and unabashed joy.

Emma Mae knows what it feels like to be judged and bullied, but she chooses to ignore the haters and instead focus on a message of love and acceptance in Jesus Christ. In this powerful devotional, Emma Mae will show young women what it looks like to live a life of rejoicing in God's love and the incredible excitement they can feel when they "live in ALL CAPS" for Him.

"For Narnia fans who enjoy heavy snark, this is a must-read." —Kirkus Reviews

"With the rich characterization of John Green and the magical escapism of Narnia, this book is a must read for all fantasy fans!" —Lorie Langdon, author of Olivia Twist and the Doon series

A girl with a deadly lung disease . . .
A boy with a tragic past . . .
A land where the sun never sets but darkness still creeps in . . .

Madeline Oliver has never wanted for anything, but now she would give anything just to breathe. Jason Wu skates through life on jokes, but when a tragedy leaves him guilt-stricken, he promises to tell only the truth, no matter the price. When a mysterious stranger named Hanali appears to Madeline and offers to heal her in exchange for one year of service to his people, Madeline and Jason are swept into a strange land where they don't know the rules and where their decisions carry consequences that reach farther than they could ever guess.

What if today is the perfect time to notice God's grace in one another?
Women are so often weighed down by comparison, anxiety, and fear that the idea that grace could look amazing on them feels unbelievable. But all around us are flashes of grace, shining examples of God's love.

Amy Seiffert says it's the everyday moments that Jesus shines through: making time for a friend even when your to-do list is pages long; apologizing to your neighbor when you don't want to admit you are wrong; opening the Bible when your soul feels hollow and empty.
A perfect gift to affirm and encourage any woman, Grace Looks Amazing on You is a timeless Christian message packed with personal story and reflection, Scripture, and deep biblical truth. This 100-day devotional will help you change your perspective so you can confidently radiate the grace of Christ.
Christmas brings cheer to people all around the world. Presents, music, garlands, and snowmen remind us of the fun experienced during this joyous season. But the center of Christmas is Christ and His birth. These beautifully illustrated stickers remind us of the fun we have this time of year, and show the real reason we celebrate Christmas—Jesus. All images are taken from Big Thoughts for Little People by Kenneth N. Taylor, illustrated by Andrea Petrlik Huseinovic. Includes 6 sheets with 13 stickers per sheet for a total of 78 stickers.
You wouldn't believe it, but . . .
James Earl Jones, the voice of Darth Vader, grew up mute.
Michael Jordan was cut from his high school basketball team.
Albert Einstein was bullied mercilessly in school.
Beethoven's mom almost aborted him.
Life takes the strangest sharp turns—and sometimes, U-turns. Robert Petterson—popular speaker, storyteller, and author—has been a student for his entire life of what God is teaching us through those real-life U-turns. In this book, he compiles 365 amazing stories that teach lessons you won't easily forget. Each entry is written in the rest-of-the-story style popularized by Paul Harvey. With The One Year Book of Amazing Stories, you'll marvel at how God has used the lives of these ordinary people to change the course of human history.
We hope that we can help your gift-giving
this year turn your family and friends' eyes to the King of Kings and Prince of Peace and that through these gifts they can curl up in the arms of their Wonderful Counselor.
---
For more Christmas ideas, check out all of our gift guides here!