Parents need encouragement daily. So, what is a better way to feel uplifted than to see what God promises for you today? Here are Scripture verses to meditate on when you feel like you are losing control of yourself, your day or your family. Jesus is with you and wants only HIS best for YOU! All scripture is pulled from the New Living Translation.
______
Trust in the LORD with all your heart; do not depend on your own understanding. Seek his will in all you do, and he will show you which path to take. – Proverbs 3: 5-6
Those who fear the LORD are secure; he will be a refuge for their children. – Proverbs 14:26
But those who trust in the LORD will find new strength. They will soar high on wings like eagles. They will run and not grow weary. They will walk and not faint. – Isaiah 40:31
But blessed are those who trust in the LORD and have made the LORD their hope and confidence. They are like trees planted along the riverbank, with roots that reach deep into the water. Such trees are not bothered by the heat or worried by long months of drought. Their leaves stay green, and they never stop producing fruit. – Jeremiah 17: 7-8
And if you give even a cup of cold water to one of the least of my followers, you will surely be rewarded. – Matthew 10:42
Work with enthusiasm, as though you were working for the Lord rather than for people. Remember that the Lord will reward each one of us for the good we do, whether we are slaves or free. – Ephesians 6:7-8
Always be full of joy in the Lord. I say it again – rejoice! – Philippians 4:4
For I can do everything through Christ, who gives me strength. – Philippians 4:13
If you need wisdom, ask our generous God, and he will give it to you. He will not rebuke you for asking. – James 1:5
I have no greater joy than to hear that my children are following the truth. – 3 John 4
______
For more encouragement, and to learn about practical application of the living Word, won't you try the Life Application Study Bible?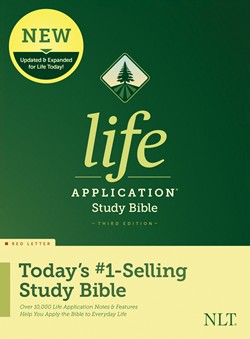 Trusted & Treasured by Millions of Readers over 30 years, the Life Application® Study Bible Is Today's #1–Selling Study Bible
Now it has been thoroughly updated and expanded, offering even more relevant insights for understanding and applying God's Word to everyday life in today's world.
Discover How You Can Apply the Bible to Your Life Today
With a fresh two-color interior design and meaningfully updated study notes and features, this Bible will help you understand God's Word better than ever. It answers the real-life questions that you may have and provides you practical yet powerful ways to apply the Bible to your life every day.
Study the stories and teachings of the Bible with verse-by-verse commentary. Gain wisdom from people in the Bible by exploring their accomplishments and learning from their mistakes. Survey the big picture of each book through overviews, vital statistics, outlines, and timelines, and grasp difficult concepts using in-text maps, charts, and diagrams—all to help you do life God's way, every day.