Charitable Involvement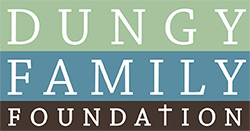 The Dungy Family Foundation believes in strengthening, sustaining and empowering communities by providing opportunities to those in need.
Connect with The Dungy Family Foundation today!

Tony Dungy led the Indianapolis Colts to Super Bowl victory on February 4, 2007. All Pro Dad is the fatherhood program of Family First, a national nonprofit organization based in Tampa, Florida. All Pro Dad features 60+ NFL players, coaches, and alumni who speak out on the importance of being a good father. Launched in 1997 with the help of Tony Dungy, head coach of the Indianapolis Colts, winners of Super Bowl XLI, All Pro Dad is an innovative program designed to equip fathers with the moral and educational tools necessary to make them better fathers and role models, and to build character in their children and communities. The program offers practical fathering assistance—updated daily— available 24 hours a day, 365 days a year. All Pro Dad is structured around a football theme. This approach is attractive to a large number of men due to their interest in sports in general and professional football specifically.
For sponsorship information or to learn more about All Pro Dad
Visit
www.AllProDad.com
or contact
Darrin D. Gray
ALL PRO DAD & Family First
Director of Partner Development & Public Relations
317-849-2224 Indy office
317-850-5233 Indy mobile
813-777-3140 Tampa mobile
E-mail Darrin Gray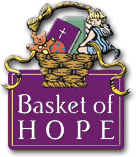 Basket of Hope is a 501©3 non profit organization whose mission is to bring the hope that comes from Jesus to children suffering from cancer or other serious illness by the delivery of a Basket of Hope containing items to nourish them physically, mentally, emotionally, and spiritually.
The Basket of Hope program believes that if we can encourage the parents of these seriously ill children they serve as the most effective support for their children. Therefore, we include inspirational books, Bibles, and journals for them to remind them of God's love for them and their children and that He will be with them through this journey. Thanks to Tony's generosity, we will be providing his book, Quiet Strength, in all of the baskets across the country this year. We feel this book will be an inspiring message of hope to parents as they face an unknown future for their children. Tony and his wife, Lauren, understand what it is like to have a child with a serious illness as well as the fact that they have suffered the most difficult loss of a lifetime in the loss of their son, James. Yet, they hold on to the eternal hope that we have through Jesus.
Tony Dungy is the National Spokesperson for the Basket of Hope and encourages other NFL players, coaches, and individuals to begin a Basket of Hope program in their local Children's Hospital. If you are interested in starting a program in your area please visit our website at
www.basketofhope.org
and contact us for more information. Tony has put together a short video explaining the program. If you would like to view this video please click on the icon on the front page of the Basket of Hope website.


Tony Dungy makes frequent trips to Riley Children's Hospital in Indianapolis to visit with the seriously ill children and bring them a Basket of Hope.

Pictured from left to right: Nathan Whitaker, Co-author; Angela Brunette, National Executive Director of Basket of Hope; Jackie Cook, assistant to Tony Dungy and Basket of Hope Coordinator in Indianapolis, and Coach Tony Dungy