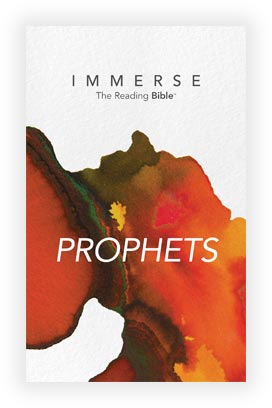 Volume 4
Prophets
Isaiah, Jeremiah, Ezekiel, The Minor Prophets
Immerse: Prophets
is the fourth of six volumes in Immerse: The Bible Reading Experience.
Prophets
presents the First Testament prophets in groupings that generally represent four historical periods: the prophets who spoke before the fall of Israel's northern kingdom (Amos, Hosea, Micah, Isaiah), before the fall of the southern kingdom (Zephaniah, Nahum, Habakkuk), around the time of Jerusalem's destruction (Jeremiah, Obadiah, Ezekiel), and after the return from exile (Haggai, Zechariah, Malachi, Joel, Jonah).
Select a Reading Plan
Set you own pace. Select an 8 or 16 weeks plan
Would You Like to Receive Weekly Reminders?
Let us help you stay on pace with the reading plan. We'll also email free resource links.