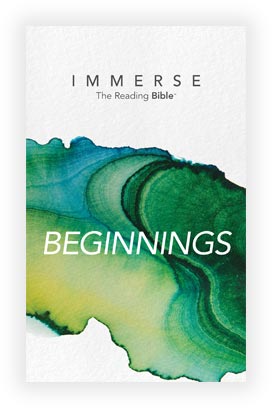 Volume 2
Beginnings
Genesis—Deuteronomy
Immerse: Beginnings
is the second of six volumes for use in Immerse: The Bible Reading Experience.
Beginnings
takes the reader on a new and unique journey through the first five books of the Bible: the Pentateuch. In
Beginnings
readers follow the ancient nation of Israel from its earliest ancestors to the moment it is poised to enter the land God promised them. As God's covenant community follows the instructions laid out in the Pentateuch, they not only receive God's blessings but also are uniquely positioned to bring renewal and healing to the world and to show all peoples the true character and nature of God.
Select a Reading Plan
Set you own pace. Select an 8 or 16 weeks plan
Would You Like to Receive Weekly Reminders?
Let us help you stay on pace with the reading plan. We'll also email free resource links.