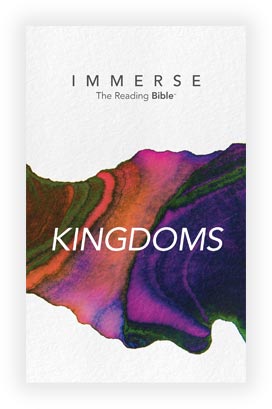 Volume 3
Kingdoms
Joshua, Judges, Ruth, Samuel–Kings
Immerse: Kingdoms
is the third of six volumes in Immerse: The Bible Reading Experience.
Kingdoms
presents a new and unique journey through the story of Israel from the time of its conquest of Canaan (Joshua) through its struggle to settle the land (Judges, Ruth) and the establishment of Israel's kingdom, which ends in a forced exile (Samuel–Kings). The nation of Israel, commissioned to be God's light to the nations, falls to division and then foreign conquest for rejecting God's rule.
Select a Reading Plan
Set you own pace. Select an 8 or 16 weeks plan
Would You Like to Receive Weekly Reminders?
Let us help you stay on pace with the reading plan. We'll also email free resource links.