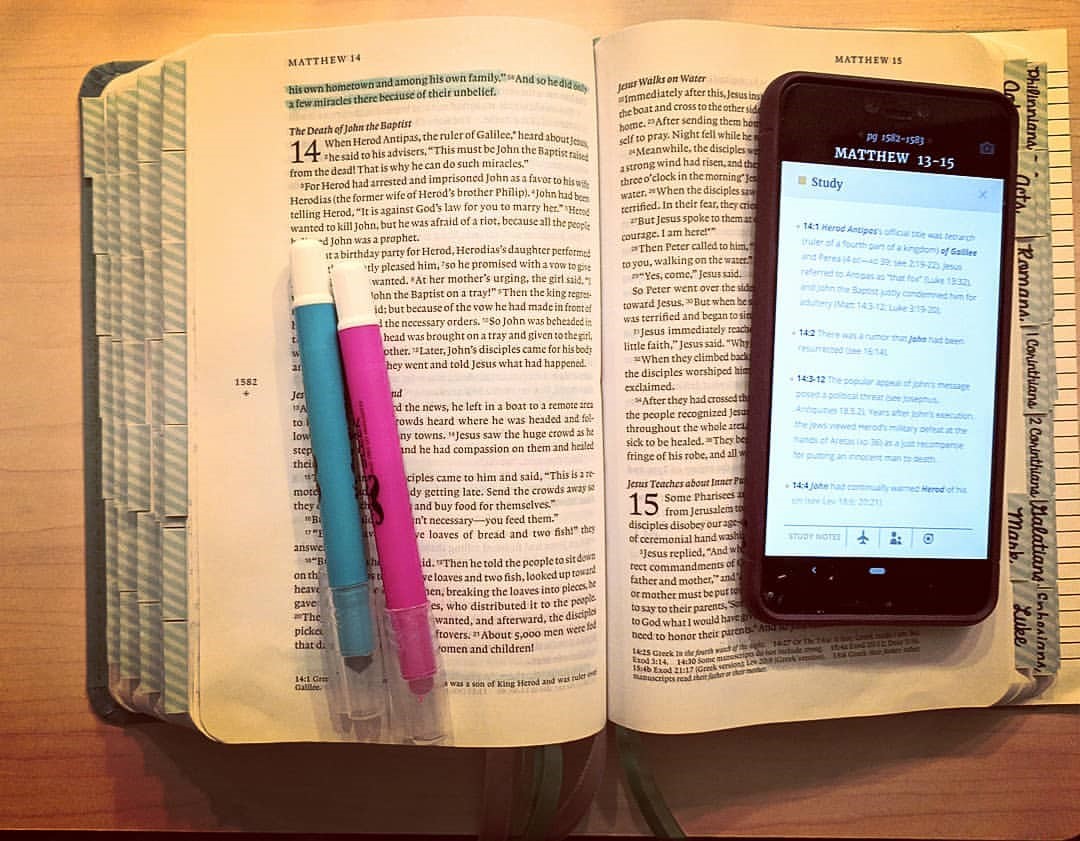 Personal Bible Study with the Filament Bible
One of the most important things we can do to nurture our faith is to be engaged in regular personal study of God's Word. While each of us have our own methods and strategies for our daily devotions, it can often be helpful to learn from what is working for other people to find inspiration for our own.
Recently, we noticed some photos on Instagram from Kori (@for_a_psalm) showing that she has been really diving in to the Filament Bible for personal Bible study, so we reached out to find out more about her experience. Here's what she told us:
Thank you so much for reaching out. I am more than happy to talk about the Filament Bible and to help spread the word about how great it is. 😊

I have been on my Christian journey for just under a year and I love the NLT translation. I have the Life Application Study Bible, but I liked the idea of the Filament Bible for its portable size and the app which came with all the study notes, devotionals, and maps, etc. The study notes are so wonderful in helping me to understand different passages, and the devotionals that are available just build upon that understanding. So far the ones I have read have been both helpful and meaningful.

The Filament Bible has a wide enough margin to allow for some notes. I enjoy taking meaningful content from the app and jotting it down right in the Bible in the margins, that way I will be able to see it right away when I am flipping back through or re-reading portions of the Bible.

My process usually involves reading the Bible itself and highlighting anything that stands out or that I feel is important. Then I use the Filament Bible app to read through the study notes for the part of the Bible that I read. Then I add any meaningful notes to the margins of the bible. When necessary, I write them on post it notes or note paper that I insert into the bible so that I can revisit anything quickly and easily. After I have read the study notes I read any devotionals that are available for the portion of scripture I completed and take any notes that the devotionals may inspire. It really is such a great tool to help learn and relate to the Scriptures.

My favorite thing about the Filament Bible I would have to say is the fact that it gives you everything you could want to grow your faith in a portable package. I hope to be using the Filament Bible and the app for many years to come! I feel blessed to have the Filament Bible to take with me on my Christian journey.
What we love most about Kori's response is the fact that she is putting her focus on the text of Scripture first, and then using the app to come alongside and aid in her understanding and application of God's Word to her life. That is exactly how the Filament Bible was designed to be used.
Thanks so much for sharing your story, Kori!
Have you been using the Filament Bible in your own personal devotions? We'd love to hear from you or see what you are doing. Make sure to use the #filamentbible hashtag on social media, and maybe you will inspire others with your story next.
To learn more about all the features of the Filament Bible NLT visit our home page.