Close friends and South Carolina Congressmen Tim Scott and Trey Gowdy to release Indivisible: Overcoming Our Differences, One Friendship at a Time on April 3, 2018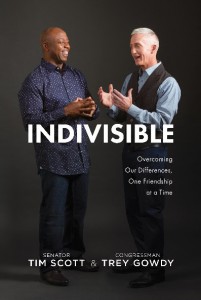 Carol Stream, Ill. (July 11, 2017) – Tyndale House Publishers (@tyndalehouse) has announced that Tyndale Momentum has acquired U.S. Senator Tim Scott (R-South Carolina) and U.S. Representative Trey Gowdy (R-South Carolina) and the two close friends and members of Congress are joining forces to relase Indivisible: Overcoming Our Differences, One Friendship at a Time (ISBN 978-1-4964-3041-0, HC $26.99). Tyndale has scheduled their joint memoir to release April 3, 2018. In addition, The Indivisible Challenge: A Six-Week Guide to True Reconciliation—One Friendship at a Time (978-1-4964-3068-7, SC $12.99), a small group guide for bridging racial, ethnic and other divides in a community, will release in April 2018 as well. The two-book deal was negotiated by Greg Johnson, President of WordServe Literary.
Tim Scott and Trey Gowdy have a collective goal to start a reconciliation movement. Scott, a black U.S. Senator, and Gowdy, a white member of the U.S. House of Representatives, first met in the fall of 2010, when they entered Congress as freshmen. Their journey toward a deep friendship has blossomed despite their different backgrounds, viewpoints, and stances on certain issues. After the Charleston Emmanuel AME church-shooting in their home state of South Carolina, they became determined to foster healing and reconciliation across racial, ethnic, ideological and other divides in our country. Scott and Gowdy model for us what moving toward reconciliation and true friendship can look like.
During the past several years, our nation has witnessed an increase in unrest. As we grapple with finding a way forward, the story of Tim Scott and Trey Gowdy's friendship provides a beacon of hope in an increasingly apprehensive world. Their book, and companion study guide, will provide a positive step toward reconciliation.
In publishing Indivisible, Tyndale House Publishers continues its efforts to facilitate productive discussions about the divisions in America. In addition to publishing a number of books on the topic, Tyndale hosted Under Our Skin: A Forum on Race and Faith (http://www.underourskinforum.com/) in February 2017, with NFL Hall of Fame coach Tony Dungy, ESPN's Sage Steele, Heisman Trophy winner Danny Wuerffel, Emmy Award–winning broadcaster James Brown, and Baltimore Ravens tight end and author Benjamin Watson, among others.
Tyndale will support Indivisible with a national publicity tour and an extensive marketing campaign.
US Senator Tim Scott is working daily to ensure that every American has the opportunity to succeed. Growing up poor in a single-parent household in North Charleston, SC, he learned the importance of faith, hard work, and living within your means. As a teenager, Scott had the good fortune of meeting a strong, conservative mentor, John Moniz. Moniz helped instill in him the notion that you can think your way out of poverty, and Scott grew from his humble beginnings to build one of the most successful Allstate insurance agencies in South Carolina. He was sworn in to the US Senate in January 2013, and since then he has launched his Opportunity Agenda, a new way forward that includes robust initiatives that give American students and workers the greatest chance to succeed. Prior to his election to the Senate, Scott served one term in the US House of Representatives, where he was a member of House leadership and sat on the influential House Rules Committee. He also served on the Charleston County Council for thirteen years, including four terms as chairman, and in the South Carolina House of Representatives for two years, where he was elected chairman of the freshman caucus and house whip. He was the owner of Tim Scott Allstate and a partner in the Pathway Real Estate Group.
US Representative Trey Gowdy graduated from Spartanburg High School in 1982, from Baylor University in 1986 with a degree in history, and from the University of South Carolina School Of Law in 1989, where he was a member of the scholastic honor society, "Order of the Wig and Robe." After graduating from law school, Gowdy clerked for state and federal judges on both the trial and appellate levels. From 1994 to 2000, he served as a federal prosecutor, dealing with a full range of federal crimes. In 2000, he ran for 7th Circuit Solicitor (district attorney) where he led an office of twenty-five attorneys and sixty-five total employees. In 2010, Gowdy was elected to U.S. Congress. He has served on various House committees, including Chairman of the Committee on Oversight and Government Reform; Committee on Judiciary; Committee on Ethics; Committee on Education and the Workforce; and the Permanent Select Committee on Intelligence. Gowdy was selected as chairman of the Select Committee on the Events Surrounding the 2012 Terrorist Attack in Benghazi. Trey is married to Terri Dillard Gowdy, and they have two children: Watson and Abigail.
Tyndale House Publishers, founded in 1962, is one of the largest privately held Christian publishers of books, Bibles, and digital media in the world. Tyndale Momentum, Tyndale's nonfiction imprint, is the publisher of many New York Times bestsellers and is known for integrity in building lasting personal relationships with authors and agents. Tyndale extends the ministry of its authors by contributing most of its profits to the nonprofit Tyndale House Foundation, which makes grants to help meet the physical and spiritual needs of people around the world. Originally founded to publish The Living Bible, a contemporary paraphrase of the Bible that became a global publishing phenomenon, Tyndale now publishes the Holy Bible, New Living Translation (NLT), the translation of choice for millions of people.
Indivisible: Overcoming Our Differences, One Friendship by Tim Scott and Trey Gowdy
ISBN: 978-1-4964-3041-0
Hardcover: $26.99
April 3, 2018