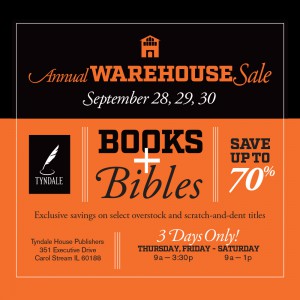 Store will open with Tyndale's inaugural warehouse sale in September 2017
Carol Stream, Ill. (August 23, 2017) – Tyndale House Publishers, the largest independent Christian publisher in the United States, has called the Chicago western suburbs home for more than fifty years. Now, for the very first time, Tyndale is opening its doors to the public with the grand opening of an on-site bookstore at its corporate headquarters in Carol Stream, as well as its inaugural warehouse sale, which will take place September 28-30, 2017.
"In recent months, our employees have participated in innovation discussions, and we are enthusiastically pursuing several initiatives," said Doug Walton, Vice President of HR and Administrative Services. "The idea for an annual warehouse sale came out of these conversations. We also have a lobby that can serve as a place to profile our new products and bestsellers—and we thought a Tyndale bookstore would be a great way to serve our community and further our mission. It will feature more than 400 Tyndale books and Bibles, as well as a card section. We hope it becomes a destination for individuals and churches to see our new products, as well as a place that will minister to their spiritual needs."
Tyndale's bookstore will be located in the lobby of its corporate office at 351 Executive Drive in Carol Stream. The store will feature new releases and bestsellers, while all books will be discounted 20 percent. Store hours will be Monday to Friday, 8:00 a.m. to 4:30 p.m.
From September 28-30, 2017, Tyndale's inaugural warehouse sale will include discounts of up to 70 percent and will include overstock and scratch-and-dent titles, as well as outreach and giveaway Bibles.

The warehouse sale dates are as follows:

Thursday, September 28 and Friday, September 29, 2017
Hours: 9:00 a.m. – 3:30 p.m.
Saturday, September 30, 2017
Hours: 9:00 a.m. – 1:00 p.m.
Tyndale House Publishers, founded in 1962, is the world's largest privately held Christian publisher of books, Bibles, and digital media. Tyndale has published many New York Times bestsellers. The largest portion of its profit goes to the nonprofit Tyndale House Foundation, which makes grants to help meet the physical and spiritual needs of people around the world. Tyndale was founded to publish Living Letters, which later comprised part of The Living Bible, a contemporary paraphrase of the Bible that became a global publishing phenomenon. Tyndale now publishes the Holy Bible, New Living Translation (NLT), the translation of choice for millions of people.