"Elihu continued speaking: 'Let me go on, and I will show you the truth.
For I have not finished defending God!
I will present profound arguments
for the righteousness of my Creator.
I am telling you nothing but the truth,
for I am a man of great knowledge.
'God is mighty, but he does not despise anyone!
He is mighty in both power and understanding.
He does not let the wicked live
but gives justice to the afflicted.
He never takes his eyes off the innocent,
but he sets them on thrones with kings
and exalts them forever.
If they are bound in chains
and caught up in a web of trouble,
he shows them the reason.
He shows them their sins of pride.
He gets their attention
and commands that they turn from evil.
'If they listen and obey God,
they will be blessed with prosperity throughout their lives.
All their years will be pleasant.
But if they refuse to listen to him,
they will cross over the river of death,
dying from lack of understanding.
For the godless are full of resentment.
Even when he punishes them,
they refuse to cry out to him for help.
They die when they are young,
after wasting their lives in immoral living.
But by means of their suffering, he rescues those who suffer.
For he gets their attention through adversity.
'God is leading you away from danger, Job,
to a place free from distress.
He is setting your table with the best food.
But you are obsessed with whether the godless will be judged.
Don't worry, judgment and justice will be upheld.
But watch out, or you may be seduced by wealth.
Don't let yourself be bribed into sin.
Could all your wealth
or all your mighty efforts
keep you from distress?
Do not long for the cover of night,
for that is when people will be destroyed.
Be on guard! Turn back from evil,
for God sent this suffering
to keep you from a life of evil.'"
Note from the Beyond Suffering Bible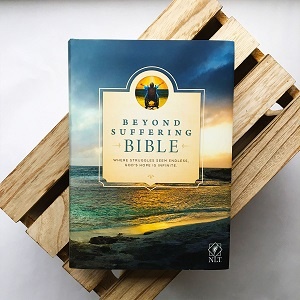 Sanctification:
Job's suffering did not prove that Job was wicked or sinful, but it did introduce a central issue: During times of suffering and disability, when anger and doubt arise that lead to accusations against God's goodness, God is at work in his own ways to shape and refine his people. We need to be attentive to what God is—and isn't—saying to us, and not let our pride or worldly assumptions obscure his purposes and timing in our lives.