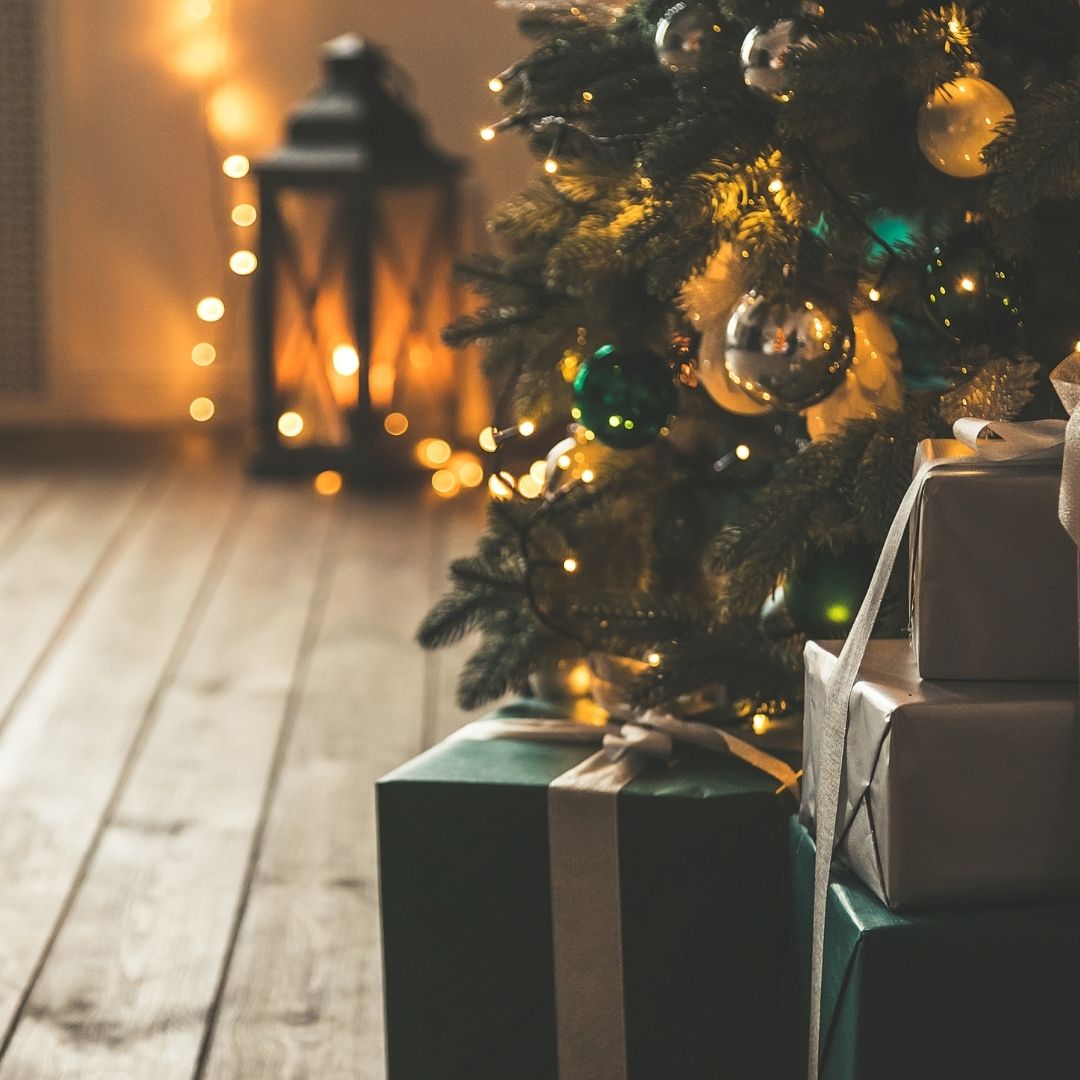 Okay, maybe it's not all our Bibles Team members want for Christmas, but these Bibles would bring huge smiles to our faces if they showed up under our Christmas trees. One of our passions is to encourage people to engage with God's Word. God loves variety! Just look at the world around us. We understand that how people engage with Scripture is as uniquely beautiful and different as his creation. That is one of the reasons we are creating such a varied lineup of Bibles. We hope to help you or your loved one to find the perfect Bible to keep you reading and connecting with God's living Word to us. What Bible are you hoping is under your Christmas Tree?
Kim's Pick: DaySpring Hope & Encouragement Bible
I love discovering new Bibles! Bibles are my favorite gifts to give because God speaks to us through them. Tyndale has released a bunch of new Bibles this year, and there is definitely something for everyone! The Bible I would love to unwrap is the new DaySpring Hope & Encouragement Bible. As Christians, eternal hope and encouragement are some of the greatest gifts we can share with others—and receive. This Bible amplifies twelve indisputable truths about who we are in Christ. It has really great, focused content, and there is space in the margins to write or create. I will use that space for writing out prayers as I read through Scripture. I'd love the navy LeatherLike edition because it's perfectly floppy to hold (if you know, you know). It's a gorgeous edition of God's Word that I will treasure.
Jim J's Pick: NLT Filament Compact Bible
The best gifts, as the saying goes, come in small packages. And the best Bibles are the ones that increase our ability to take them anywhere, study them everywhere, and understand them without phoning a friend.
That's why I'll be looking under my Christmas tree this year for the new NLT Compact Bible with the Filament Bible app. It meets these criteria and more. At about 4 inches by 6 inches, it fits in the palm of my hand. And because it is paired with Filament's enormous reservoir of content (continuously curated to the pages I'm reading), including study notes, book introductions, articles, devotionals, and even videos and worship music, it's a study Bible on steroids.
With all of this, it's certainly the smallest study Bible in the world, and because these Bibles feature the New Living Translation, I'll get the most accurate and readable Bible translation in the English language. Now that's a great gift in a small package!
Jeff G's Pick: The Swindoll Study Bible
This year, I'm wishing for a copy of The Swindoll Study Bible. I'd love to settle into my armchair with this beautiful Bible and a cup of coffee to spend time with God. I've listened to and admired Chuck Swindoll for years, and I'd love to go deeper with his insights into the Scriptures.
Blaine's Pick: NLT Filament Bible Journals
This year for Christmas, I'm wishing for the NLT Filament Journaling Collection. Since it's currently available only in the New Testament, I'll be able to pack one wish into two Christmases! The beautiful interleaved pages will give me plenty of space to journal, and the Filament-enabled typesetting will provide a full suite of curated study notes, devotional thoughts, reading plans, full-color maps, and insightful video content all without creating a distracting reading experience. The attractive bindings and beautiful slipcases will make this an attractive addition to my Bible and reference library. I can't wait!
Amy's Pick: The One Year Pray for the Persecuted Bible
I'd like to see The One Year Pray for the Persecuted Bible under my tree this year. It will not only help me read through the Bible in a year but also prompt me to be in daily prayer for brothers and sisters around the world. As I learn more about people who are enduring persecution, I'm inspired by their courage and their determination to live faithfully. As I better understand their needs, I can join with them in prayer and in faith, knowing God will hear and will meet the needs of all his people.
Maissie's Pick: NLT Compact Filament Bible
I hope that under my Christmas Tree this year is the new NLT Compact Bible, Filament-Enabled Edition. It is the perfect size to carry around in my bag so I can read my Bible anytime and anywhere. What's even better is that it has the Filament app so I'm not only carrying around a beautiful text Bible but also have all of the study notes, devotionals, videos, music, and so much more right on my phone!
Jim G's Pick: Life Application Study Bible
The Life Application Study Bible has been such a blessing in my life. I just love how I can go anywhere in the Bible, begin reading, and understand how God's Word really relates to me today. I learn something new every time I pick it up! The notes and features were updated through an amazing collaborative effort between the founding editors and a group of editors across generations, which resulted in trustworthy biblical teaching that is incredibly relevant today—regardless of who you are. Also, my eyes appreciate a larger print font size, so the new Large Print Life Application Study Bible, Third Edition in the handsome brown genuine leather is the forever Bible that I hope to have under my tree this Christmas.
Callie's Pick: Chronological Life Application Study Bible
This Christmas, the Chronological Life Application Study Bible is on my list. Its beautiful, full-color interior is second to none, but that's not the only reason I like it. Back in 2013, when the Chronological Life Application Study Bible released, I first opened it up and immersed myself in the interesting format. I had never seen the Bible laid out in a chronological format—in the order events actually happened—and it blew my mind. I read all about the ten eras of Bible history, and things that I had never pieced together before came together for me—mostly because of the helpful Life Application notes, but also through the charts and infographics scattered throughout. Even though I started the year off strong and was on pace to finish in 2014, by about summertime, I stopped reading it. No good reason, but I quit. So this time, 8 years later, I am remembering why I found this edition so particularly interesting and helpful in my faith journey. I have committed to make it through 2022 with this Bible!
Jeff R's Pick: NLT Daily Walk Bible
I'm hoping for a new NLT Daily Walk Bible this year as I have read through my original Daily Walk Bible so many times it's beginning to show much wear and tear. The Daily Walk Bible is easily my favorite go-to Bible as I love how six days a week, in addition to a short daily Bible reading, I get to read a brief overview of the day's reading, an insight, and a practical devotional. Then the seventh day is set aside to review the past week, look ahead to the next week, and finally "look up " for God's guidance. There simply is no easier, more straightforward way to work through the Bible in a year while also being fed wonderful insights to help provide context and depth to my Bible study.
Evie's Pick: Immerse: The Reading Bible
In 2022, I want to spend more time in God's big Story and read without being interrupted by chapter and verse numbers, so I am hoping for the complete six-volume set of Immerse: The Reading Bible. Dividing the Bible into six volumes helps make reading more manageable. The removal of chapter and verse numbers helps take away distractions and creates a beautiful reading experience that puts me right in the story, like reading a novel. I also love the easy-to-carry paperback that I can throw in my backpack or in the car so I can read it in the school pickup line or wherever I'm going.
What Tyndale Bible is on your Christmas list?