A message from Chuck Swindoll
Dear Friend,
There is nothing quite like the Bible. This Book is unique, because it is God's very Word.
When God wanted to communicate with us, He didn't simply speak His message. Nor did He merely reveal it in the clouds or communicate it through dreams and visions. No, He did much more. The Lord saw to it that His Word was actually written down by His prophets and apostles, then preserved and translated through the ages by faithful followers. The Spirit of God communicates the Word of God in clear, understandable terms, so that people of all generations can read it, understand it, and be transformed by it.
Because God felt it was so important to give us the Bible, we should take the time to read it, study it, and even commit portions of it to memory. Ultimately, we should allow its transforming truths to change us. Make no mistake: God's Word, the Bible, is our final authority for faith and practice. It is living, infallible truth from our living, infallible God. Knowing and loving Him requires knowing and loving His Word.
This study Bible will help you do just that.
The notes you'll find throughout this Bible come from literally thousands of hours of my personal study during more than 50 years of ministry. This study Bible was designed with you in mind. As you read the Scriptures, imagine my sitting beside you and sharing personal stories, important insights, and hard-earned lessons that will encourage you to walk more closely with Jesus Christ. You'll discover the who, what, where, when, why, and how of the Bible. Who wrote it and when? What does it mean, and where did its events occur? Why should I trust it—and most importantly, how can I apply it today?
It's that last question more than any other that has fed my passion to publish this Bible. My primary focus in ministry has been teaching biblical insight for living . . . for genuine life change. After all, that's why God communicated His Word to us—that we may become like His Son, Jesus Christ, the central figure of this Book.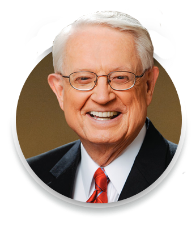 Chuck Swindoll
Senior Pastor
Stonebriar Community Church
Frisco, Texas
Charles R. Swindoll has devoted his life to the clear, practical teaching and application of God's Word. He currently pastors Stonebriar Community Church in Frisco, Texas, and serves as the chancellor of Dallas Theological Seminary. His renowned Insight for Living radio program airs around the world. Chuck and Cynthia, his partner in life and ministry, have four grown children, ten grandchildren, and six great-grandchildren.