This study Bible was designed with you in mind.
"As you read the Scriptures, imagine my sitting beside you and sharing personal stories, important insights, and hard-earned lessons that will encourage you to walk more closely with Jesus Christ."

-Chuck Swindoll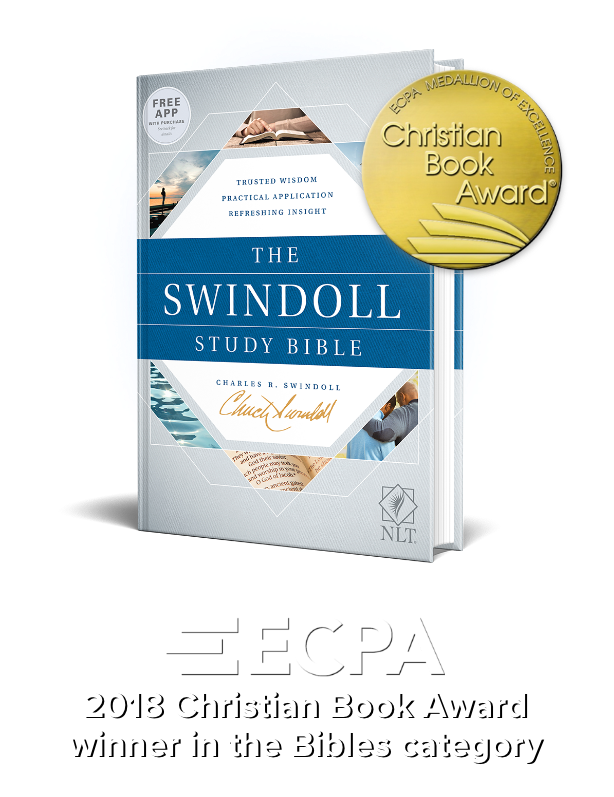 "Chuck's insightful notes across the Bible are gold and help me feel motivated to read the Bible and not intimidated by it. His notes drive home lessons extracted throughout the Scriptures, in easy yet pointed and profound ways...I am often awe-struck by the deep insights that Chuck is able to draw out from Scriptures. What I like about his insights is that they are sensible, well grounded on Scriptures, not far-fetched, balanced, and yet deep and profound."
- Swindoll Study Bible Reader
Living Insights include over 1,600 study notes throughout Scripture developed straight out of Chuck's proven sermons.

Application Articles adapted from Chuck's sermons include compelling stories, illustrations, and specific application points.

Introductions provide enlightening answers to five key questions that orient readers to essential details and themes.

Prayer Moments feature heartfelt prayers from Chuck, asking God to help us live out the truths of God's Word.

Holy Land Tour stops take readers on detailed excursions to significant biblical locations. It's like being on a tour of the Holy Land with Chuck and his team.

People Profiles explore illuminating lessons from figures in the biblical story that hit home for modern readers.
Hardcover

Buy Now

LeatherLike

Buy Now

LeatherLike

Buy Now

LeatherLike

Buy Now

eBook

Buy Now

Explore

Buy Now