In the contemporary romance Beach Haven by T.I. Lowe, Bless This Mess boutique owner Opal Gilbert has an eclectic, fun style. No doubt she would be decking out the boutique with festive, cute fall décor. Get her fall décor tips, courtesy of T.I. Lowe, below.
Opal Gilbert is the hippie version of Joanna Gaines. In Beach Haven, she's always taking trash and making it into treasure, so Opal is the perfect person to go to if you'd like a new take on fall décor. One of her rules to live by: Being Different Rocks! She applies this rule to everything, including decorating for the seasons. So let's talk fall, y'all!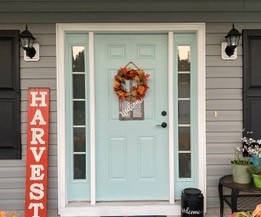 Color Tip:  Think Outside the Pumpkin Patch Hues
Sure, you'll find orange, mossy greens, mustard yellows and such in fall décor, but Opal likes to color outside those lines with the unexpected. Think mint-green, dusty blues, teal. If this is scary to you, start by adding a fall bouquet to a teal Mason jar. Or a mint-green gingham bow to your fall wreath. Bottom line, don't be afraid to add color!
I actually took Opal's advice a step further by painting my front door a soft coastal blue, instead of its original black. My fall décor really pops now.
Upcycling Tip:  Use What You Have
Candlesticks aren't just for holding candles. I've perched pumpkins on top of mismatched candlesticks. You can also make small bouquets to place on them, or autumn-colored bows. Really, the options are endless. And speaking of bouquets. I took foam dollar-store pumpkins and made floral arrangements around the top. The stems of the flowers easily poked through the foam.
I also used plain shipping paper as book jackets for a stack of books. Using two burlap ribbons, one brown and one teal, I wrapped the stack and topped it with a wooden pumpkin and fall flowers. That little décor tweak only cost a few dollars!
My home décor is farmhouse chic, so the rooster, a distressed vase, and metal signs blend perfectly with the fall theme. If rustic isn't your theme, use what you have. A retro autumn would be fun, or even modern with lots of metal and clean lines.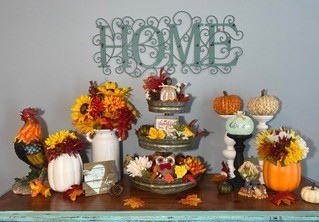 Fun Tip:  Have Fun Decorating
Have fun playing around with your décor. Don't overthink it. Quirky and eclectic arrangements will draw the eye and give you and your guests something to enjoy talking about. A friend of mine keeps a Christmas tree out year-round and decorates it in other seasonal and holiday themes—hearts for Valentine's Day, shamrocks and gold for St. Patrick's Day. You get the idea. How fun is that? I did this with a small tree in my office last year. It was decorated in sunflowers and burlap, so I kept it out for several months.
Opal's #1 Tip for Decorating:  You Do You
Don't worry if your décor doesn't look like anything folks are sharing on Pinterest or Instagram. How boring would it be if we only did what everyone else does. I don't know about you, but I'm not about that. Seriously, just do you!