From memories to books, hear from author Candace Calvert as she discusses some of her Valentine's favorites! Heartwarming and delightful!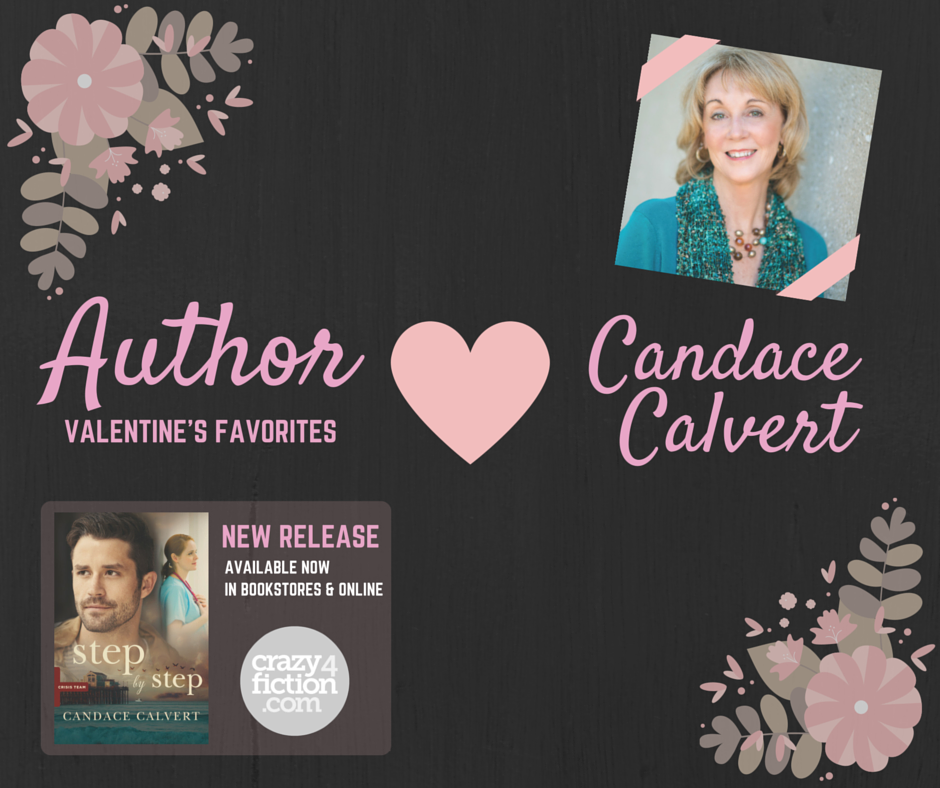 What is your favorite literary romance, and what makes it your favorite?
I'll stray a bit from the standard and choose Lucy Maud Montgomery's Anne of Green Gables (series), for the poignant, enduring romance between Anne Shirley and Gilbert Blythe. That our hero was smitten as a boy, even before that first pigtail tug, yet had the (sorely tried) patience to wait while capricious Anne pursued her dreams, was the very definition of "meant to be" romance.
Which romance did you most enjoy writing, and why? 
I'd have to say it's my just-released story, Step by Step. For similar reasons.  Chaplain Seth Donovan and widowed ER nurse Taylor Cabot have been friends and team mates for several years when a community crisis brings them together again–and each, on their own timetable, begins to see the relationship with different eyes. It's a sweet, natural progression tested by a series of emotionally rugged conflicts.  A hero and heroine to root for, and a romance I hope my readers take to heart as their favorite, too.
What is your favorite Valentine's memory, or what is the most romantic thing anyone ever did for you?
My mother, a bright, witty woman with stunning blue eyes and an endless reading list, passed away several years back from Alzheimer's.  I share her passions for reading and gardening (and inherited her wit, some say!), and love recalling special times I had with her. One of those involves Valentine's Day. Mom had a proclivity for celebrity crushes.  In her later years when she was living alone, I'd drive by on the way home from my ER shift and sneak secret Valentines onto her porch. There would be lacy, glittery, gushy signed cards, small boxes of candy, and pints of ice cream, all gifted by her secret VIP admirers.  I'd get her inevitable phone call, all pretend coy, saying something like, "You'll never guess who left jelly beans and a card on my porch–Ronald Reagan!"
---
GIVEAWAY
Win all these fabulous prizes, including a signed copy of Step by Step and a Fitbit!

Click here to enter the giveaway!
Candace Calvert is a former ER nurse and author of the Mercy Hospital, Grace Medical, and Crisis Team series. Her medical dramas offer readers a chance to "scrub in" on the exciting world of emergency medicine. Wife, mother, and very proud grandmother, Candace makes her home in northern California. Please visit her website at www.candacecalvert.com.