Step back into time with a virtual visit to the famed Maxwell House Hotel. Author Michelle Shocklee shares a peek into this iconic landmark as characters in Count the Nights by Stars would have experienced it before its demise. Read about it in the article below from Michelle.
In my new book, Count the Nights by Stars, one of the main characters isn't a person. The Maxwell House Hotel plays such a significant role in both story lines of this split-time novel that it feels very much like a beloved character. Because the hotel no longer exists (you'll find out what happened to it when you read the book) and we can't visit it in person, I thought I'd give you a virtual tour of the famous hotel, built in 1859, which stood at the corner of Fourth Avenue and Church Street in downtown Nashville.
In 1897, the Tennessee Centennial Exposition drew over 1.7 million visitors. Many of these fairgoers stayed at the magnificent Maxwell House, including our heroine Priscilla and her family. When guests arrived at the Fourth Avenue entrance to the hotel, often referred to as the Men's Quarter entrance, they were awed by eight Corinthian columns and five stories of arched windows.
Upon entering, guests found themselves in the grand lobby, with black-and-white marble floors, mahogany woodwork throughout, luxurious furnishings, and resplendent gas-lit chandeliers. The second-floor mezzanine, which looked down upon the ornate lobby, was accessed by a stately, open staircase with carved railings that matched those surrounding the mezzanine.
Once guests checked in at the desk, they received a brass key attached to an oval-shaped metal tag bearing the room number and a postage-paid inscription. Should you accidentally take the key home after staying at the hotel, you could simply place it in a mailbox and it would be returned to the hotel.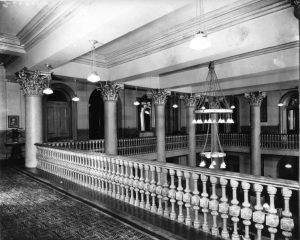 Upstairs, the grand second-floor dining room was also used as a ballroom. Many famous—and infamous—guests dined in this room, including presidents and movie stars. The Maxwell House was known for its lavish Christmas Day dinner where leg of Cumberland Mountain black bear, Tennessee opossum, quail, and other delicacies were served.
After enjoying a fabulous dinner, guests retired to their rooms—there were over 200 well-appointed guest rooms, including two bridal suites—complete with lush beds, washstands, and water closets. Soft carpet and papered walls added to the charm of each room.
Although there were many hotels in the city, including the Noel across the street, the Maxwell was unique. By 1961, when my novel takes place, the old girl had fallen on hard times. It had become a residential hotel with barely 60 long-term guests. A new owner had just taken possession, which makes me wonder what the hotel might have become had the tragedy of Christmas night, 1961, not changed everything.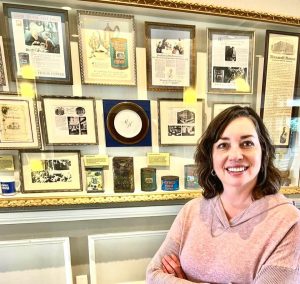 There is a nice display of Maxwell House memorabilia in the lobby of the Millennium Maxwell House Hotel in Nashville, a hotel that bears the same name but was built in a different location. I especially enjoyed seeing some of the china used in the grand dining room as well as an old room key.
I hope you'll visit the Maxwell House again through the pages of my novel Count the Nights by Stars. The main characters, Priscilla and Audrey, love the hotel, but there are secrets hidden within the red-brick walls that will send both women on journeys of discovery.
Your turn. Have you ever stayed in a grand, historic hotel? Tell me about it.