Creatively Following Jesus
Following Jesus is an inherently creative act. There are principles—discipleship, obedience, service—but how to implement them is left up to us, with wisdom and guidance from the church. Those popular What Would Jesus Do? bracelets from the 1990s were a silly but often helpful reminder of what it would mean for the divine Savior to walk around in our shoes, in our context. I remember a guy in my high school band sporting a red one as he marched alongside me in the 4th of July parade.
"Hmm," I wondered, "how would Jesus play the trombone?" With joy and panache, no doubt, and all his heart.
Of course, God calls us to work for the good of the kingdom and the salvation of the world. To grieve with those who grieve. To lament and pray and fast. To feel the weight of our sin and repent of it. To take public health directives to heart, even when they're inconvenient. We ignore the needs of humanity at our own peril—and theirs. But even with all the pain and poverty, violence and vitriol, war and weariness, God never calls us to deadly seriousness. To earnestness, yes. To faith and good works, absolutely. But not to white-knuckled, try-harder humorlessness. Never to a descent into seriousness at the expense of joy and connection.
The thread of playfulness is woven throughout Scripture. The Psalms fairly ring with whimsy. (Don't get me wrong—they ring with plenty else, too: anguish and rage and lament—but happiness is there in spades.) David dances in such a frenzy before God that onlookers think he's imbibed too much wine. The same is true at the outpouring of languages at Pentecost in the book of Acts where the crowds, baffled as to what to make of the raucous outpouring of communication, find themselves at last understanding and understood.
It's easy to sanitize this awe, however. Too often we read over passages too quickly or too somberly, sitting stiffly in our pews and turning the vibrant colors of life and light, poetry and image to dusty greys, stripping biblical wonder of its joyfulness. We disconnect it from the messy stories of Scripture where those who experienced the Lord were never the same again. This type of playfulness—wild, free, abandoned to the love and mercy of God—well, it might not seem quite proper. Isn't it Jesus who asks us to do things decently and in order? Oh wait, that is my own stuffy denominational guidelines. Never do we find Jesus asking us to embrace greater rigidity for the kingdom. Instead, he grants us permission to live in improvisational freedom. To step into the divine joy born of good news, glad tidings, and abundant life. To playfulness—the very, very fullest, best, most freeing kind of gift.
Jesus knew how to riff.
I was just beginning to learn.
Taken from Happy Now: Let Playfulness Lift Your Load and Renew Your Spirit by Courtney Ellis. Copyright © 2021. Used by permission of Rose Publishing. All rights reserved. Represented by Tyndale House Publishers, Inc.
---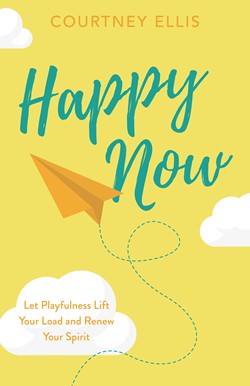 It's time to get serious about playfulness!
When was the last time you felt really, truly happy? If you've ever longed to leave your exhausting days and fretful nights behind, look no further. Courtney recounts a courageous—and often hilarious!—experiment in joy and delight as she awakens to the truth that God doesn't just want us to be holy, but happy, too!
A whimsical storyteller who combines witty humor and engaging research with unfettered honesty, in Happy Now Courtney Ellis is a wise guide on an uplifting journey from sad to spirited. You'll discover there is almost nothing that playfulness cannot make a little bit better, a little bit easier, and a lot more fun. Lift your mood, lighten your load, and renew your spirit with the power of playfulness.
Happy Now by Courtney B. Ellis is available wherever books are sold.
---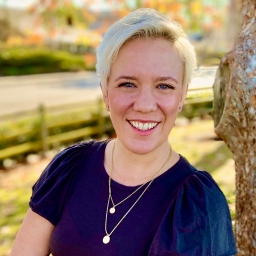 Courtney Ellis's life transformed from serious to seldom-not-smiling through God's gift of playfulness. The author of Uncluttered and Almost Holy Mama, and a graduate of Wheaton College and Princeton Seminary, she can now be found approaching almost everything playfully, from parenting to public speaking to praying (really!).
Courtney resides with her husband, Daryl, and three children in California where they are on a first-name basis with all their local librarians and live by the motto: "So many books, so little time." Visit her at www.courtneybellis.com.
2