by Kim Adetunji, Tyndale Bible Brand Manager
As the Brand Manager of Tyndale's New Living Translation journaling Bibles, I've had the immense joy of hearing firsthand how God has been moving in people's lives through Bible journaling over the years. It has brought so much hope and peace and healing and conviction and encouragement and truth to so many—it has even drawn those who were far from God close to him. It has been so rewarding to see how Bible journaling has increased people's engagement with God's Word and has gotten people through bouts of depression, grief, hopelessness, and trials. It offers a whole new way to approach Bible study and interact with Scripture beyond note-taking, highlighting, or traditional journaling.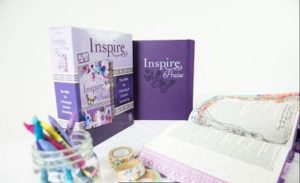 Many of us are drawn to Bible journaling because it appeals to our God-given creativity. And yes—we all are creative! Just ask any kid if they are creative. They don't say, "Well, Suzy is more creative than I am, so I must not be" or "Bobby's art looks nicer than mine, so I'm not really creative." They simply say YES! Our social sharing of Bible journaling pages is great on so many levels, and it brings so much encouragement to others. But sometimes we can allow an underlying sense of unworthiness or dissatisfaction of our own creativity to settle in and discourage us from continuing. We can start thinking that our worship is inferior to others' or that we aren't worthy to worship God through our creativity. The truth is: God is glorified through your act of worship—no matter the skill or the lack thereof! God doesn't operate the way we do. If he did, my singing during worship would be absolutely unacceptable to him. I connect with God best when I worship him through song—but that doesn't mean I'm great at it. Believe me, I'm no Lauren Daigle. But God accepts—and loves—my worship. I know it sounds simple, but it is important to recognize this so negative thoughts don't trickle in and hinder your ability to connect with God through Bible journaling. The tendency is to criticize ourselves or to stop doing something that brings us immense joy and connection to God because we don't feel good enough. Let's make a pact to stop seeking perfection and comparison and to allow our thoughts be focused on seeking God alone!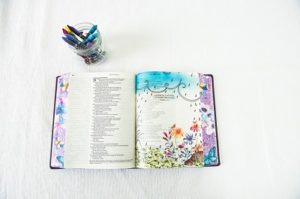 Bible journaling—and coloring Bibles—have been a popular way to study and interact with God's Word in recent years, but more and more people are discovering it even today! In fact, Amber Bolton of Tyndale's nationwide Inspire Bible TOUR just led a workshop in Indiana last weekend where she discovered that only 5 of the 50 workshop participants had tried Bible journaling before!
Here are some of their comments about how they felt inspired after the workshop:
I am inspired to spend more "worship" time by being creative in my Bible.
A new and creative way to worship him and be in the Word.
Excited because the journaling really helps me get the Word in my mind and stay there.
I am inspired to reflect more deeply on the Word of God.
I never thought God wanted my artwork like I would want a child's for my fridge. Never have I thought of mine as worthy. Thank you!
I was inspired to reach out and build my relationship with God in a totally new and different way!
The importance of thoughtfulness regarding the Scripture—how to process, to see the Scripture, importance of responding.
The beauty of God's Word comes to life as we pray, read, ask, and trust in him.
I'm creative even though I thought I wasn't! God made me special!
This will help me dive deep into the Bible more often. This is a fun way to stay connected with God.
I was inspired to become more religious through Bible journaling because I am not a religious person.
I am inspired to see how God's Word evolves through me as I share this process with my kids, husband, and friends.
I'm inspired to share this with a friend who is going through breast cancer so she can journal and use it to hear what God is saying through Scripture.
I am inspired to think through colors, a word, and image around a biblical text.
I am inspired by everyone's eagerness to Bible journal!
It helped me to focus and connect with God better—to see him more clearly and to see how he relates to my life.
I'm inspired by the way that I was able to lead others to God by hosting this workshop.
Teach my daughters and friends to sit, slow down, and soak joyfully in the loving peace of God through color.
I was inspired by learning how to apply Scripture to me personally writing and combining Scriptures to speak to me in a personal way.
I was inspired by witnessing how God has led my new friend and me into a life of peace.
I was inspired by God reminding me to be still!
I was inspired by the 4-step process to help me remember to keep my focus on God when Bible journaling. Inspired to think outside the box.
Inspired to do the journaling process—get comfortable with it, go in depth, and remember the insights.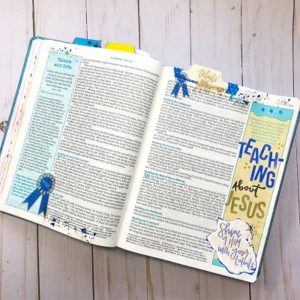 It's incredible to read through those comments, isn't it? I love getting a glimpse into some of the ways God is moving in lives through Bible journaling. It's fun to be a part of a community of people inspired to creative engagement with God's Word. The reality is that when we are reading and engaging with the Bible, God can work in our hearts and prompt us to action, lead us, correct us, and move us toward fuller trust and obedience to him—and so much more! Let's keep on reading, reflecting on, studying, applying, scribbling on, doodling in, highlighting, painting, washi-taping, tabbing, and expressing our worship creatively in our Bibles. To God be the glory!
This week Tyndale released the latest in the bestselling Inspire line of Bibles, the Inspire Catholic Bible! It is filled with art to color and wide margins for journaling and has all of the beloved features from the original Inspire.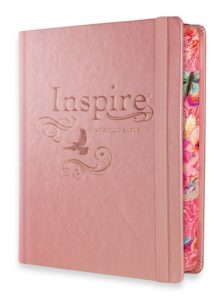 Next month, the long-awaited Inspire PRAISE Bible Large Print edition will release—just in time for Christmas! It is filled with over 450 all-new line-art illustrations to color, large readable text, extra-wide margins for journaling, plus the one-of-a-kind beautiful full-color vellum journaling pages everybody loves from the full-size edition!

We all want to hide Scripture in our hearts, and sometimes interacting creatively with it can help us better remember what God is teaching us. We invite you to try it!
Find the Inspire Bible that is right for you or for a loved one.