We all are influencers. Every single one of us. If we follow Jesus, we have been given a platform—whether it is in our homes, at the office, at school, or even in the dentist's office! Recently, a lady on social media brought her over-stuffed, beautiful journaling Bible to the dentist's waiting room to Bible journal before her appointment. To her surprise, her Bible gave her the opportunity to talk about her faith when she normally wouldn't have been bold enough to initiate a conversation about God. Her Bible naturally opened up the opportunity to share about him.
Tyndale author Emma Mae Jenkins invites young girls to step into God's calling and live in ALL CAPS in her amazing book, ALL-CAPS YOU:
"To live in ALL CAPS is to give attention and to tune in to the words that God has spoken, even when the words of the world sound loud. In the Lord we lack no good thing. We are fully loved, fully chosen, and fully known by God, therefore we can fully be who he has called us to be—we can truly live our lives in ALL CAPS."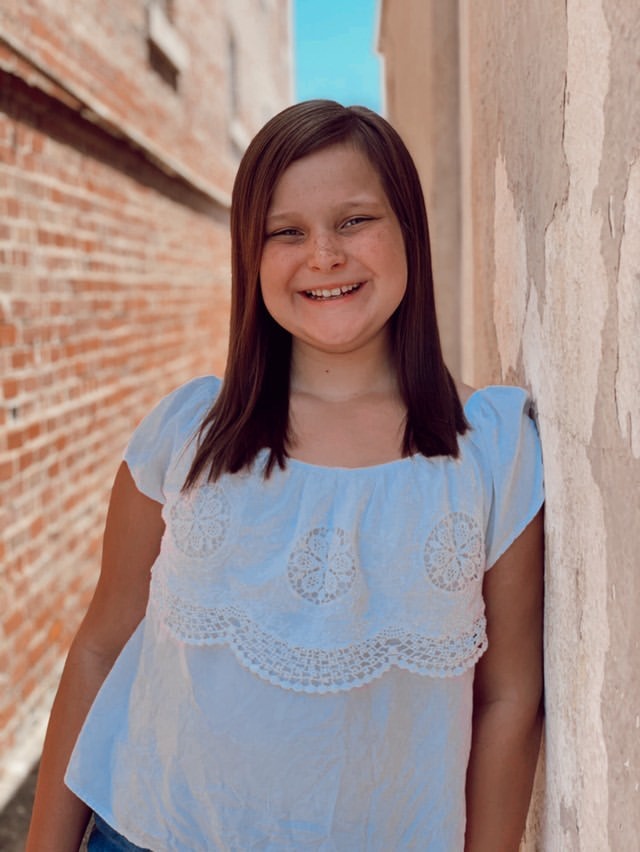 Riley is one of our Inspire Prayer Bible Ambassadors. We asked her to tell us a little bit about herself in the interview below. She and so many other Bible journalers know how to live the ALL CAPS life. We are ambassadors for Christ (VERSE) and God has chosen people of all ages to draw others into greater awareness of his abounding love and grace and truth.
Over the course of the next several months we are going to shine the spotlight on some of our Inspire Prayer Bible Ambassadors as a way to encourage all of us to keep living boldly for Jesus and to shine his light brightly wherever God has us!
RILEY: Raised on Sweet Tea and Four Wheelers (and Jesus, of course!)
What are some of your favorite hobbies? (Besides Bible journaling in your Inspire Bible, of course!)
I enjoy mud riding and laughing with my family.
Tell us when you first encountered God and how your choice to follow him has impacted your life.
I first encountered God by growing up in a Christian household, and my choice to follow him has changed my life because I've become a better person.
Who (or what) has had the biggest influence on helping you grow in your faith?
My parents and my Inspire Bible.
How has Bible journaling impacted your faith?
Bible Journaling has impacted and improved my life by bringing me closer to the Lord's Word in a fun and creative way.
When did you first start Bible journaling?
April 14, 2020
Do you have any tips to share about how to stay close to God each day?
• Read your Bible
• Pray
• Worship God
Who is your favorite person in the Bible and why?
Jesus, because he died on the cross for our sins.
What Bible verse would you like to encourage others with today?
Philippians 4:13: "For I can do everything through Christ, who gives me strength."
Would you like to say a prayer for the person reading this right now?
Dear Lord, I pray for the person who is reading this right now. I hope with my words and encouragement that they will become closer to your Word, their faith will grow strong, and they will become a Christian who rejoices in your Word. In Jesus' name I pray, amen.
Be inspired! @theinspirebible
Connect with Riley! @biblejournaling.faith
May Riley's story be an encouragement to stay in the Word, on our knees, and eager to share the hope for which God has planted in our hearts as we trust in him.
"This same Good News that came to you is going out all over the world. It is bearing fruit everywhere by changing lives, just as it changed your lives from the day you first heard and understood the truth about God's wonderful grace." Colossians 1:6
Learn more about the Inspire Bible line.
TYNDALE, Tyndale's quill logo, New Living Translation, NLT, the New Living Translation logo, Inspire, and LeatherLike are registered trademarks of Tyndale House Ministries. Extrabiblical artwork, cover design, and product design of Inspire copyright © 2017 by Three Streams Publishers, Ltd.