Matt Sherro is the pastor of Abounding Grace Baptist Church, a church plant in Phoenix, AZ. Abounding Grace is intentional about reaching people for Christ. Instead of meeting in a building, they gather in a local park on Sunday mornings, inviting everyone to come worship and learn more about God's plan of salvation. Read how Matt is using the Christian Basics Bible to disciple new believers.
I chose to use the Christian Basics Bible as my guide for one-on-one discipleship for many reasons. The primary reason was that it uses the NLT text. Over the last year, the NLT has become my favorite teaching translation. It is very easy to understand and is thus incredibly useful for discipleship. I cannot begin to explain the feeling when the person you are teaching finally connects with the Bible.
Many disciples, my own wife included, have commented that when they began reading the NLT, it was the first time they really felt like God was communicating with them. I would argue that when you begin using the NLT in your church, you will see similar results in the people you are discipling.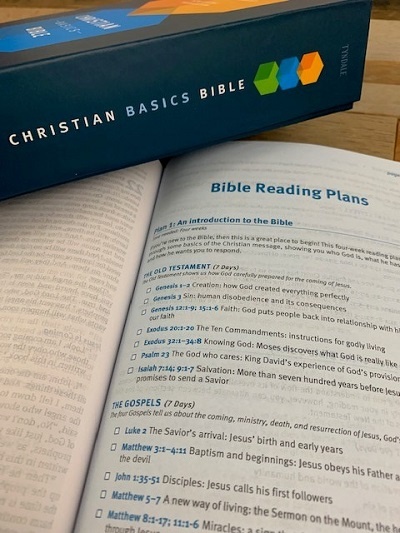 For us, the 28-day reading plan gets the most usage of any feature in the Christian Basics Bible, since most of the people I minister to have never seen the inside of a Bible. It is really helpful to begin here because it is a non-intimidating way to enter the journey of understanding Scripture. I am really glad to have this plan because, as a pastor, I sometimes have trouble with the fact that not every Christian is as familiar with or engaged in the Bible as pastors are.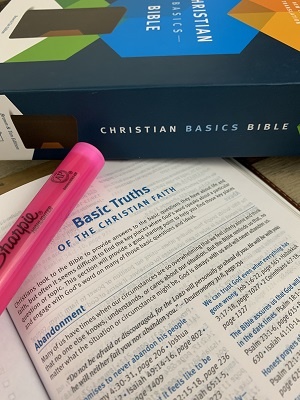 I also get plenty of use out of the topical articles and the "Basic Truths of the Christian Faith" guide, but not in the way you might expect. For many pastors, these articles would be useful as a sermon-preparation tool, to create topical series, for instance. But I like to pair the topical articles with Q&A sessions. I have new learners write down their questions on a particular topic, and then we turn to the "Basic Truths of the Christian Faith" guide to find out what the Bible teaches us on a particular topic. This allows me to connect in a unique way with individuals, as each new learner may have different areas of life in which they need to hear from God.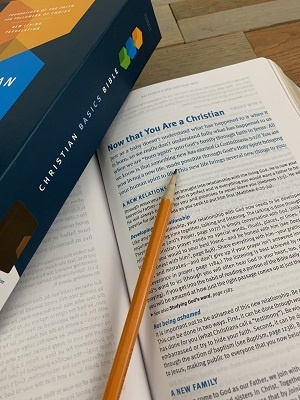 I'd like to round out my discussion by mentioning the "Now that You Are a Christian" article. This Bible was created to help new Christians develop into faithful disciples, and along those lines I get tremendous use out of this brief article. Here, we can take a new learner through the process of developing an understanding of God, Christ, sin, salvation, and the church. My goal is to help new disciples develop in their theology in such a way that their theology is strong enough to sustain them through the trials that will no doubt come as they mature in Christ.
There are a number of different ways to use the Christian Basics Bible in your ministry. I hope that it is as helpful to you as it has been to me.
If you are interested in learning more about Matt check out his blog.