Shout with joy to the Lord, all the earth!
Worship the Lord with gladness.
Come before him, singing with joy.
Acknowledge that the Lord is God!
He made us, and we are his.
We are his people, the sheep of his pasture.
Enter his gates with thanksgiving;
go into his courts with praise.
Give thanks to him and praise his name.
For the Lord is good.
His unfailing love continues forever,
and his faithfulness continues to each generation.
Psalm 100, NLT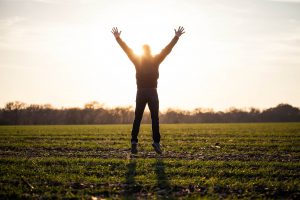 Through three simple steps, Psalm 100 gives us a model for how to be more thankful. First, "come" (100:2). This is our invitation, the assurance that we are welcome, which needs a response. We have to choose not to stay in our present feelings but fix our thoughts on God. Second, "acknowledge" (100:3). This is a provocation to forget about ourselves and focus on God as we remember all that he has done for us. Third, "give thanks" (100:4). As we recall what he has done for us, it becomes easy to be thankful.
Here are some of the things the psalmists encourage us to thank God for:
His creation (Psalm 104:1-30)
His care of us (Psalm 95:6-7)
His knowledge of us (Psalm 139:13-16)
His salvation (Psalm 27:1-14)
His answering of our prayers (Psalm 118:21)
His provision (Psalm 147:7-9)
His healing (Psalm 30:1-2)
His rescue (Psalm 31:21-22)
His victory (Psalm 118:10-16)
Thanksgiving needs to become a way of life for us. As Paul wrote, "Always be joyful. Never stop praying. Be thankful in all circumstances" (1 Thessalonians 5:16-18).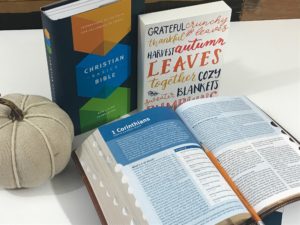 Taken from the Christian Basics Bible. Take a look inside