Hey there, readers! With Thanksgiving around the corner, it's the perfect time to reflect on the many wonderful things God has given us to be thankful for.
We here at Crazy4Fiction thought it would be fun to connect this time of thankfulness to one of our favorite things: reading! So today, a few of the Crazy4Fiction girls are sharing their #ThankfulReading books. What qualifies as #ThankfulReading? A novel you're especially grateful you picked up. Whether it's an old classic that brings back memories of your childhood or a story that gave you a laugh when you really needed it, a good book can affect your life in amazing ways.
Below, find out which books the Crazy4Fiction girls are grateful for and share your own #ThankfulReading title in the comments section. Since there's nothing we love more than sharing a good read, one lucky reader will win the #ThankfulReading book basket below. So think about the book that has impacted you most this year, and get chatting in the comments! Giveaway ends 12/05/2014.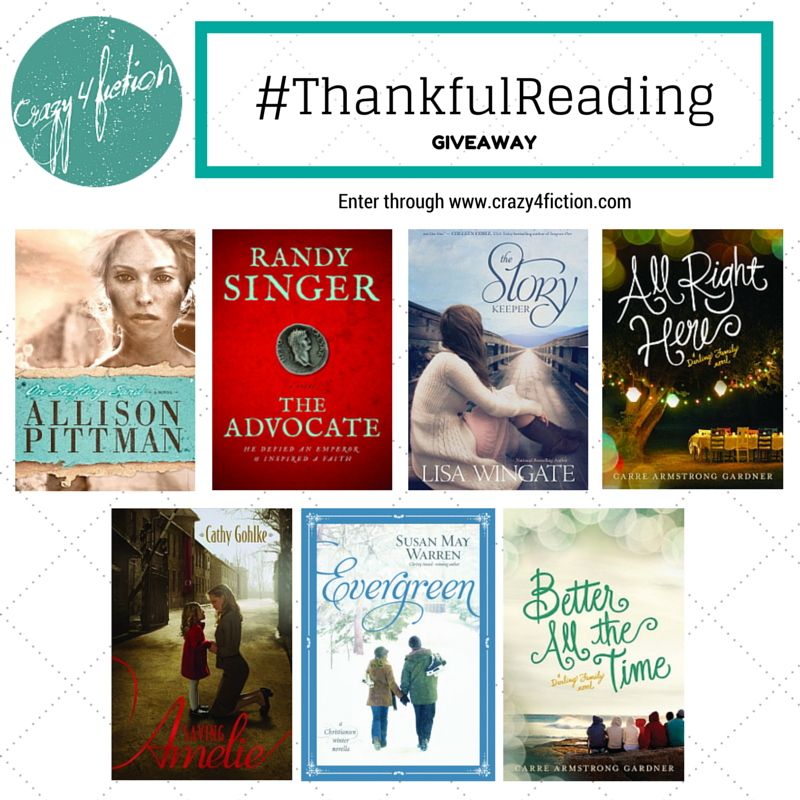 KAREN
Okay . . . I have two. The first is On Shifting Sand by Allison Pittman. I am thankful for this book because it is another proud example of how Christian fiction has grown in quality and bravery. Allison tackles the wrenching infidelity of Nola Merrill with an honesty rarely seen in this genre. We read the story of a woman who is accommodating and wrestling with her own sin and betrayal. No wilting prairie lily here. Allison delivers a story of redemption that is costly and true. Thankful to be in this industry at a time when a story like this can be supported and told.
My second #ThankfulReading is The Advocate by Randy Singer. I am thankful to be in a position to see the publication of a book that an author has labored on and prayed over for years. I am thankful for a story with a hook that sends a chill up your spine. The Advocate is another perfect example of why excellent Christian fiction can be boldly recommended to a broad audience.
[Tweet "#ThankfulReading @Crazy4Fiction. Shared a novel I'm grateful for. Hope I win #bookgiveaway!"]
JAN
All Right Here by Carre Armstrong Gardner. I am thankful that we were able to partner with this talented debut author on this gritty, honest, and often-funny family drama. Carre isn't afraid to tackle the tough issues that modern families face (think Parenthood). Readers will recognize a bit of themselves in each of the Darling family members—warts and all.
The Story Keeper by Lisa Wingate. I'm thankful for Lisa's ability to write stories about women struggling to overcome a difficult past, triumphing over their circumstances, and finding their true value. This story is about breaking free from the unhealthy cycles that bind families through the generations. With beautiful prose, unforgettable characters, and memorable settings, Lisa delivers stories that stay with you long after you turn the final page.
STEPHANIE
My first #ThankfulReading selection is Saving Amelie by Cathy Gohlke. It transported me back to a difficult time in history not to wallow in the evil, but to show how God's light can shine, even in the darkness, and how the costly grace Jesus offers us should transform our lives and the way we engage with the world.
My second #ThankfulReading selection is Evergreen by Susan May Warren because it was a light, romantic read that defined "heartwarming," and it also touched me on a deeper level. There is an ebb and flow to the seasons of our lives and, by the grace of God, it's never too late for a fresh start.
[Tweet "The @Crazy4Fiction girls are #ThankfulReading. Hope I win #BookGiveaway filled with #mustreads!"]
ALYSSA
All Right Here & Better All the Time by Carre Armstrong Gardner. I am thankful for this series because it is full of honest, relatable books that deal with the messiness of life. Reading through these novels has made me incredibly grateful to work with authors who are willing to write about difficult issues. Life is hard—we all struggle with difficult things just like the Darling sisters in this series. I am thankful that I am not alone and that other people walk this journey of life with me (even through a book!).
What about you? What book are you thankful has graced your life this year? Let us know in the comments below to enter the giveaway for our team's #ThankfulReading picks. And stop by the Facebook page for our #Shelfie pick of the month.!