Hey there, readers! Today we're celebrating the release of The Midwife by the very talented Jolina Petersheim with an extra-special giveaway.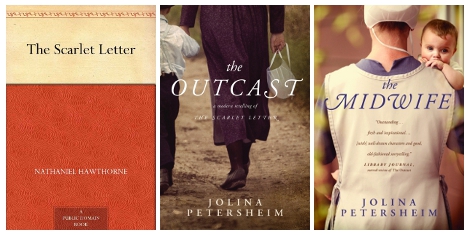 Giveaway includes:
A copy of The Midwife
A copy of The Outcast, a modern retelling of The Scarlet Letter
And a copy of Nathaniel Hawthorne's classic The Scarlet Letter
Here's a little background from Jolina on her writing and how her stories came about:
When I started imagining characters in my head, I remembered The Scarlet Letter (which was my favorite book in high school) and the desperation Rev. Arthur Dimmesdale feels when his sin brands his chest, yet he still wants to hide it from the Puritan world. But eventually his inner turmoil supersedes his outward facade of calm. This inward/outward dichotomy fit so well with the premise of The Outcast that I knew I wanted to pay homage to The Scarlet Letter. Plus, I believe that the Old Order Mennonites are about as close to Puritan life as we Englischers can get.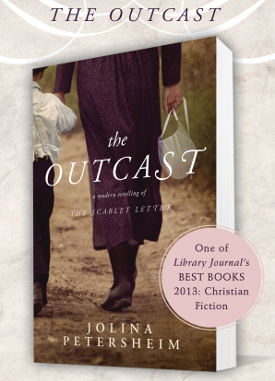 However, recently I read Margot Livesey's wonderfully literary modern retelling of Jane Eyre called The Flight of Gemma Hardy. I had the privilege of hearing Livesey speak at the Southern Festival of Books in Nashville (where I held a panel last year!), and she said that she originally wanted to name her book No Attics to prove that, though her novel pays homage to Jane Eyre, that does not mean it is an exact replica of that book.
I believe the same of my own novel: some events in The Outcast play out according to The Scarlet Letter, and others are entirely new. I think the surprise makes it rather fun to read—it was sure fun to write!
My sophomore novel The Midwife is a story about a mother who risks everything to save a child who's not genetically hers. The concept of surrogacy was first brought to my attention when my dear friend from college discussed using a gestational surrogate in the future because she would be unable to carry a child of her own due to the medication she was taking for a heart transplant.
This made me contemplate the many obstacles of surrogacy that everyone involved would have to overcome.
What if the surrogate became attached to the child? What if, God forbid, something happened to one of the parents, or if there was a chromosomal abnormality and the parents decided they did not want the child any longer?
All of these disparate ideas coalesced into the concept for The Midwife once I gave birth to a child of my own. I knew that even if I were of no relation to the child, if my body had sustained her for nine months, she would still be my daughter even if we shared no genetic connection.
From there, the story goes on to expound upon the heights and depths a mother will go to protect her child, and it asks a difficult question: What defines motherhood—genetics or love?
So glad you got to know Jolina a little better today. To chat more, visit Jolina online . . .
on her blog
on Facebook
on Twitter
on the Southern BelleView Daily blog
Don't forget to enter Jolina's giveaway through the widget below!
~*~
What's your favorite classic novel? Share in the comments below!