While everyone has heard of Halloween, Christmas, and Thanksgiving, it's often those lesser-known holidays that I enjoy most. Coming up this Saturday, September 6, is National Read a Book Day. Let's all take some time out of our busy lives and relax with a great read. Whether on a porch swing enjoying the outdoors or curled up in your favorite chair by the window, reading always has the ability to transport you to a different time and place.
This week, our Crazy4Fiction team would love to share about the books we're currently nose-deep in. While we are always crazy for fiction, we thought it might be fun to pair our current reads with some great nonfiction picks as well. To make things interesting, we will be giving away one of the pairs of books described here!
Join through the widget below to enter our giveaway for a chance to win one of the Crazy4Fiction ladies' book pairs. Giveaway ends Friday, September 12. Share with us in the comments which pair of books suits your fancy, and use the widget to enter to win!
KAREN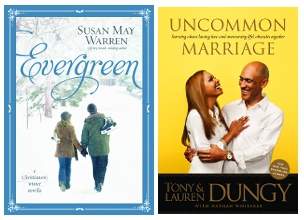 I have loved Susan May Warren's concept for the Christiansen Family from the first time we discussed it.  As a parent, there is a phase of life that requires letting go of your kids, realizing—really realizing—that they have to take hold of their own futures, and choosing to trust God with the outcome. That's what this series is all about. Will our kids embrace our faith?  Will they be strong enough to face the challenges ahead or the consequences of their own choices?  As a couple, how should we respond? That is exactly where I am in my own life, and that's where Susie takes the reader in Evergreen. Like John and Ingrid Christiansen, I am fluffing up a brand-new empty nest. And I'm also realizing that my husband and I have lived a lot of history together. It is fun, but it can also be a challenge, and it can mean taking a hard look at what you want this phase of life to be. This story is a beautifully told tale of two people working to love each other both because of and in spite of everything that has gone on in their marriage.  And it is reassuring to see them walk away hand in hand.
That's why Uncommon Marriage is a great pairing with Evergreen. Tony and Lauren Dungy have survived some of the highest highs and lowest lows possible in marriage. They bring a wealth of practical, applicable advice for couples who are in it for the long run. This book is both a great resource for couples starting out and an encouragement for empty nesters like me.
JAN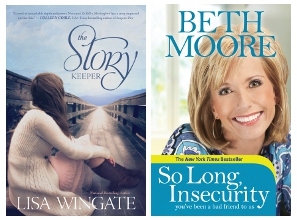 I love stories with realistically depicted, flawed characters whom we can relate to and cheer on. Lisa Wingate delivers that and more in The Story Keeper. Lisa takes us from New York City to the beautiful Blue Ridge Mountains as Jenna Gibbs, a successful New York editor, searches for the writer of a mysterious manuscript and comes face-to-face with the past she tried to leave behind. Jenna struggles with insecurity over having people find out who she really is and where she came from.
This is why So Long, Insecurity by Beth Moore is the perfect pairing for The Story Keeper. So Long, Insecurity will strike a chord with women everywhere, as Beth speaks truth into the lives of readers, showing them how to deal with their innermost fears, rediscover their God-given dignity, and develop a whole new perspective—a stronger sense of self.
[Tweet "#BookGiveaway on @Crazy4Fiction blog. Yay National Read a Book Day!"]
STEPHANIE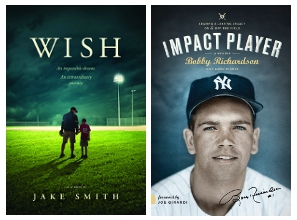 My favorite kind of story is one that evokes emotion—even better if it makes me laugh and cry. Wish did just that. I'm only nominally interested in baseball, but this story gave me a glimpse of what I found to be the more interesting aspects of the sport: What's the atmosphere of the locker room like? What does it feel like to be out on the field? But more important, it showed me how faith and family can carry us through the dark times and help us rejoice in our triumphs.
If you love how baseball and everyday life collide in Wish, you might also like Impact Player: Leaving a Lasting Legacy On and Off the Field by Bobby Richardson. It not only offers a rare glimpse into one of the most celebrated dynasties in the history of the game but also paints a fascinating portrait of a life well lived and portrays the lasting rewards that come from knowing and loving God.
SHAINA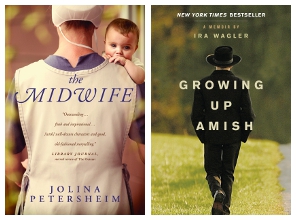 When I pick up a good book, I expect to be swept away. Whether by the characters, setting, writing, or a combination of all three, I know I've stumbled upon something special when reading goes by in a flash. With Jolina Petersheim's The Midwife, I was taken away by her beautiful lyrical phrases and gripping narrative. What would you do if the life of the child you carried was in danger? Jolina brings such depth and beauty to the rolling hills of the Tennessee Mennonite community she creates. I can still vividly picture the grounds of Hopen Haus, the midwives' house for unwed mothers. You truly become a passenger on the unexpected ride this touching story takes.
Growing Up Amish is an inside peek into the life of one man's Amish household. Most Amish fiction readers choose the genre as a result of their curiosity about Amish culture. Ira Wagler takes you through his childhood and adolescent years spent in the Amish settlement of Bloomfield, Iowa. This book is perfect for anyone who wants a real account of life—with its blessings and pitfalls—inside an Amish community.
[Tweet "I love this @Crazy4Fiction #BookGiveaway! crazy4fiction.com to enter"]
SARAH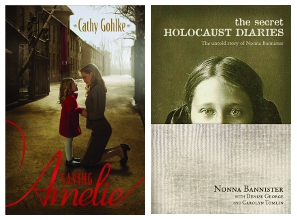 I've always loved WWII fiction and sometimes wonder if there can be any stories left to tell about this time period. But Cathy Gohlke tells a fresh and fascinating story in Saving Amelie. Her unique research into the Nazi eugenics movement, a picturesque Bavarian setting, and authentic characters make this a rich, engaging read.
Those who did not grow up in the heat of WWII can never quite comprehend the suffering of those times. The Secret Holocaust Diaries: The Untold Story of Nonna Bannister is a beautifully penned memoir that takes you into the life of a young Russian refugee and tells how, after all her hardship and struggles, she learned the value of human life and the importance of forgiveness. This book is great for history buffs and those who love a great human interest story. Nonna Bannister's unimaginable tale will stay with you.
DANIKA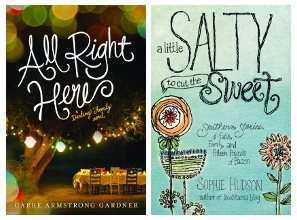 I loved growing up in a family of four, but there's always been something appealing to me about a big family. Books like All Right Here and A Little Salty to Cut the Sweet give me a glimpse of what life would be like with lots of brothers and sisters or with many extended family members living nearby. Kind of chaotic, maybe, but so joyful too!
[Tweet "Happy National Read a Book Day! Hope i win @Crazy4Fiction #bookgiveaway!"]
CHERYL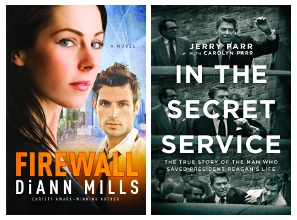 If I had to pick another career, I might choose to be an FBI or CIA agent. So I love to get lost in DiAnn Mills's FBI: Houston series! She always gives a thrilling peek behind the curtain at what the life of an agent would be like. Did you know that DiAnn is a graduate of Houston's FBI Citizens Academy and that she has a contact from the FBI who gives her technical advice for each story to make sure she gets the details right?
If, like me, you're intrigued by the inner workings of government agencies, get an insider's perspective on the secret service in In the Secret Service: The True Story of the Man Who Saved President Reagan's Life by Jerry Parr with Nancy Parr. At times heart-pounding, at other times heartrending, this richly textured memoir of a secret service agent will first move you to the edge of your seat, then to the depths of your soul.
ALYSSA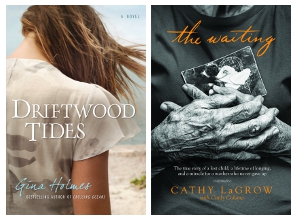 Amid the seawater and driftwood, Libby finds healing in Gina Holmes's latest novel, Driftwood Tides. What strikes me about this novel is the depth Gina shows in each character. Holton Creary has given into his grief, drowning in gin and self-pity, yet you see the seeds of hope beginning to grow as he meets and connects with Libby. Together, they unearth the secrets of Holton's beloved wife and Libby's biological mother.
You may have heard the amazing story of the reunion of Minka Disbrow and her daughter Ruth after being separated by a forced adoption over seven decades prior. Their story, told in The Waiting: The True Story of a Lost Child, a Lifetime of Longing, and a Miracle for a Mother Who Never Gave Up, is a testimony of God's love and his answers to our prayers. While it may not be on our schedule or our preferred timing, God has a plan and an answer for our deepest longings. The Waiting brings three generations of a most unusual family together, telling a story of faith that triumphs, forgiveness that sets us free, and love that never forgets.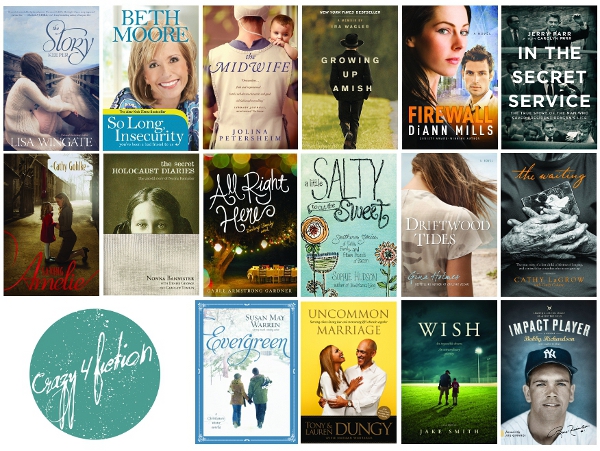 Phew! We're busy reading away here at Tyndale Crazy4Fiction. What about you? Any of these books sound like they need to be added to your must-read pile? Tell us your thoughts in the comments and don't forget to enter through the widget below. One lucky winner will get to choose one pair of books from the many great recommendations above!
Happy reading!
[Tweet "#BookGiveaway on @Crazy4Fiction blog. Yay National Read a Book Day!"]
[Tweet "I love this @Crazy4Fiction #BookGiveaway! crazy4fiction.com to enter"]
[Tweet "Happy National Read a Book Day! Hope i win @Crazy4Fiction #bookgiveaway!"]