In her new devotional, Earth Psalms, beloved author Francine Rivers invites readers to explore God's creation through nature. Each of her reflections is accompanied by stunning photography, Scripture excerpts, applications, and prayers. Read some reflections from Francine below; then enter to win a devotional prize pack that includes a copy of Earth Psalms to give to a friend.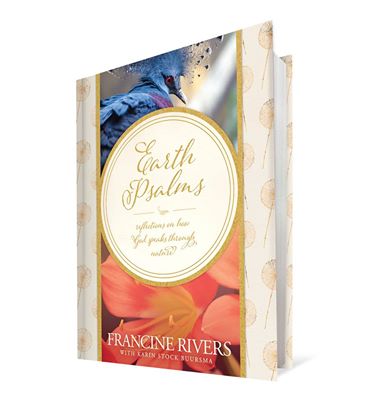 Francine writes:
Before now, I'd often considered writing a devotional, but I knew I wanted more than my limited view and personal insights. Tyndale graciously connected me with Karin Buursma, who has enriched my offering with hymns, quotes, reflections, and applications for connecting with God.
I had worked with editors and agents who have offered much-needed advice and instruction, but I'd never worked with a collaborator. Joining forces with Karin on Earth Psalms was a new experience, and a very pleasurable one.
One of my greatest pleasures has been looking for lessons in nature. Sometimes the lessons don't make sense to anyone but me, but then, God does speak to each of us as individuals with our own needs. I think God points out things all the time if we're just willing to look and listen. I know He does it when I'm in His Word. I may have read a particular passage countless times before, but then it pops out with new meaning under new circumstances. Imagine all the wonderful things we miss when we're constantly rushing through life.
What I loved about working with Karin was the opportunity to concentrate on the subject of the earth psalm, whether it was a bird, animal, reptile, plant, or worm. (I read an entire book about worms! They're fascinating.) Anyway, I was searching for the lessons God had for me. Karin was able to broaden that focus and write enrichment questions that will have readers thinking more deeply about what lessons God has for them. She also added in additional information and hymns that enhanced the lessons. Now that all the work is done, I can go back and think about the questions Karin has presented. And those questions will also help me as I look for other earth psalms in the days ahead.
Karin and I weren't the only ones working on this project. We were both blown away by the pictures Jennifer Ghionzoli found for the book. They show the glory of God's creation. And there is one particular picture that just makes me smile every time I look at it.
If readers enjoy this devotional as much as I enjoyed writing my part of it, I hope I have the opportunity to work with these two amazing young women again.
~*~ 
It's giveaway time!
Guess which photo in Earth Psalms makes Francine smile every time she sees it and enter to win a devotional prize pack that includes a copy of Earth Psalms for you to give to a friend.
Prizes include . . .
Earth Psalms
The One Year Chronological Bible Expressions
Belonging Journal
Travel Mug
How to Enter the Giveaway:
Open your copy of Earth Psalms and find the photo you think would be Francine's favorite! If you do not yet own a copy of Earth Psalms, don't worry. You can still enter. Find a copy at your local bookstore, or at your local library. Purchase is not necessary to enter to win.
In the comments below, guess which page contains Francine's favorite photo. Then use the Gleam widget (at the end of the blog) to enter with your Facebook sign-in or your e-mail address. Please note: Leaving a comment does not automatically enter you in the giveaway. You must complete the widget form for your entry to be officially counted. You will receive a confirmation e-mail once your entry has been submitted.
Additional Information: US entries only. By entering this contest, you are agreeing to receive monthly e-newsletters from the Tyndale House Crazy4Fiction team. You can unsubscribe at any time.
Good luck!