Want to win this table?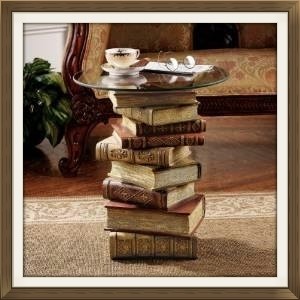 To help promote Gina Holmes' latest release, DRIFTWOOD TIDES, She's giving away this amazing book table to one lucky winner!
There are TWO ways to enter:
During the month of September, 2014 1. Buy a new copy of Driftwood Tides, latest novel by Gina Holmes, (e-Book or paperback). Friend her on Facebook and message or comment that you purchased it.
Or like her author page and mention your purchase date there. (Receipt with date will be required if you win and the date must be on or before Sept. 29th, 2014). The winner will be randomly drawn on Sept 30th, 2014, and announced on Gina's Facebook, both personal and her author page. You will also be notified via fb message if possible. Winner will have 7 days to claim their prize, provide a valid shipping address (continental US only) and phone # for shipping purposes and receipt of purchase during the month of August or September, 2014. 2. No purchase necessary: You will also be entered if you post a review of Driftwood Tides on any of the major book buying sites on or before Sept. 29th, 2014. You will still need to friend Gina Holmes at above Facebook address and comment with a link to your review. If you win, you may be asked to prove you are the author of the review. Table may be substituted for prize of equal value. (Unlikely) *You may enter more than once 1 entry for review (regardless of how many sites you post review), 1 entry per new book purchased (kindle or paperback, receipt required dated prior to Sept. 29th). *If you do not wish to purchase a book but want to enter via review, you may borrow it from local library, book swap or friend.