Would you be ready?
What would you do if the world as you knew it came to a standstill, and what we currently find valuable in our culture no longer had worth? The smartphone in your hand wouldn't be able to reach into the void of cyberspace, connecting you to loved ones to find out if they were okay or even alive. Money would merely be the physical elements of paper, plastic, or metal—no longer exchangeable for anything you needed. And the only way to get from one place to another would be on foot or by animal, if any were left . . .
In The Divide, the gripping conclusion to The Alliance by bestselling author Jolina Petersheim, nearly six months have passed since Leora Ebersole's Old Order Mennonite community fled to the mountains for refuge after an attack destroyed the power grid and altered life as they knew it. But when long-held beliefs are once again put to the test, Leora wrestles with the divide between having faith and taking action. Just how much will her shifting landscape change her?
Though Leora's Mennonite community is used to living off the land, the world-altering effects of the attack have led to a grim reality for the Englischers as the deterioration of modern society poses a threat to their survival. And so you have to wonder . . . would you be ready?
While there are many scary realities to face in The Divide, this story is a reminder that though we often surround ourselves with busyness, it is through fellowship and God's Word that we are sustained even through the harshest of times.
Join Leora and the cast of The Divide in the Montana mountains and imagine a simpler time.
Unencumbered by social media and the need to keep in contact 24-7, what might your family routine look like?
With more time to prepare, might you grow your own vegetable garden?
What would your garden look like if a beautiful bouquet of wildflowers was the only centerpiece for your table that money and time would allow?
Create your very own landscape and homesteading board on Pinterest and be entered to win:
GRAND PRIZE: Deluxe Organic Fruit Basket (Value $99.99)
SECOND PRIZE(S): a gift card to REI (we'll offer TWO $25 gift cards)
a signed copy of the book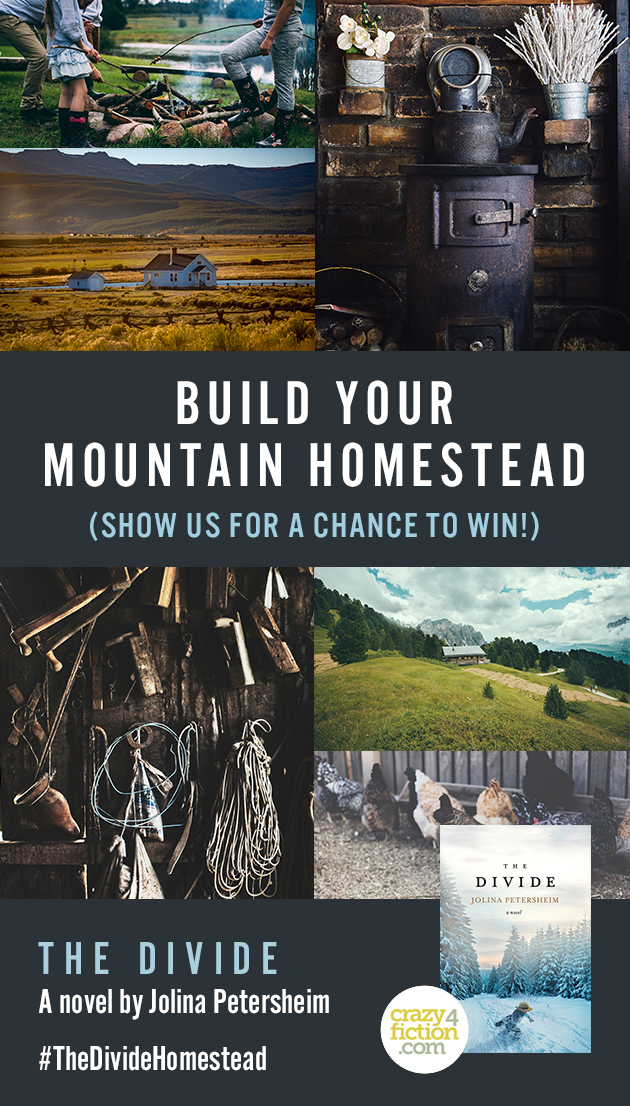 Here's how to enter:
Fill out the Gleam form below.
Create a Pinterest board titled "The Divide Homestead."
Click the red "Save" button on the pin above, and pin it to your newly made "The Divide Homestead" board.
Start pinning! What do you think the landscape and Mt. Hebron's new community in the mountains would look like? What types of supplies and tactics would you use to live off the land? Be sure to include the hashtag #TheDivideHomestead in your pins.
~*~
Good luck, readers!
Build Your Own Homestead—Celebrating the Launch of Jolina Petersheim's New Novel, The Divide