Hey there, readers! For those unfamiliar with this blog, a #shelfie is a photo of what's hitting our bookshelves right now. Often they include novels that have just come fresh from the printer and will be released in a few months. We always love seeing reader #shelfies, so don't be shy—share yours with us on Twitter or Facebook.
This month, we're excited to offer a giveaway of some fabulous April reads:
Better All the Time
Find out which Darling sister you are with this fun quiz.
Double Cross
Be sure to like DiAnn Mills on Facebook and join her e-newsletter list. She has some pretty exciting giveaways going on!
On Shifting Sand

Allison's beautiful, lyrical writing is what sets her apart—she's able to truly paint a picture of whatever historical landscape she chooses. Be sure to check out her other novels too. They will take you on adventures of all kinds, including a daring ride through the Roaring Twenties.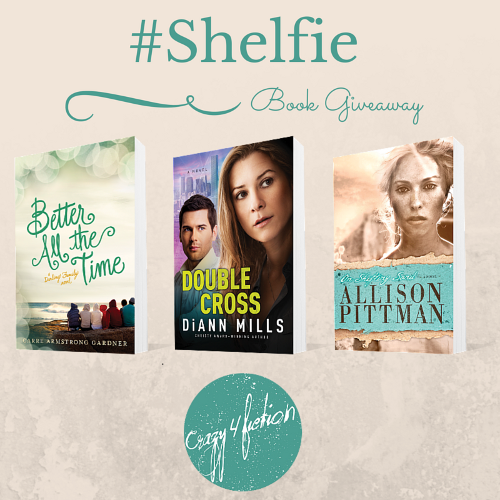 What about you, readers? Are your bookshelves overflowing with to-read piles? Let us know what genre you cannot get enough of in the comments to be entered to win the novels above (Giveaway is open to US residents only. Giveaway is open from 04/30 – 05/07. Three winners will be announced on Facebook 05/15).
Happy reading!