With the gift giving season right around the corner, we wanted to let you know about New York Times bestselling author Joel C. Rosenberg's new collection, the J.B. Collins Collection.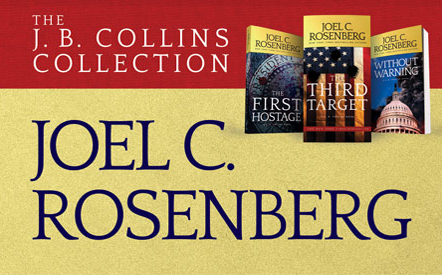 Start your Christmas shopping early!
Skip the lines, beat the holiday gift-buying rush, and order this mass market collection for your loved ones now. Check your husband, son, uncle, grandpa, or Secret Santa off your shopping list early—you'll be glad you did. And when they open this fantastic collection on Christmas morning, so will they.
Read the whole series at once!
For those of you fiction fans who despise a cliff-hanger, the wait is over! If you haven't started the J. B. Collins series yet, now's the time. Does The Third Target leave you feeling like the plot is unresolved? Fear not! Book two, The First Hostage, is ready and waiting for you. This October, experience the whole J. B. Collins adventure at once. Take a break from your favorite TV show, and try binge-reading this suspense-filled series instead.
Take it on the go!
The J. B. Collins Collection makes a wonderful travel companion this Thanksgiving and Christmas holiday season. Due to their compact size, each book in the collection slips perfectly into a travel bag while also helping you avoid the back pain that comes with carrying multiple hardcover books from your to-read pile in your carry-on.
Use it as a conversation starter!
Are you tired of answering your family's barrage of questions at holiday gatherings about your job, relationship status, etc.? Tell them about the last great book you read from the J. B. Collins Collection and how scary accurate Joel C. Rosenberg has been in writing about current geopolitical events, like the threat of ISIS.
Save big in October!
If the above reasons have not yet convinced you to pick up a copy of this collection, then how about a great sale price? During the month of October, Tyndale.com will be offering this newly released collection at 20 percent off. This means you get all three books in Joel C. Rosenberg's most recent series for under $20 when you order from Tyndale! Now that sounds like a plan to me.
~*~
Interested in this collection? Enter through the Gleam app below to win a copy. One winner will receive the 3-book collection (US entries only).
Happy reading!